The San Francisco Museum of Modern Art has been closed for three years during its extensive remodel, but on May 14 its doors will finally open again. News of its open date was previously announced last October, but today SFMOMA unveiled details of its first shows and exhibits, which will include works by California artists from its first year of operation.
The new SFMOMA now has triple its previous gallery space. This allows for many more exhibits to be shown within it's walls. The first series of exhibits when doors open next month include 260 works from the Doris and Donald Fisher Collection of postwar and contemporary art, over 600 artworks provided through Campaign for Art (on view for the first time), plus some permanent collection and more recent items.
"The opening of the new SFMOMA celebrates extraordinary growth of many kinds. From a beautifully transformed building with dramatically enlarged gallery spaces, to our strategically expanded collection and enriched programming, SFMOMA embraces its enhanced role in the Bay Area and the international cultural world, offering its visitors unparalleled experiences with modern and contemporary art." — Neal Benezra, Helen and Charles Schwab Director of SFMOMA.
To celebrate the grand reopening, a special event called, "The Modern Ball 2016" will be held on Thursday, May 12. Tickets for the Post-Modern Party will go on sale sometime in March.
Another new piece of information shared today is that SFMOMA will now be open everyday day of the week. Hours of operation will run 10am through 5pm through Labor Day, with even longer openings on Thursdays and early morning access to the museum's un-ticketed ground floor. More information about hours of operation and upcoming free community days will be announced sometime in the near future.
See below for the full list of exhibits by floor that will be on display upon opening, with more information on each exhibit on the museum's website.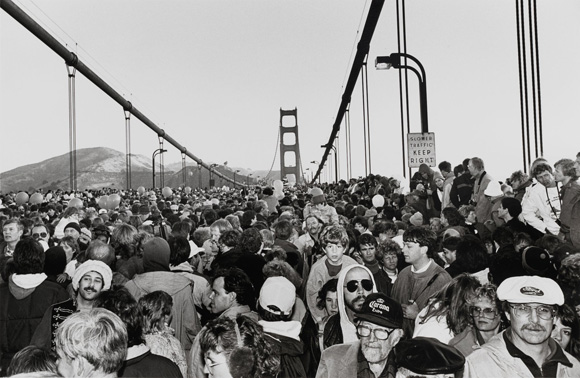 Michael Jang – Part of the upcoming "California and the West" exhibit
First Floor
– Richard Serra's "Sequence" (2006)
Second Floor
– "The Campaign for Art: Drawings, Part I" (through September 18)
– "Open Ended: Painting and Sculpture Since 1900" including "Femme au Chapeau (Woman With a Hat)" (1905) by Henri Matisse
– "Paul Klee in Color" (through September)
– "Art of Northern California: Three Stories" (through November)
– "Learning to Love You More" (through January 1, 2017)
Third Floor
– "About Time: Photography in a Moment of Change" (through September 25)
– "California and the West: Photography From the Collection Campaign" (through September 5)
– "Alexander Calder: Motion Lab" (through September 20)
– "Model Behavior: Snøhetta's First Concepts for SFMOMA" (through January 16, 2017)
Fourth Floor
– "The Campaign for Art: Modern and Contemporary" (through September 18)
– "Approaching American Abstraction: The Fisher Collection"
– "New Work: Leonor Antunes" (through October 2)
Fifth Floor
– "Pop, Minimal, and Figurative Art: The Fisher Collection"
– "British Sculptors: The Fisher Collection" (through Fall 2017)
– "Claudy Jongstra: Aarde"
Sixth Floor
– "Typeface to Interface: Graphic Design From the Collection" (through November 27)
– "German Art After 1960: The Fisher Collection"
Seventh Floor
– "The Campaign for Art: Contemporary" (through October 30)
– "Film as Place" (through October 30)