Local Rock Band Plush is Popping Up All Around SF + Spring Album Release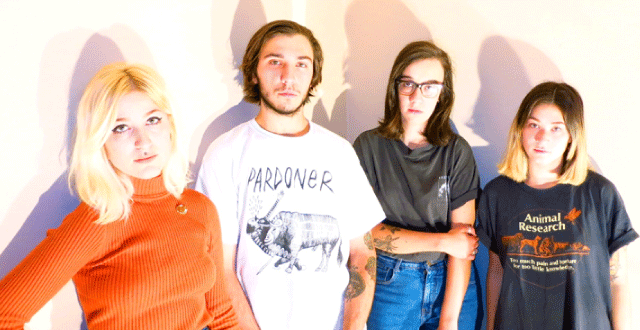 Four-piece rock band Plush, crafty creators of guitar-driven pop music tangled with tense undertones, have a string of Bay Area shows lined up over the next few months, along with their new album Please is set for release in April.
Settled in the Outer Richmond, the humble group of Californians play local shows as frequently as their schedule allows, offering a sound that taps elements similar to shoegaze, harnessing heavy guitars laced with undulating reverb. Plush had what they considered a bit of a break in February after playing Noise Pop. With the upcoming release of their new five-track EP Please coming out on April 29 via local label, Father/Daughter Records, Plush plans to dial up the live shows.
There are plenty of chance to catch Plush, who will play March 18 at DNA Lounge, March 23 at Different Fur Studios, April 16 at Bottom of the Hill, and then again on May 11 at Rickshaw Stop. In between those four SF shows, they also have a gig scheduled for March 27 at The Hole in Oakland.
To preview their upcoming album release and the multitude of concerts, we spoke with co-founder and drummer Dylan Lockey about their favorite local spots, his perspective on vinyl, and what he likes most about being an artist living in San Francisco.
Since each Plush band member used to be previously part of a different group, how did you guys originally form?
Plush came together through me and Eva [Treadway] sitting down talking about music and wanting to play music that we couldn't play with our projects at the time, due to it just being a drastic sound. We got together and recorded a demo of a song and then asked Sinclair [Riley], who was also in The She's with Eva, if she wanted to be in it. Karli [Helm] got involved in about the same way.
Can you explain the meaning behind Plush's self-described "sob rock" sound?
Sob rock actually came about as kind of a joke. We got asked to play a show and they needed a genre description. We kind of came up with it at the moment and it kind of just stuck from there. It makes sense in a way. We don't like attaching a certain genre tag to it, so we thought we'll just make our own. We make rock music and it's pretty sad. You're not gonna listen to it on your own and get bummed out, but it's definitely a little sadder than a lot of stuff.
As a quartet, is the musical creation process mostly collaborative or does it start with one band member and then spread?
It kind of depends. We've written stuff where one person like Karli or Eva will come to a practice with a riff and say, I'm thinking I want it to sound like this. Then a lot of the time it starts with one riff or idea and everyone just builds upon it. They each put in their own input and come up with their own part to fit it. It's pretty collaborative.
What inspired the different tone of your upcoming new record, Please, compared to your debut LP?
I don't know. I think with our first one, we weren't quite sure where we wanted to go with everything. So it's not all over the place. I wouldn't want to say that. It's definitely less focused in a sense. We used a lot of fuzz and reverb.
Please is definitely a more concise effort in the sense that we wanted it to be a lot more straightforward, vocal-centric, and guitar-centric. Straightforward pop music. That's really what we're all into.
What was the intent behind scheduling four shows at four different SF venues in the next two months?
We went on tour in January and we played a bunch. We kind of had to be a bit quiet because we played Noise Pop and there are restrictions that come with playing in February. (We played Bottom of the Hill for Noise Pop.) For March, we thought let's play as much as we can. Everyone has a different schedule. Some of us go to school and work a bunch.
We're also playing another show in Oakland with Unity and Pumpkin, who are from the Bay Area, and a band called Kissisippi from Philly. We're playing a bunch and it's because we really like playing. We like to try to play at least once or twice a month.
Where are people most likely to find you on a Saturday afternoon in SF?
Two of our members work a [movie] theater in the Richmond called Balboa, so you can typically find them there on the weekend. For the most part, we all live in the Outer Sunset and we don't really venture out that much. Like the beach if its sunny. We're very low profile– and stay at home, mellow kind of people.
What's your favorite coffee shop?
Eva really likes Andytown. We all go to Trouble a lot. They're both in the Sunset and are both within walking distance to our house. Three of us live together so we'll just wake up and get coffee or something. Stanza on Haight. Our friend works there, the manager. That's a cool place too.
As a musician and an artist, do you find living in San Francisco to be empowering or more of a hindrance?
Two our of members, Eva and Sinclair, are locals. Karli and I are both from Southern California. We've been living here for four or five years, and  I would say San Francisco has been empowering…it's easy for a lot of people to talk trash about the music scene and art scene in the Bay Area. I think there's a lot of really cool stuff coming out of the woodwork. A bunch of cool bands, cool galleries, and cool spaces.
I think just like anywhere else in the world, playing music in a specific metropolitan city there's gonna be ups and downs. San Francisco and the Bay are really cool places to be a part of right now, I would say. There's a bunch of cool stuff, you just have to look for it–you just have to pay attention to it.
Have you attended a show recently that blew your mind?
There's always a bunch of great bands playing so anytime you get to see Pardoner, Blossom, Jay Som, Never Young, Crush, Toner, any of the local bands are always really cool.
The last really cool show that I saw was we played a show in December with Wild Moth, who are from the Bay Area. They are phenomenal. They aren't really playing much anymore. A band called Prayer Chain from Florida played, a band called Layman from Yorba Linda. We also played that show. Every band back-to-back was phenomenal. That was in December. It was at DNA Lounge.
What are your thoughts on the recent vinyl revival and do you plan to print your new material on records?
Vinyl is cool. Everyone in the band collects vinyl. I don't think we're super…I don't know if we're as intense about it as a lot of people. We're not avid collectors, but if there's a record we like we'll pick it up.
As far as our music, I don't know. It's kind of contingent on what we have and where we go. I know for now none of our releases have been or will be on vinyl. The three we put out are all cassette or digital only. Who knows. I would love to put something on vinyl. For right now, we don't have any plans to.
Do you have a dream venue you hope to play in one day?
If we were going big, I think we would say the Warfield. We've played a lot of really, really cool venues. With this band in particular, I've already played some places I'd consider dream venues–Rickshaw, Bottom of the Hill…
Anytime we get to play a small space that's all ages and under $5, that's a dream. At least for me in particular. It's always cool to play in spaces like that–getting to play those very personal, intimate, do it yourself kind of places. It would also be cool to play something huge. That would be fun.
Any final words?
Thanks to everyone who's been with it since the beginning and those who are just now getting into it. And all the bands and people that have given us the opportunity to play with them.