San Francisco's Newest Tiki Bar is Turning Heads: Pagan Idol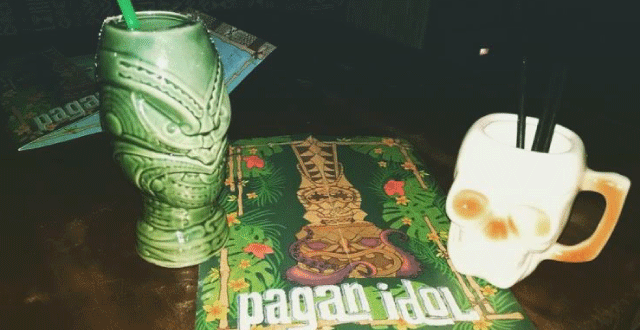 Does San Francisco need another tiki bar? Maaaybe. And with lit-up aquariums and colorful screen doors, more pineapple juice than you can handle, exotic plants and a general vibe of mystery? Um, yes please!
Pagan Idol, transports you right from the FiDi to some magical paradise, and it's bringing an almost forgotten sense of excitement to the local bar scene. This bar opened quietly last week, and is so new that it's yet to have a coherent website. The team behind the whole thing? Future Bars, the group responsible for local standouts such as Bourbon & Branch, The Devil's Acre and Rickhouse. The newest addition to the list is right next door to Rickhouse, but the vibe is completely different.
While impressive wood carvings and plays on light and darkness will speak to the aesthetically focused visitor, the illustrated menu is full of Tiki pleasures, guilty or otherwise, with cocktails named Rum Monkey and Witch Doctor, priced from $10 for a relatively uncomplicated drink to $50 for a shareable bowl of flaming, exotic goodness. Look no further for a night of kitschy, boozy fun – fueled by the very SF atmosphere of prized exclusiveness.
375 Bush Street