Mutiny Radio, one of San Francisco's non-profit community-based radio stations, is trying its hand at comedy. Local comedians will be hosting twenty-two handpicked national comedians at the Mutiny Radio headquarters in the Mission District, from March 2nd to 6th for its first ever Mutiny Radio Comedy Festival. Sponsored by Pabst Blue Ribbon.
Station manager and aspiring comedian, Pamela Benjamin, has been performing standup and producing shows in the Bay Area for the past four years. Inspired by a comedy festival she had attended, she ambitiously set out to curate her own. Benjamin was overwhelmed by the initial response. "We had a ton of submissions," says Benjamin, "from over 160 national and international comedians." Some of the shows included are the Filthy/Dirty Comedy Show, Sober Set Vs. Super Stoned, Roast of Jesus, and the Underwear Only show.
The basic rundown is this: 25 shows (50 minutes each) and 22 comics in five days. Each comic gets at least 10 minutes a show and does at least 3 shows for a total of 30 minutes at the Mutiny Radio Station, all hosted by local comedians. "It's a small intimate venue with about thirty seats. We've upgraded our electrical so we have stage lighting and seats with backrests." There are also options for an even more personal experience. "If people buy the festival pass they get special access into the green room with free PBR."
If that's not enough persuasion, the VIP experience also warrants a free shirt and all the PBR shwag one might want. The five-day pass is $150, but prices vary from $10 for an individual show and $35 for day passes. All the shows will also be podcasted. The festival is also in conjunction to Mutiny Radio's annual fundraiser. "We're trying to make it accessible to everyone. This is our big fundraiser of the year," explains Benjamin. "Mutiny is a radio station that runs at a loss, so in order to keep it open we need people's support."
For Tickets click HERE
Five Comedians and Shows You Won't Want to Miss:
Killy Dwyer– Opening the festival on Wednesday is Killy Dwyer, the enigmatic and multi-talented comedian/musician out of Brooklyn, New York. She blends comedy with music, using guitars and looping pedals. She also incorporates beat boxers, bands, and eye-catching outfits into her act. Check her out at the Too Much Energy show.
Jesse Mundy– Out of Austin, Texas, Jesse Mundy is a self proclaimed "misanthrope," who "enjoys having others laugh at him." Sometimes he has a moustache- sometimes in handlebar fashion, and sometimes he has a beard- sometimes connected to his mustache. And always, he is funny. Catch him on the Clean Comedy Show.
Wednesday Weiss– Out of Portland, Oregon, Weiss is a performer of stand up comedy, and a purveyor of nude arts. She performs regularly at the The Dirty Dozen show at Helium Comedy Club and various other clubs and bars around Portland. She can be seen in her underwear for the Underwear Only show.
Dan Weber– Also from Portland, Oregon, Weber will be performing at the Roast of Jesus. He looks like a cross breed between Lars Ulrich and Jerry Garcia, and draws inspiration from "topics you are supposed to never discuss in polite company."
Jamie Pierce– Originally from Utah, now living in New York, Pierce is representing the LGBT community and Transgender scene. Pierce performs regularly in New York, Los Angeles and San Francisco, and was one of the Top 10 National Finalist for the Underground Comedy Festival's 'Emerging Comics' category at the Laugh Factory – he has been featured in both their New York and Los Angeles Comedy Festivals. Catch him at the All Ladies Showcase, among others.
For a full list of comedian profiles click HERE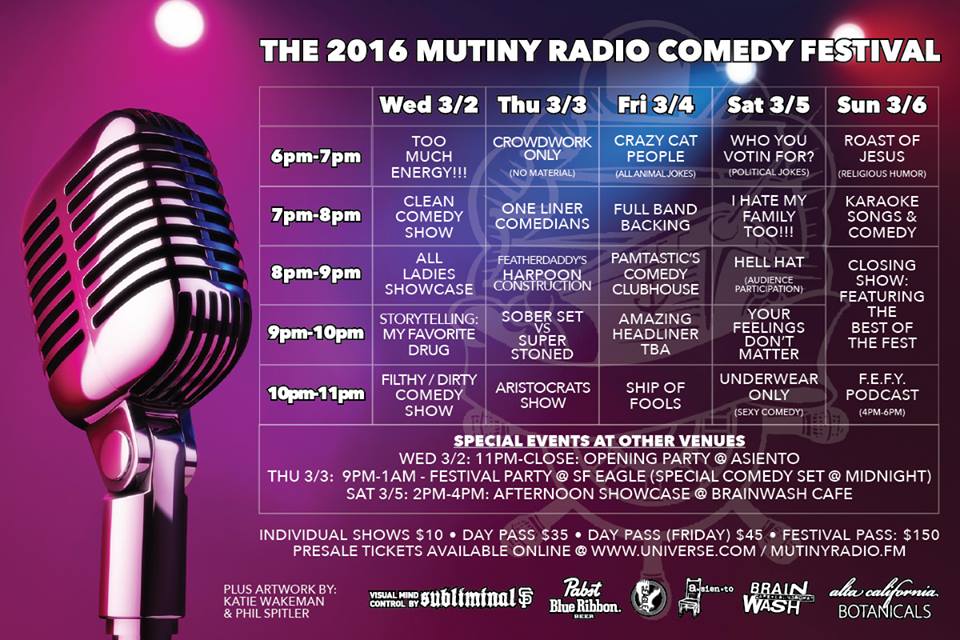 Other Shows Include:
Wednesday 3/2: Join the comics for opening night at Asiento for an opening party with Happy Hour specials all night. 2730 21st Street.
Thursday 3/3: from 9pm-close at the SF Eagle for a no-cover-all-night DJ extravaganza with a special Midnight comedy show. 398 12th Street.
Saturday 3/5: Join Tony Sparks at Brainwash Café for a special afternoon comedy show co-sponsored by Pabst Blue Ribbon, 2-4pm. 1122 Folsom Street