The official lineup for Noise Pop 2016 offers up some substantial indie talent, but there was one booking in particular that delighted me the most – Diane Coffee. Schedule conflicts be damned, this fresh solo project from Shaun Fleming, former drummer of Foxygen, is not an act to be missed. Diane Coffee puts Shaun where he rightfully belongs – front and center stage, showcasing his refreshing take on the self-described "psych-glam-Motown" sound he's created, rife with nostalgic melodies and soulful, layered vocals.
While the world came to know Shaun as the gold-locked beat provider for a successful touring band, famous for a love song dedicated to San Francisco, Shaun and I first became acquainted in our high school drama club. From the get-go, he had that rare star power, evidenced by leading roles in spring musicals and Disney channel gigs. It was not surprising at all to see my former theater classmate doin' his thang and doing it well. More often than not, hometown homies who pursue the rock star arts are usually doomed to lifelong struggle musician status. But this one in particular has evolved into a compelling young artist, one that NPR, Consequence of Sound, Pitchfork and Interview Magazine have all been keeping tabs on.
I caught up with Mr. Diane Coffee himself to discuss his sophomore album release, his first headlining tour, the early days of Foxygen, his appearance on the Run The Jewels 2 album and more.
Man, you've come a long way since the first time I saw you perform.
High school?
Yeah, we actually all went to go see you in Jeepers Creepers 2.
Damn, wow. I had to like, convince them that I was actually in the movie to get in because I was underage.
Yeah, it was quite some time ago… Anyway, I get some rock opera feels when I listen to Diane Coffee. Does your background in theater influence the way you make music?
Yeah, definitely. I think it's more my background in live performances in general. Just being exposed to that style — everything on stage is bigger, it's bolder, it's huge, it's incredibly animated. That's the kind of stuff that when I go to a show, I'm drawn to. That's what leaves an impression on me. I think that definitely inspires my songwriting and my performance when I'm onstage. In my live act I try and make it as large and as grand as possible. It's more fun for us onstage to play in sort of a pure way. And I think it's more fun for the audience. I wanna give them an experience.
Diane Coffee was announced to play Noise Pop pretty early on. Were you familiar with the festival before they booked you?
Yeah, I was familiar. Just having my ear to the ground and knowing a lot of people in the area and in the scene, I knew what it was all about. I'm definitely stoked to be a part of it. I'm super grateful for the hard work of the Diane Coffee behind-the-scenes team for arranging this whole thing.
What was the prep like for your first headlining tour?
Well, we're still doin' it [laughs]. I just went out and bought some stuff for a trailer hitch. Even though we're [two albums] deep, the live Diane Coffee shows are still in its infancy. With this being our first headlining tour, we're still testing out a bunch of stuff. I have a lot of really big plans for the live shows for the rest of this year.
What was the transition like between culminating with Foxygen and touring with Diane Coffee?
There's a lot more work involved. I'm on the phone a lot more. Getting my band prepped, working closely with my team to plot out this year… but because it is my project, it doesn't feel like as much work. With Foxygen, it was super nice — it was laid back and I didn't really have to think about anything and just roll with it. And with this, I have full creative control. I'm leading a team. It's new and exciting. But for the performance aspect of it, this feels more like business as usual. I became super comfortable with the drums, but this has always been more my element.
Yeah, it's great to see you come into your own.
–To my roots! I was just watching this video, literally in the middle of watching it when you called — someone sent me this video of Green Day playing in a high school quad.
Yeah, I saw that!  
That was hilarious because it brought me back to when Harem Scarem played the high school quad. That was my first band, [we] did a lot of cover stuff. I could attribute Harem Scarem to the reason that I decided that I wanted to play rock-n-roll music.
You met some of the guys from Foxygen at school, was [Harem Scarem] like a pre-Foxygen?
No, Foxygen is even pre-high school. They were doing stuff for a long time. I played stuff with Foxygen then, like piano or guitar, and then [Foxygen guitar player Jonathan] Rado played on my first recording and in my first band. Everyone was playing with everyone because it was high school.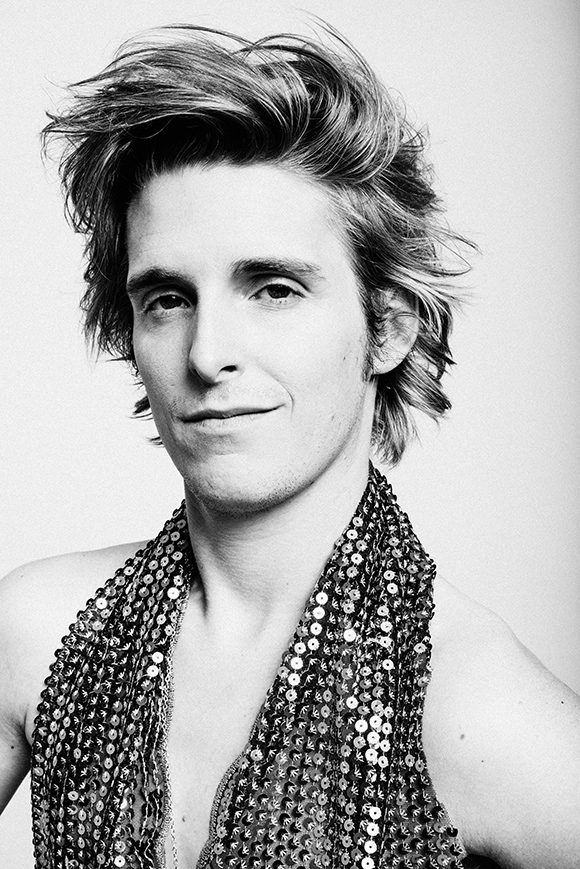 You kicked off your tour in Bloomington, IN, your new hometown. What's the reception like out there with Diane Coffee?
It's great, but that's the thing about Bloomington. Everyone is receptive to everyone. Everyone is rooting for one another to succeed. Even if it's not something that you're trying to succeed at, they are just incredibly supportive of live music and one another. But this is my hometown and everyone in the band lives here so I wouldn't expect anything less, you know? It's like hanging out with your friends… Going out to shows is what we do here.
What kind of music do they play [in Bloomington]? Does it lean towards a certain genre?
It's eclectic — There's a lot of different stuff, there's even a large band, almost like a marching band type band? They're called The Jefferson Street Parade Band. There's garage rock, scuzz metal, every genre you can think of. I'm holding down the psych-glam-Motown scene. IU is here and it's a great music school and then you have the labels: Jagjaguwar, Secretly Canadian, Dead Oceans. So many people are exposed to so many different kinds of music that you have a lot of different genres of bands coming out of the Bloomington scene.
I'd always wondered why you moved there. I guess I had some stereotypes about Indiana. You think it's a certain way, but there are these little pockets…
The stereotypes that you have in your head, they exist in Indiana. But Bloomington to me feels like a little cultural oasis. It's pretty cool.
You said My Friend Fish was recorded in your cramped NYC apartment with an iPhone and makeshift instruments like pots and pans.
[Laughs] Yep.
But then you recorded Everybody is a Good Dog in Bloomington. Did you record in a studio or at home? How was that recording process different?
I did all my writing at home and I recorded a bunch of demos. Then I sent that to a bunch of people that I wanted to play on the record — Some people in New York, some people in Bloomington, some people in California — I did the basics in a studio that was this little church with a graveyard, then we back to another studio where we did all the mixing. I recorded all the vocals at home. Went to another studio in Bloomington and bounced everything onto tape, then it was mastered in New York. I really wanted to get as many friends as I could to touch it, just cuz that first record was all my own. I wanted the feel of a collaborative effort, even though the whole thing was written by myself. I send them their parts, they're still going to come back with their own style and that is something that I wanted to feature on this record. It's fun for me because sometimes they'll throw stuff in that I wouldn't have thought to do. And then I get to showcase a lot of talent that might not otherwise have been shown.
I'll put it like this — When [Jonathan] Rado and Sam asked me to play on Star Power, the only record I recorded with Foxygen, that was so important to me. That I could just be a part of the music that is history now. You'll be able to look that stuff up forever. I'll be able to show my kids that. I wanted other friends and musicians I respected and admired to be able to have that as well.
That's really beautiful. It kind of takes a village to raise a child.
We're all artists and I like to think we can reach out to one another. It's a community and we can always rely on one another and share in this really cool job that we get to have.
Speaking of collaborating with your friends, you were on the Run The Jewels 2 album. How did that collaboration come about?
The very first tour we did for the My Friend Fish, I was playing with this bass player, Emily Panic, who also ended up on the Star Power tour. She was one of the dancers for Foxygen. She was dating Jamie (El-P) and that's where that first connection came from. He reached out to me and he expressed that he was a fan of the way I layered vocals and that he had a project coming up he wanted me to be a part of. I didn't know it was going to be Run The Jewels 2 at the time. I was really honored. I got this text out of the blue like "Alright, we're doing this, come to New York." I hopped in a car and me and my partner drove up to New York. He had a track and just asked me to do my thing. He's a genius. [El-P and Killer Mike] are a great pair, super easy to work with, very funny, so hardworking.
Any plans to collaborate with other artists?
Nothing in the works but I love collaborating. It's a cool way to get out of my own head. When I'm writing and I know there's a deadline or there's a tour coming up so we have rehearsals — to just do something else that's not mine, to just have fun and play some music and still be creative in a way is so much fun. Nothing in the works right now but I'm always open. Go ahead and print that! Anyone who wants to collab, let me know.
Is there anything you're excited to do when you get back to San Francisco?
I love Brick + Mortar, we've played there before. The food in San Francisco is really good. You know what, I'm looking forward to being on the West Coast for seafood. That sounds really great. I'm in Indiana, so…
I'll take you to get some fresh ceviche somewhere.
That would be so awesome.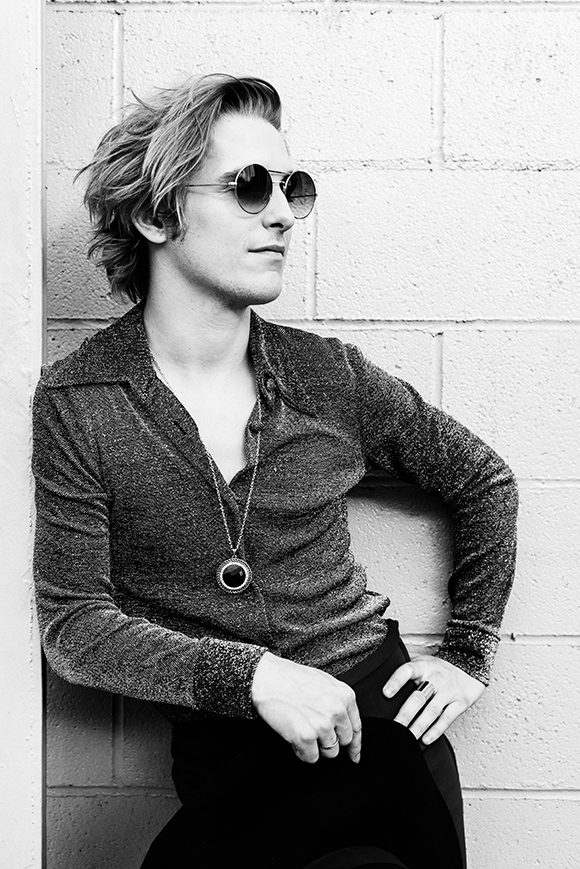 Do you have any fashion icons you particularly admire? I'm really digging your fashion choices these days.
You know who does most of my design work is my partner Melinda. She's got some really awesome stuff that I'm taking with me on this tour that she's designed up. I'm really excited to show it off.
She makes your clothes?
Yeah. It's pretty blingy, so I'm stoked on that. I'm a fan of the big, weird, musical theater vibe. I could say I pull some inspiration from Rocky Horror Picture Show or like, Hedwig (and the Angry Inch) or like Meatloaf. My fashion taste is just as eclectic as my musical taste. Gotta keep everyone on their toes.
Thank you so much for chatting with me. I cannot wait to see you perform as Diane Coffee!
Diane Coffee will be performing at Brick + Mortar Music Hall for Noise Pop and SF Station presents show on Tuesday, February 23rd. Tickets are available here: http://ticketf.ly/2089g1l
Website // www.dianecoffee.com/
Facebook // www.facebook.com/dianecoffeeband
Twitter // twitter.com/dianecoffee1
Instagram // instagram.com/shaunfleming/