New Ticket Details Announced: Burning Man 2016 + Da Vinci's Workshop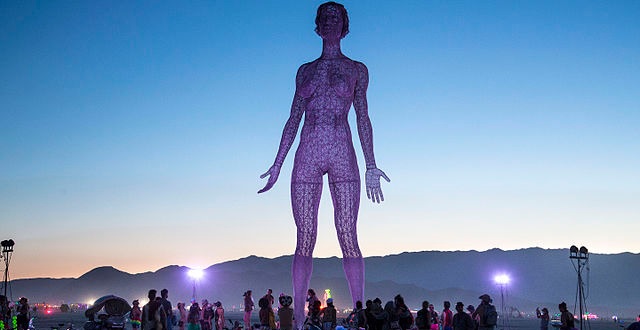 Information about registration and ticket sales for America's favorite multi-day counter-culture event, Burning Man, is now available at tickets.burningman.org. Thankfully ticket prices have stayed the same as last year, $390 per regular ticket and $190 for each of the 6,000 tickets sold through the Low Income Ticket Program.
Pricey pre-sale ticketing begins next week on Wednesday, February 10 while the main registration starts Wednesday, March 16, with the main sale opening at noon on Wednesday, March 23. Approximately 30,000 tickets and 10,000 vehicle passes will also be available for purchase, with an individual maximum of two tickets and one vehicle pass.
It's a welcome surprise that event organizers were able to keep prices stable this year in light of the new Live Entertainment Tax. Unfortunately, the Nevada Department of Taxation has not yet responded to Burning Man organizers' inquiries to determine whether or not participants have to pay the tax. Not surprisingly, the state is taking longer than expected to issue an opinion. Since this will not be resolved before tickets go on sale, a 9% tax (additional $34) will be issued at the time of purchase. Thankfully, if the tax is found not to apply after ticket sales commence, organizers will gladly issue a refund for the 9% collected.
RELATED: 41 Awesome Instagram Photos from Burning Man
Another change this year is the increase in cost to vehicle passes, now costing $80 in 2016 (and are not subject to the Live Entertainment Tax). This was done with the hopes that it'd encourage carpooling and reduce the number of individual vehicles traveling to and from BRC.
Da Vinci's Workshop
The theme of the 2016 event is Da Vinci's Workshop, inspired by the Italian Renaissance during the mid-fifteenth and early sixteenth centuries. During this period, a historic convergence of artistry, innovation and enlightened patronage propelled Europe away from medievalist thought toward modernity. This year's story will focus on the Republic of Florence, a city-state similar in size and population to Black Rock City.
Florence championed humanist ideals, emphasized a rediscovery of science, and saw funding from a newly moneyed class of entrepreneurs all fueling a revolutionary cultural movement that redefined Western civilization. Five hundred years later, Burning Man will attempt to recreate this potent social alchemy by combining art, maker culture, and creative philanthropy with the goal of making Black Rock City (BRC) the epicenter of a new renaissance.
With this year's theme in mind, event organizers have introduced a small tier of 1,000 tickets at $1,200, called 'Leonardo da Vinci Art Tickets,' for those willing and able to offer support to the cause. These are regular Burning Man tickets with no additional privileges or access beyond those afforded to $390 ticket buyers (e.g. entry to BRC).
What do you think about the ticketing system this year? Tell us in the comments section below.