Just Announced: Golden State Warriors' SF Arena to be Named 'Chase Center'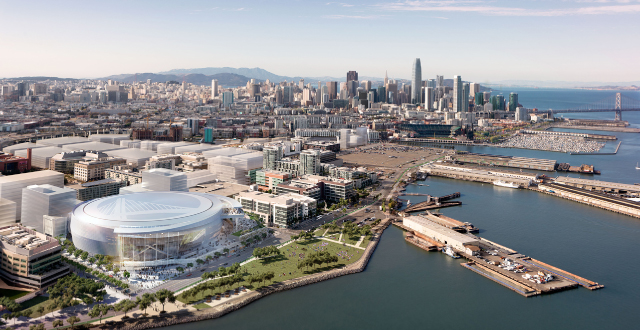 The reigning NBA Champion Golden State Warriors have a name for their new basketball arena in San Francisco's Mission Bay: the Chase Center. The new 18,000 seat, state-of-the-art sports and entertainment center will open for the start of the 2019-20 NBA season.
JPMorgan Chase signed a naming rights partnership for 20 years will be named "Chase Center" and the arena will play host to more than 200 events annually like concerts, family shows, and conventions. Check out design images of the new arena.
"Today is a great day, not only for San Francisco, but for the entire Bay Area community," said Joe Lacob, Co-Executive Chairman and CEO, GSW Arena LLC. "Chase Center will be the best sports, entertainment and convention destination in the world, and our partnership with JPMorgan Chase is key to getting this privately financed venue built."
"Of the top 25 most populous cities in the U.S., San Francisco is the only one that lacks an indoor arena of 12,000 seats or more," said Peter Guber, Co-Executive Chairman, GSW Arena LLC. "Now, with Chase Center, the city will get the state-of-the-art venue it has long deserved – without any public subsidies."
"This partnership is a great example of our commitment to the Bay Area and how important this market is to us," said Jamie Dimon, Chairman and CEO, JPMorgan Chase. "The Bay Area is a beacon for technology, innovation and education and we expect that Chase Center will become a beacon of great art, culture, sports and entertainment for this great community."
The Chase Center will anchor 11 acres of restaurants, cafes, offices, public plazas and other amenities, along with a new five-and-a half-acre public waterfront park. Chase Center will be located on a major Muni Metro rail line which easily links to BART and other transit options. For more information, visit warriors.com/sf.
JPMorgan Chase also announced their continued support for the Bay Area by committing $25 million over the next three years to drive more inclusive economic growth in the community. Separately, the firm also plans to use Chase Center to help spread sports and entertainment in under-served Bay Area communities.