Alex and Allyson Grey will be live-painting alongside musicians, artists and vendors on Thursday at 1015 Folsom. The event is part of "Re:Creation" the pre-party tour for the 10th Annual Gem & Jam Festival.
The night promises to be a mind-blowing mix of audio and visual stimulation. The Greys, best known for their spiritual and visionary art, will be creating artwork alongside notable producers Shpongle, a British pioneer of mixing ambient and world sounds, and Ott, a psychedelic-dub musician who has worked with both Sinéad O'Connor and Brian Eno.
In case you were wondering, the 10th Annual Gem & Jam Festival is an event in Arizona. Rightfully named, it brings together artists, vendors and musicians playing everything from jam and funk, to trance and dubstep, and accompanies the renowned Gem, Mineral and Fossil Showcase where traders buy, sell, and swap minerals across city locations each year.
The show also boasts three stages with electronica and future house, work from visual artists and performers, and local craft vendors.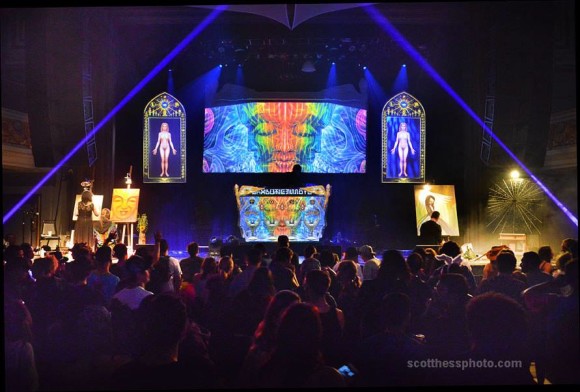 Live Painting on Bicycle Day at the Warfield, 2015
This will be the first time Alex and Allyson Grey have made an appearance in the city since last April's Bicycle Day (celebrating the first intentional LSD journey) at The Warfield.
Homegrown in like-mindedness", visual mixologist Johnathan Singer, who has worked with Alex Grey in the past, as well as produced projections for the Grateful Dead, will be illuminating the screen with transcendent imagery reminiscent of the visionary paintings Grey creates.
Re:Creation, organized annually by Euphonic Conceptions event company, will be the first in a lead up to Tucson, Arizona's annual Gem & Jam Festival.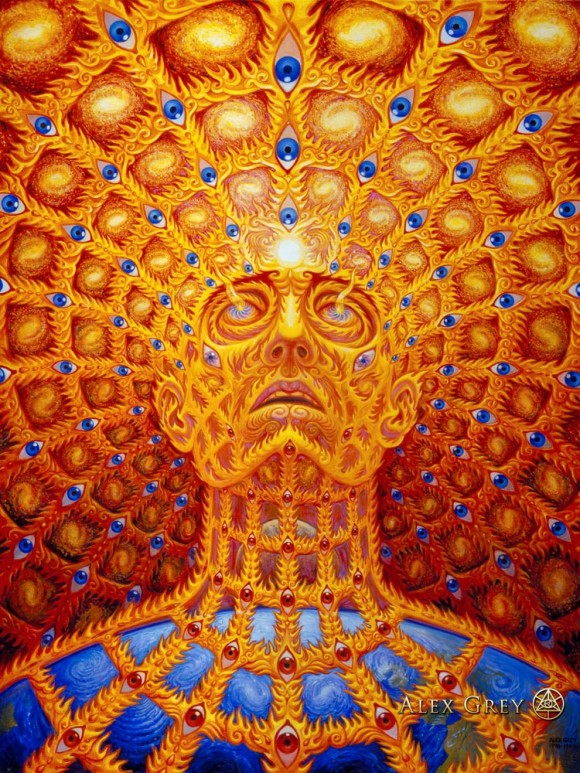 "Oversoul" by Alex Grey, 1997
Josh Pollack, co-founder of Euphonic Conceptions, adds that Re:Creation aims to create a synergistic experience where music goes hand in hand with the artistic performances to unfold an overall co-creative style to an event.
"It's a cool added element to have the live painting," Pollack said. "You can see there's a lot of interaction that goes along with the painter and the music."
Pre-Sale tickets start at $50, and for the truest of Alex & Alyson Gray fans, there is a Meet & Greet ticket which includes early entry, Collector's Preview of the Re:Creation Gallery Exhibition, and limited edition poster. Find ticket and event information here.