Q&A: Car Seat Headrest Ready to Rock The Independent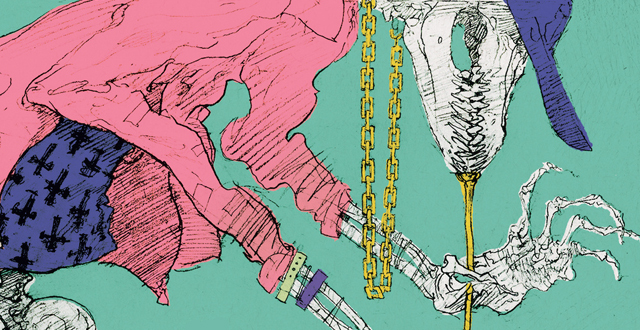 Car Seat Headrest, the creative project of Seattle artist Will Toledo, is a rising indie rock band that's driving full speed into 2016. This group has had a great 2015, scoring prime placement on Vice Magazine's "Top 50 Albums of 2015", being named as an artist to watch by Pitchfork, as well as recognition via NPR. With that said, we expect Car Seat Headrest to impress during their upcoming show in San Francisco at the Independent on January 20.
Car Seat Headrest embodies a purely DIY ethos, harnessing a vision that is both sweeping in scope and intimately personal. The project originally began in 2010 in Will's hometown of Leesburg, Virginia, where the then 17-year old began recording in the family car, his one true place of solitude with soundproofing (hence the band name).
From a humble origin, he has since built up an 11-album catalog, all without the muscle of a record label, publicist, booking agent, or manager.
Their songs are often long and complex, anchored in irresistible melodies and a piercing emotional directness. Will evokes a startlingly honest and unfiltered approach to both songwriting and performing. Lyrics cut sharp, with literary references that act culturally omnivorous, touching on themes like youth and death, love and depression, drunken parties, and vague 2nd century theologians. Frantic vocals depict imagery ranging from playful, to sexually frank, to sorrowful – often all within the same song.
Car Seat Headrest went through several live lineups while Will attended The College of William & Mary in Williamsburg, VA, where he majored in English and minored in Religious Studies. After Will moved to Seattle in 2014, he assembled a West Coast lineup with bassist Ethan Ives and drummer Andrew Katz.
Teens of Style, released in October 2015, is the first Car Seat Headrest album recorded with a full band, exhibiting a powerfully vibrant sound with a wide, dynamic range. It makes references to classic novels, art history, and various global faiths, utilizing and reworking some material from the band's prior records. Will provides a concise overview of the band's many sonic and emotional facets, with the songs spanning electronic psychedelia to punk-like anthems and melancholic acoustic numbers.
To preview his upcoming SF gig, we spoke to Will before the holidays to ask about his upbringing, the band's development, and learn about his recent accomplishments.
How did you learn to polish your songwriting abilities?
It's something that happens over time. I've been writing, well sort of writing, all my life. I wrote a lot of stuff in middle school before I could even plan anything. In high school, just as I was learning to play instruments, I was writing a whole lot of songs. None of those were very good, but the massive quality of songs helped me sort of stuff early on. In college, I experimented with the Car Seat Headrest thing that was going on then. First experimenting with more quickly produced and recorded stuff, then trying to play more accomplished, long form albums.
Who are some of your live performance influences?
I try and figure out my own thing. James Brown is huge. I'm always amazed every time I watch something live by him. Michael Gira (the front man of Swans) is one of my favorite contemporary live performers. These are people that the majority of our act doesn't really compare. I really dig them and they have more inspired than influenced my live performances.
Did you find it hard to balance college at William & Mary and the band?
Not really. The band was not as much the main focus as Car Seat Headrest at the time. It was more just recording. I had a live lineup, but we were all in college so we didn't really do as much live stuff as a normal band would. At least not nearly as much live stuff as I've done in the past year. Mainly, I was recording in college and it's not really too time consuming, if you just do it. If you're the only one working on it, you can kind of do it whenever you have time. I wasn't going into the studio. I was just doing it on my own computer. It was a lot easier if I had an hour to go work on a song.
After moving to Seattle, how did you meet bassist Ethan and drummer Andrew?
I met Andrew first through Craigslist. He was advertising his drumming abilities. So we connected and kind of just clicked right away. We met a month before the first show I had gigged. At that show, the first act there was Ethan just doing a solo acoustic guitar act. I liked his stuff. He was mostly doing covers, but I liked his style. I wasn't sure he would join the band at the time. I started playing guitar separately with him and eventually he joined on. He played about half a year and now he's back on guitar and has a full bass. It was lucky that it happened that way.
What was your proudest accomplishment from 2015?
I guess it was that side of the project – getting the live side of things and really getting a functioning band together. I recorded two albums this year, but I have been recording for a long time, so that doesn't really stand out to me. The big difference was starting to have regular practices with other people and for the first time really learning the songs together beforehand. That was really nice and then getting to go on tour at the end of the year was really nice.
After your international tour dates in early 2016, do you have plans for a new material?
We recorded two this year. We already released one of them. The second one will be out in April.
Do you have any fond memories of visiting San Francisco?
No, I have never played the Bay Area. I'm not sure. Where's Long Beach? I don't think I have ever been there then.
When you're not performing or writing music, how do you like to spend your down time?
Well, these days for sure I'm going to have my plan. I kind of prefer it that way. When I have actual down time, I don't try to do too much at all. That just dissatisfies me a couple days. Not having some schedule or stuff I'm supposed to be doing. Right now, I've been at home for about a week after the tour for winter break and I'm already getting bored. Actually, today, I was working on recording some new music. That was the most fun I've had.
Are you a Star Wars fan?
No. I'll probably see it, but I don't really have any interest in it. I am interested to see how it goes around in the public eye, just because it seems like a big deal to a lot of people. I'm wondering if [this one] will end up being a classic like it once was.