Game On! Escape from AT&T Park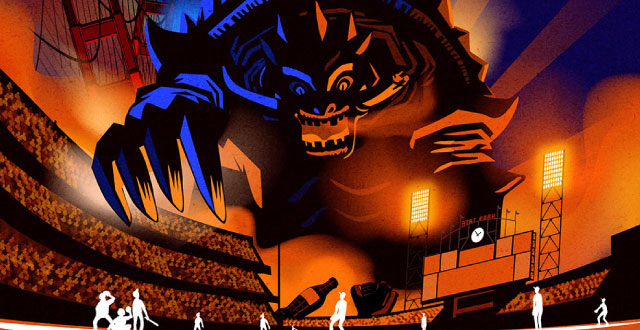 As we enter 2016 and the upcoming baseball season draws closer, AT&T Park has an exiting and unique event taking place on Saturday, January 23. Adventure seekers can participate in a simulated monster attack, where they have 60 minutes to discover the secret behind the sea monster attack and Escape from AT&T Park before it's (fictionally) destroyed.
Failure to escape in less than 60 minutes is nothing to be embarrassed about as some of the puzzles and mysteries will be quite tough. Those unable to escape within the time limit will still allow you to leave the venue. The ultimate prize is the priceless moment when you finally find the solution and everything falls into place. This is the greatest honor and achievement in a Real Escape Game. Other escape events have been held in San Jose, Toronto, and New York.
The organizer, Real Escape Game, is hosting three game time slots at 11am, 3pm and 7pm, with no team size limit. Play by yourself or form a team, however a group of 3 to 6 people is most ideal for the game experience. Puzzles require no special skills or knowledge to solve and all aspects of the game will be conducted in English. See an example below of a small puzzle in this article to get a better idea of the event.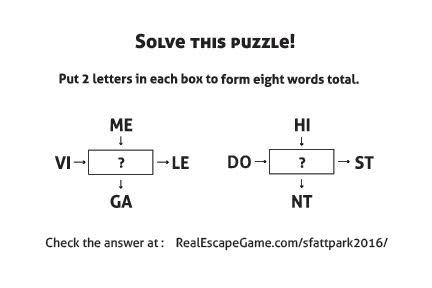 (Answer also at the end of this article.)
To preview the upcoming event, we spoke to Doc Preuss, who is the Producer & Partnerships Lead for Real Escape Game, to learn more about the creation of this adventure, more details on the game's course design, and tips about how to solve the puzzles.
How did you get the inspiration to create this event?
We started the escape entertainment genre right here in San Francisco back in 2012, and we wanted to create a locally themed game as a thank you to everyone who continues to support us in the bay area. Utilizing a famous landmark like AT&T Park was an easy choice for us, and it lets us reach more fans at once than is usually possible.
Has this event been held in other cities or locations?
This event is designed specifically around AT&T Park, which means that it's actually part of the game. It can't be run anywhere else!
Are there any prizes for the winners or the fastest to solve?
Escapees earn the admiration of all, everlasting glory, and eternal bragging rights. Our fans love to keep track of their win records across all of our games. Every time a puzzle falls into place during the game is its own little reward, too.
What type of puzzles are involved?
Our games use a combination of word, logic, number, and visual puzzles so that there is something for everyone. There will be some surprises, too!
How is the monster and course designed?
We designed the game so that players will get to explore as much of the ballpark as possible. Most importantly, they will get to run on the field! The monster was designed with classic Japanese "kaiju" monsters as inspiration.
What is the average success rate?
Escape rates vary greatly by game, though they are always a good challenge. We expect a success rate of about 15-25% for Escape from AT&T Park, but everyone will be shown the solution at the end regardless. Don't let the numbers discourage you from trying!
What has been the best private event you have held?
Almost all of our events are for the general public, but we do offer private games in our escape rooms and also private event-style games for groups of 30+. We have had some amazing corporate clients bring us to their campus.
What's different about this year's event compared to the first one held three years ago?
The regular event-style games usually max out at around 200 people per game, but we can welcome over 2,000 per game at AT&T Park. We also had to design some aspects of the game differently than usual to account for having ten times the people playing at once. It will be just as exciting, if not more!
Check out the video below for more insights.
[Game Notes]
+ Participants are encouraged to wear comfortable clothing suitable for active movement around the stadium. Heels are strictly prohibited and will not be granted access inside the stadium due to the ballpark's regulations.
+ Costumes are welcomed but please keep in mind the need to be agile. The event will take place rain or shine.
+ Further announcements will be updated on their website and on the official Facebook page.
+ Anyone can take photos of the clues during the game, however, don't spoil the excitement by uploading spoilers to the internet, on social media, or tell other people the answers or puzzles (not cool).
Answer to the puzzle: S A V E