Modern California eatery Little Gem opened last week at 400 Grove Street (at Gough) in Hayes Valley. The 2,000 square foot space in a newly constructed building currently has 78 seats available for dinner, lunch, and weekend brunch.
The team behind Little Gem has decades of experience in the restaurant business. Founder Eric Lilavois, former COO at the Thomas Keller Group, has worked for Chef Thomas Keller for 10 years. Fellow partner Dave Cruz was the opening chef de cuisine of Yountville's Ad Hoc, and co-­wrote the Ad Hoc at Home cookbook with Keller. CFO John DiFazio completes the leadership trio, having spent thirteen years on Wall Street and parlayed his business acumen into his passion for food and its sourcing.
The restaurant building was designed by Fougeron Architecture for DDG and DM Development, while the interior design came from local architecture firm Boor Bridges, who sought a clean, natural look with modern, understated style with large windows and nuanced décor that incorporates marble, concrete, reclaimed American elm, and locally crafted furniture.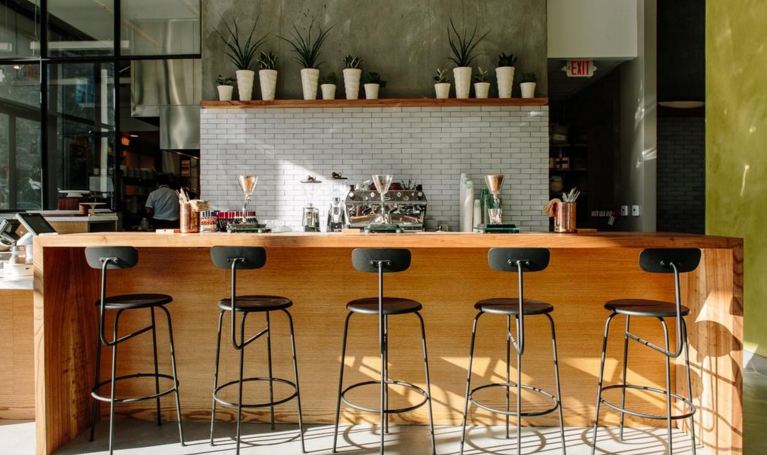 Every meal on their menu is focused on fresh, season ingredients. Reasonably-priced dishes all use produce responsibly grown or raised by local farmers, without harmful chemicals, processing, or modification.
Customize dinner by picking between Marin Sun Farm's slow-roasted pork shoulder or pan­‐seared King salmon matched with a selection of vegetables such as chickpea lentil stew or grains like quinoa with olives and almonds.
Lunch items average around $9 and can be ordered until 4pm, with options ranging from soups and salads to wrap sandwiches using flatbread, tapioca crepe, or tortillas made from the Ethiopian grain.
Breakfast will eventually be served from 8am—10:30am, offering new twists on classic breakfast dishes like quinoa flour pancakes and Hayes Braise: swiss chard, black garlic, poached egg, almond-­bacon crumble.
Little Gem also offers modest kids' menu with oven-­baked chicken tenders and an 'AB&J' with almond butter and house-­made jam on a tapioca crepe. Beverages available include variety of smoothies, wine, beer, and locally roasted coffee and espresso by Counter Culture Coffee. Teas by Song Tea are brewed using Silverton tea dispensers.
On entry, plan to order at the front counter and sit where you wish. When the rain clears, enjoy a seat at the small sun-­lit patio, which provides an unobstructed view of the kitchen, where all the magic happens.