10 of San Francisco's Biggest News Stories of 2015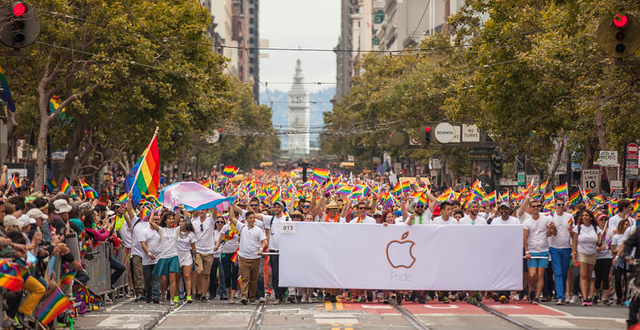 As 2015 comes to a close, San Franciscans are looking back at the past year and all of the triumphant, emotional, interesting and controversial events that made headlines. Before you head into 2016, glance back at some of the Bay Area's biggest moments of 2015 with our comprehensive countdown.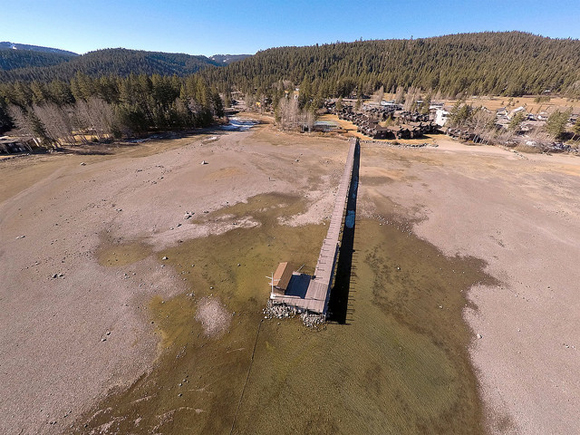 Tahoe City Near Commons Beach, taken in Jan '15 by flickr user aerial-flight-productions
1) San Francisco started 2015 a little, well, dry. For the first time in 165 years, there was no recordable rainfall to be documented for the entire month of January, a first since recorded weather history began and a sure sign that California's much talked about drought wasn't over yet. On the contrary 2016 is expected to begin with an El Niño season that has many city dwellers beaming, but disaster officials bracing themselves for havoc.
2) #BlackLivesMatter may have started as a hashtag used on social media in response to police brutality accusations against African Americans, but over the past year it has become an international activist movement. In May, San Francisco saw it's own protest related to the Black Lives Matter campaign as part of a nationwide effort criticizing the police killing of black women and girls—including Aiyana Jones, Yvette Smith, Rekia Boyd and others. The unique component that tied the nationwide protest—carried out in various major cities across the U.S.—together was that the women involved appeared topless, covered in body paint reminiscent of some African tribes and donning brightly colored turbans. To make their point, the women involved held up signs printed with the names of black women killed in police-involved incidents.
3) Dubnation celebrated one of the year's biggest victories as the Golden State Warriors clinched the 2015 NBA Championship in game six of the playoffs against the Cleveland Cavaliers. A game seven seemed imminent but despite LeBron James putting up 32 points, 18 rebounds and nine assists, he couldn't edge out Steph Curry and finals MVP Andre Iguodala, who scored 25 points each in the final game. In an eight-point victory (105-97) over the Cavaliers, the Warriors took home their first title in 40 years. And Curry said it best, "World champs… This is truly special." An epic parade and citywide celebrations followed and the team is now working toward a new achievement with a (nearly) undefeated 2015-2016 season so far.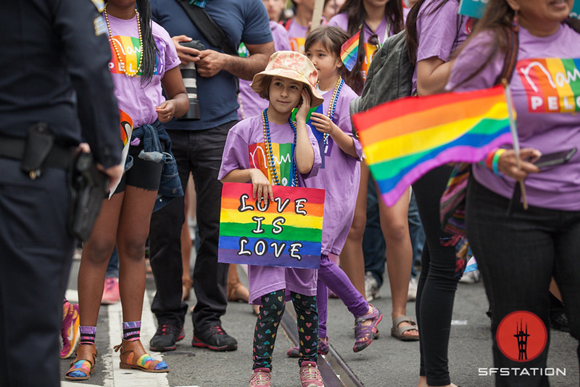 2015 Pride Parade. Photo by Pedro Peredes-Haz
4) In one of the year's biggest moments, the Supreme Court handed down a history-making decision, calling same-sex marriage a constitutional right. In June, the controversial decision was passed with a majority vote (5-4) as the gay rights movement celebrated one of their biggest victories to date. The media painted a picture of the joyous reactions from Bay Area residents, and while there certainly was some naysayers nearby, the city's celebrations—from a rainbow-clad San Francisco City Hall to a Castro District rally that drew hundreds if not thousands of supporters—spoke volumes.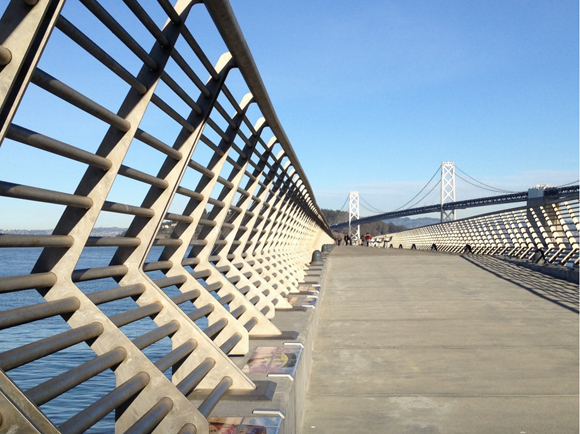 Photo by Almonroth via wikimedia.org
5) In an area where single-victim shootings happen daily, the events don't always make the news, but when 31-year-old Kathryn Steinle was shot while strolling tourist-heavy Pier 14 with her father in July, the incident stirred debate. The shooting was dubbed random, as there was no connection found between shooter Francisco Sanchez, 45, and his victim, and it sparked conversations about immigration reform, as Sanchez, who admitted to shooting Steinle, is an illegal immigrant with a felony record and several previous deportations.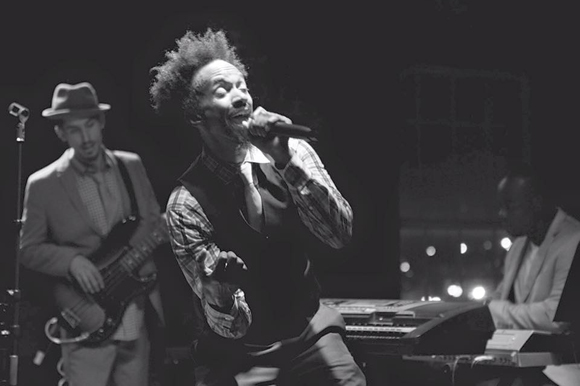 6) For those who were looking forward to catching Oakland-based musician Fantastic Negrito (real name Xavier Dphrepaulezz) at Outside Lands in August, they—as well as the artist—got a surprise when he was arrested for illegally selling VIP event tickets after police were tipped off about a Craigslist-based scam. His cohorts—a 22-year-old intern and 44-year-old friend of the musician—were taken into police custody, as well, and Fantastic Negrito's show was canceled, providing a not-so-fantastic conclusion of this event for fans.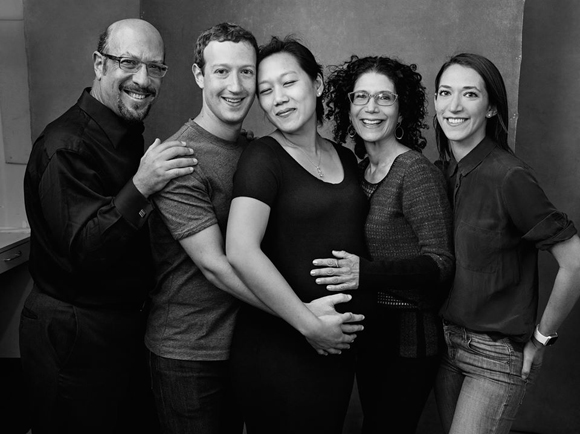 Mark Zuckerberg | Facebook
7) Bay Area-based company Facebook made headlines when it announced a new maternity and paternity leave option for employees. Hot on the heels of CEO Mark Zuckerberg's own pregnancy news with wife Priscilla Chan, the concept marks a change in work-life balance ideals of millennial men. In December, months after the announcement, Zuckerberg started his own planned two-month leave, setting a standard for successful men of our time who value family. And while America is still the only developed nation that doesn't require paid time off for new mothers and fathers, other large Bay Area companies are following suit: unlimited paid time off for the first year offered to new parents at Netflix; 20 weeks of fully-paid maternity leave and 12 weeks of paternity leave for Microsoft parents; and 26 weeks of paid maternity leave and 16 weeks of paid paternity leave for both birth and adoptive parents at Adobe.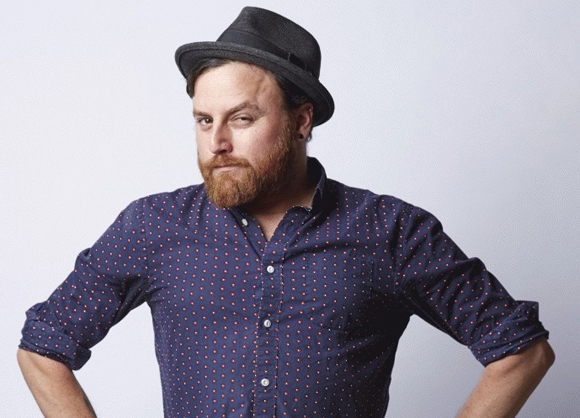 8) Mayor Ed Lee received some competition for mayoral candidate this year as Stuart Schuffman—aka "Broke-Ass Stuart"—decided to challenge the popular incumbent under the motto "Go for Broke." His message was one of frugal living, an interesting concept for one of the most expensive cities in the world, but the 34-year-old man-about-town who holds a variety of jobs including bartender and public speaker, gained some traction—or at least commanded a lot of media attention—before losing out to Lee in the Nov. 3 election.
Video of the #E3Implosion. Free to use and distribute. pic.twitter.com/HbmFIRyetV

— TransportationAgency (@ca_trans_agency) November 14, 2015
9) Caltrans ended 2015 with a bang—or about 600 bangs to be exact. On Nov. 14, the state agency responsible for highway, bridge and rail transportation planning, construction and maintenance used nearly 600 underwater explosive charges to take down the largest remaining pier of the old Bay Bridge's eastern span. While the new bay bridge opened in 2013, deconstruction of the existing bridge has been a lengthy process, and demolishing the eastern span has been the recent focus of Caltrans. The entire process took roughly six seconds.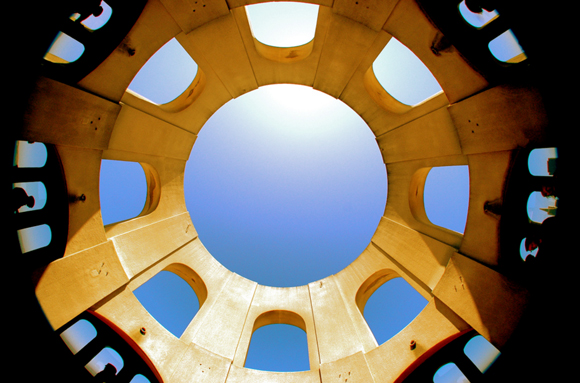 The view from inside Coit Tower on top of Telegraph Hill. Photo by Pascal Vuylsteker via Flickr
10) If a picture is worth a thousand words then how much is a gorgeous view worth? According to San Franciscans, it's more than you can put a price on. As developers fight to construct luxury homes on Telegraph Hill, many city dwellers are still up in arms about the potential buildings, tied up in an ongoing battle. Since the 1990s Telegraph Hill has been an oft-visited piece of San Francisco, presenting gorgeous glimpses of the city's skyline, and these new homes would block that scenery from view, leading many visitors and residents to join the struggle to stop the project before it begins.
There you have it, ten of the biggest headlines to hit newspapers—er webpages—in 2015. Now it's time to sit back and see what 2016 will bring. Happy New Year, San Francisco!