SF After Dark: Taking it to the Streets with Tastemaker Adrian Spinelli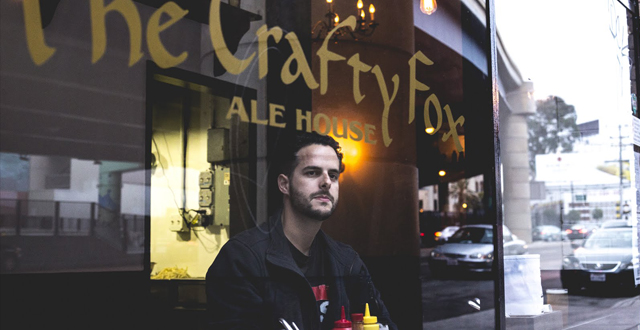 San Francisco is, no doubt, home to the hustler, the ones who move multiple pieces to make their passions work for them. It's a rare find when someone is able to make the full-time freelance life work, especially in a town with an ever-increasing cost of living. But it is not impossible. In fact, you can catch some quality live music and eat some of the best food in town while you're at it.
In the second edition of SF After Dark, we follow San Francisco based food and music writer/editor, Adrian Spinelli as he takes us on his typical night out. Where does someone who gets paid to galavant music festivals and visit breweries near Machu Pichu, go on a night off? Adrian takes us on a tour of his local haunts. We drank beer, we ate noodles, and we witnessed a veteran MC make a lucky fan's dreams come true.
Round One — The Crafty Fox (1700 Mission)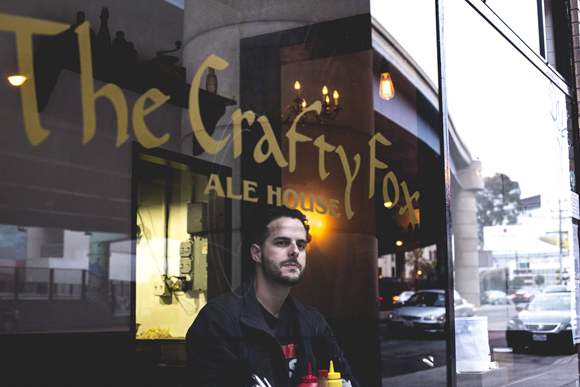 We met up with Adrian at The Crafty Fox, a new gastropub brought you by the people behind Brick & Mortar (located next door) and The New Parish in Oakland. Keeping in theme with the name, this place was indeed a craft brew heaven. "They used to own Palace Pigalle in Hayes Valley before it closed and it had a promising beer list," Adrian reveals. "[The Crafty Fox] is filled with options from 3 of my favorite Bay Area breweries in Berryessa, Altamont and Fieldwork." We map out our night over pale ales and IPAs and move on.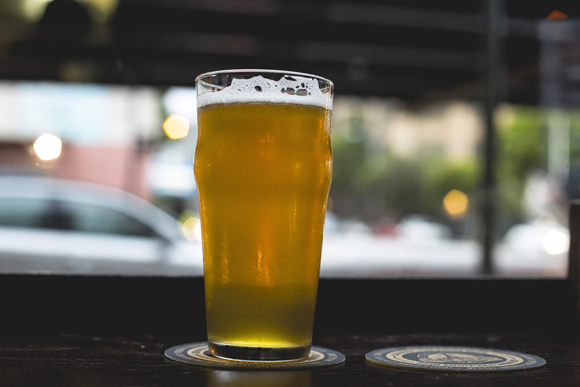 Round Two — Zeitgeist (199 Valencia)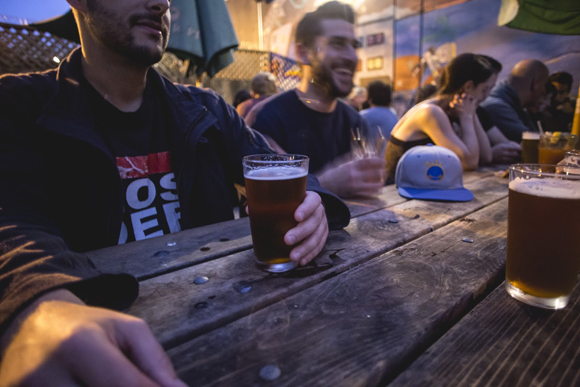 We walk one block west to Zeitgeist, a famous Mission dive bar once described as "punk" but not immune to the area's recent over-gentrification. Despite its evolution, Adrian asserts that "this is the greatest beer garden in SF. Always has been. Everyone who works there is kinda aloof, which is fine by me, cause it breeds a no bullshit mentality. Walk in, get a beer, sit down outside, drink it, have fun, repeat." We do exactly that. Luckily for us, Anchor Brewing was sponsoring a night of live art featuring local artist Ricky Watts.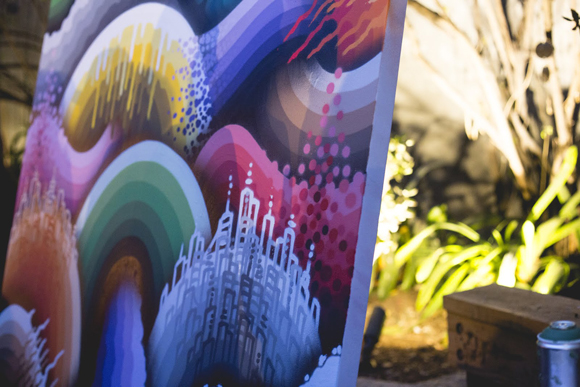 Art by Ricky Watts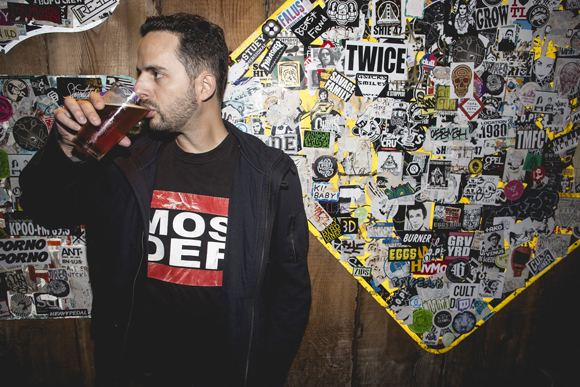 Just a man and his Anchor Steam
Round Three — Orenchi Beyond (174 Valencia St.)
After a couple brews, our appetite for noodles took center stage. We mosied on across the street to the new-ish ramen spot, Orenchi Beyond for some Tonkatsu Ramen, a dish simmered in pork broth for hours which Adrian describes as "really fatty, velvety and delicious." Sign us up.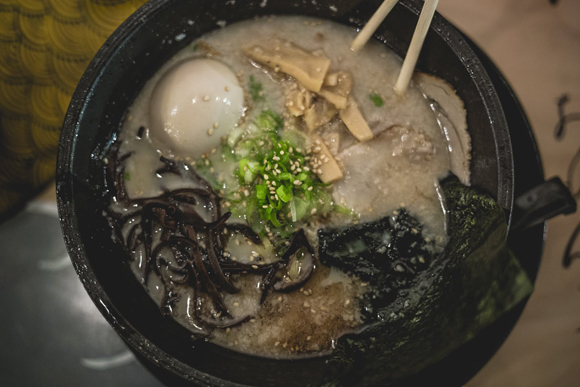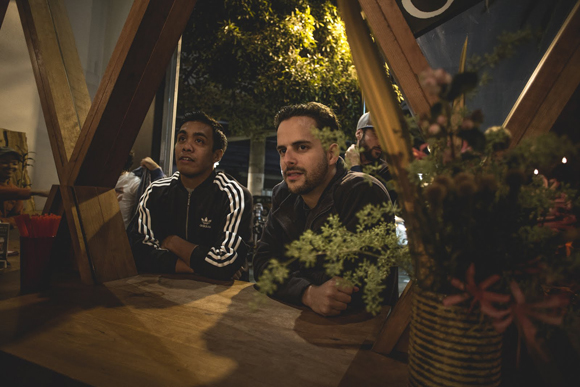 Walking by, the cozy space initially grabs you with its indoor/outdoor setup, warm lighting and colorful art mural decor. We ordered the Hamachi Carpaccio appetizer and debated between the Ramen and Soba. We each ordered something different and agreed to split our dishes with each other because sharing is caring. Pass the chopsticks, please.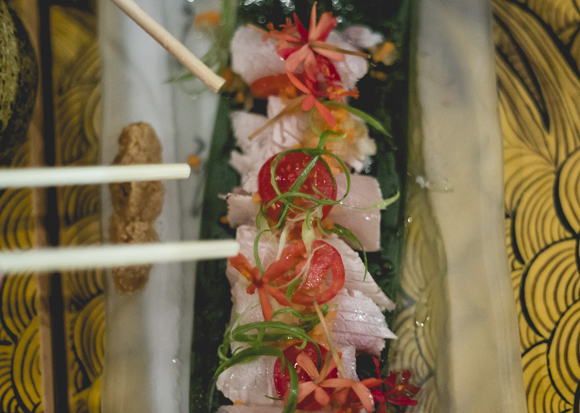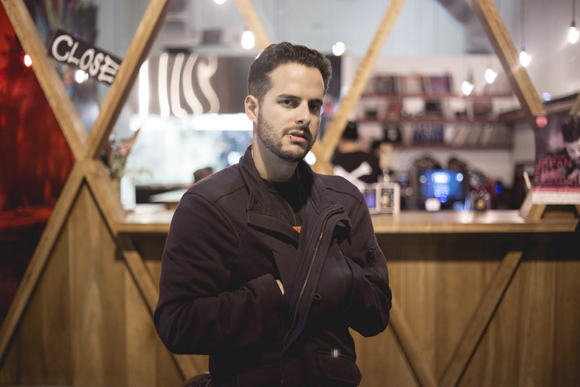 Orenchi Beyond. Spinelli approved.
With satisfied bellies and a decent pre-game underway, we head over to Mezzanine, one of the first clubs Adrian ever went to after moving to the city 6 years ago.
Round Four — Mezzanine (444 Jessie St)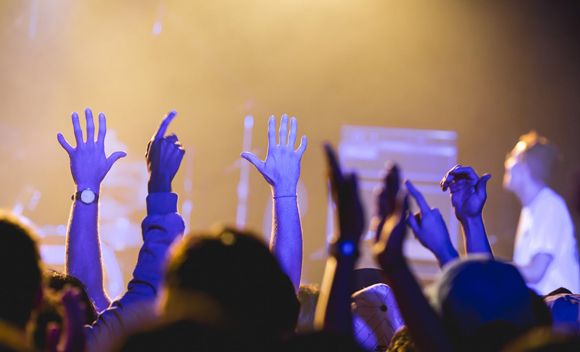 Adrian reveals why he's been a fan of the venue since day one: "I like it cause it's got that grimy underground warehouse feel." On this particular night, he was buzzing with excitement like it was Rex Manning Day. "Ghostface Killah from Wu-Tang Clan was playing, backed by a young Canadian jazz group called BADBADNOTGOOD. Ghostface is like my favorite hip-hop human of 2015. He's a timeless rapper."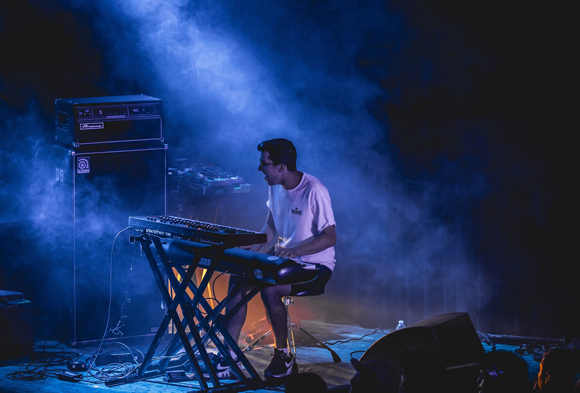 BADBADNOTGOOD. Very good.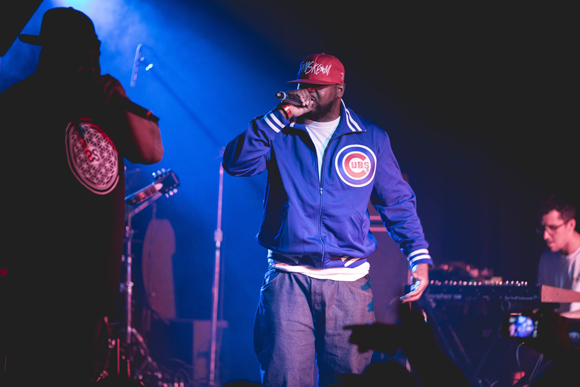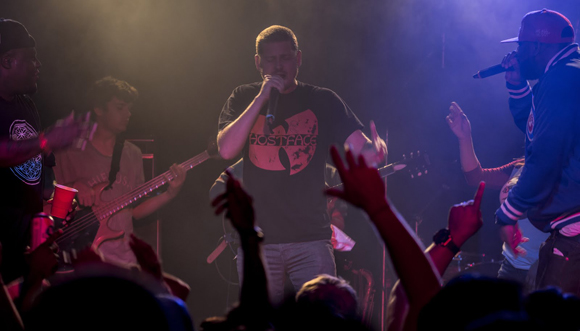 Luckily for this Wu-Tang superfan, Ghostface Killah opened the stage to co-MC ODB's verse on "Protect Ya Neck." And luckily for Ghostface, the superfan he picked totally nailed his once-in-a-lifetime moment. Ghostface thanked Eric, aka "Eric-iza" for the gutsy and near-flawless performance. No word on whether Eric-iza will be joining the rapper on tour.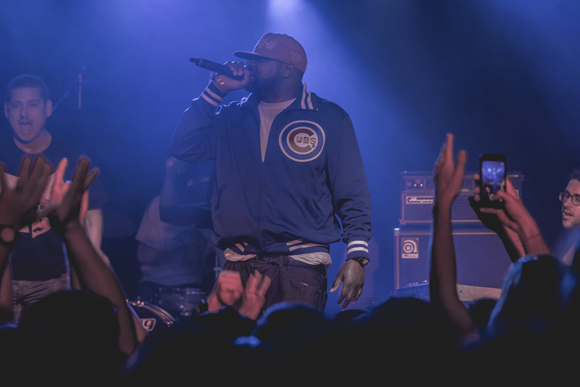 Photos and words by Kristina Bakrevski