Monday is one of the hottest nights out if you're near Fell and Divisidero AKA NOPA looking for a few good bars and a retro-cool dance party. It also doesn't hurt if you're DJ Zhaldee, who just happens to be serving as guest DJ for this Monday night out.
We caught up with Zhaldee, a local DJ whose been spinning since back in the day and whose talents are always in demand. Along with weekly gigs at Hawthorn on Fridays, a mixshow on Q102.1 Radio and Oakland Raiders resident DJ at the Stella Terrace at O.co Coliseum, he has played up and down the West Coast along with regular appearances in Las Vegas.
Always reinventing his beats and mixes to keep things current, he still loves to incorporate the throwback sounds, which is what brings him to NOPA tonight: good drinks with old friends and a turn on the tables at Madrone's Motown on Mondays.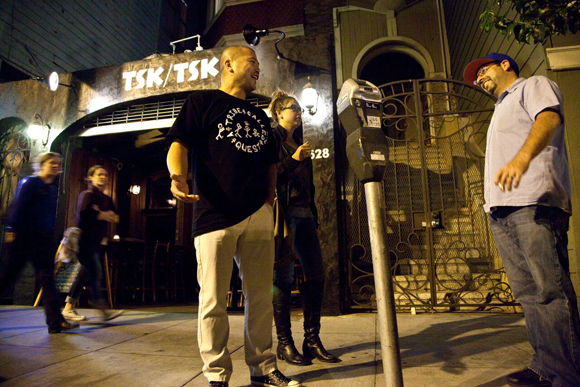 We start the night at Tsk Tsk, a pop-up dive bar that opened its doors in July for a temporary run as a placeholder of sorts until the owners open up a permanent venture in the space. Tsk Tsk is known for boozy concoctions that flow out of the slushie machine, which are quite soothing in the City's current heatwave, but on this cool SF eve we opt for classics like a double vodka on the rocks – minus fancy lime wedge adornment – and a pint of ale.
If you're hungry there's Bacon Bacon, the kitchen behind the bar serving up all things, you guessed it, bacon. We skip indulging in the greasy treats, saving ourselves for the dance floor. But first we have a seat, chat and enjoy our first drink of the night. Zhaldee's phone starts to blow up with texts from people who just found out via Instagram that he was in the neighborhood for a gig. A few minutes later they start to arrive, more drinks are consumed and the party gets ready to move on to Madrone.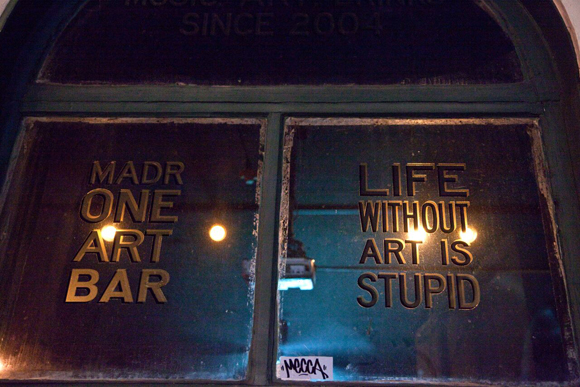 Madrone is an Art lounge, chock-full of paintings, photographs, art installations, music and, of course, drinks. Monday nights are famous in these parts for Madrone's Motown on Mondays dance party. This isn't your mother's American Bandstand. This is a throwback vibe with a decidedly modern twist. The smooth tunes of Motown are deftly interlaced with upbeat funk and hip hop and dancing is a requisite.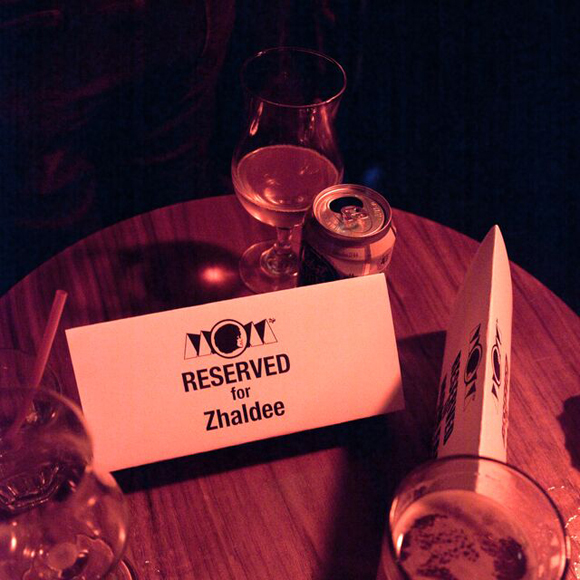 As guest DJ for the night, Zhaldee has a small reserved table at the front, but who needs a table when, as Zhaldee says, "I DJ, you dance!"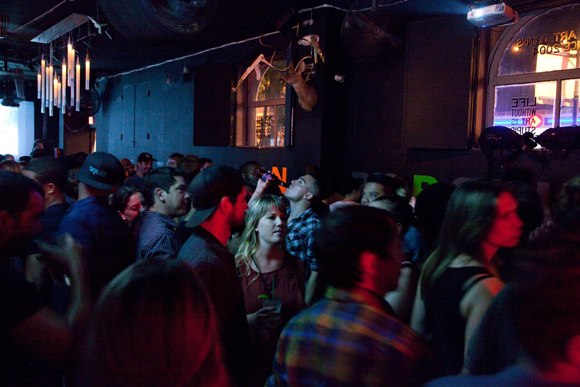 After sweating it out on the dance floor, we head to the bar to quench our thirst. Luckily, Jorge is behind the bar to fulfill your every thirsty desire.
Heading back to the front, we are just in time to hear the smooth voice of Zeik take over the mic to accompany the turntable for a couple of songs. Zeik's vibe is cool and feels just as retro as the night in his leopard print jacket and fedora with a feather. What a great musical cap to the evening.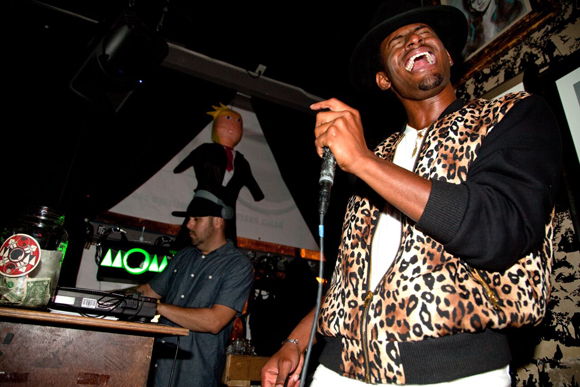 We leave Madrone hot and hungry. The cool SF air takes care of the first, but we need to find something to satisfy the hunger after burning up all those calories to Zhaldee's Motown set. Sure you could hit one of the many restaurants that line Divis, but why not keep it old school tonight?
Charles Melancon, hailing from New Orleans, has started to make this a regular Monday night stop selling his bacon wrapped hotdogs, large and piled high with toppings. Can't wait till Monday? You can find him on Fridays near the Boom Boom Room as well.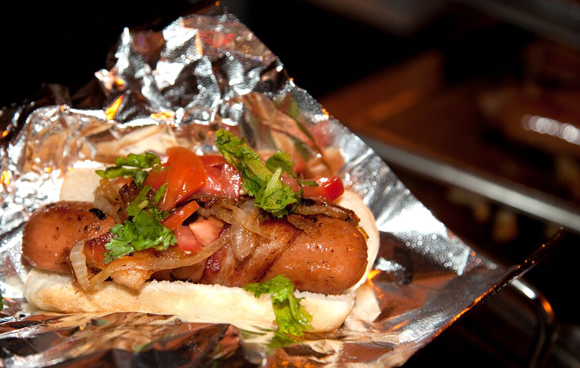 And what better way to wrap up an evening of old-school beats and old friends than to drop into local watering hole The Page. Sure, it requires you to cross the Oak Street threshold into the Lower Haight, but The Page rounds out the night's throwback theme, looking like it sprang from a 1950's Elks Lodge lounge, replete with dark décor, a stuffed pheasant hanging over the bar, thick red chairs, a pool table and a jukebox. It's a great way to end the night; after all you'll need something to wash down that Charles Melancon Special.