New documentary film, Stretch And Bobbito: Radio That Changed Lives, directed by Bobbito Garcia and co-produced by Stretch Armstrong, embarking on a global tour starting in the Bay Area. The documentary premiers in Oakland at the Matatu Festival of Stories on September 26, then continues to San Francisco's Mighty on Sunday, September 27.
During the 1990s, radio disc jockeys, Stretch and Bobbito, became hip-hop legends by introducing the world to some of the biggest rappers in the game, including unsigned hip-hop artists (at that time), like Nas, Biggie, Wu-Tang, and Big Pun. As well as an unknown Jay Z, Eminem, and the Fugees. Total record sales for all the artists that premiered on their radio show exceeds 300 million. Their late night program gained a cult following in the art and fashion worlds, as well as the prison population. Stretch and Bobbito brought a unique and unlikely audience together, and created a platform that changed music history forever.
The film plays for one-night-only in San Francisco, with Bobbito Garcia and Stretch Armstrong both attending for a Q&A after the film. Buy tickets to the San Francisco premier, which begins at 7pm, and is presented by Massive Selector. For more information on the film, visit the documentary's website.
We talked to Bobbito about the development of the film, what's special to him about the Bay Area, and how he's stays involved in the music industry.
Who taught you to DJ or did you learn on your own?
My first inspiration to DJ was my radio partner Stretch. When we first s tarted the show in 1990, I was the host. I had the good fortune of watching him spin every Thursday night. Five years later, I started spinning myself. In the last 20 years since, I've spun in 39 countries throughout six continents. So I owe a lot to Stretch for giving me that first bite!
What do you admire most about Stretch?
I'm not saying this just because we were partners, but I really felt that Stretch was the best DJ on the radio in the world. Our listeners and people worldwide felt the same way by virtue of the tapes that got distributed and the notoriety that we created and all the accolades we received with the New York Times, the Village Voice, and Gavin Report. He was just phenomenal at mixing, blending, had a knack for selection, and he could go beyond hip-hop in the 90's. He played a lot of samples and blended them; he'd play rock records and blend them with rap lyrics. People just weren't doing that back then. He was really a visionary in that sense.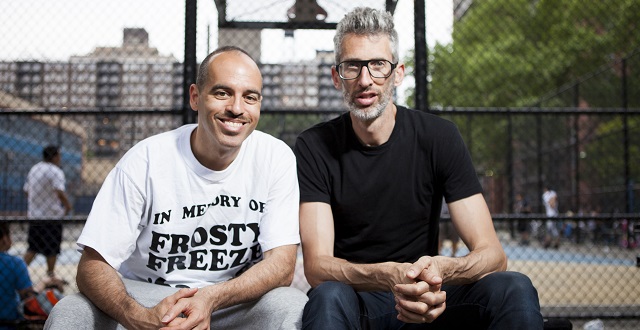 How did you first start your own radio show?
Questions like that will be answered in the film! I hope everyone comes out to our Oakland premier at the Matatu Festival of Stories on the 26th (after party at Leo's same night), and then the San Francisco premier on the 27th at Club Mighty. We go from Oakland to San Francisco to LA and in the following weeks we'll be hitting London, Dubai, and Berlin. The film tour starts in Cali and rightfully so. We always had a lot of love from Sway and Tek, Kevvy Kev, Beni B, Davey D, and all the legendary pioneering DJs from the Bay.
Why is the Bay Area so special for you?
I've been going out to the Bay since 1990 when I was an employee at Def Jam. My job was to give records to all the college radio shows. That's how I developed close relationships with Kevvy Kev, Davey D, Beni B, Sway and Tek of the Wake-up show with Joe Quixx. We would send them tapes of our shows and they would send us tapes of theirs. We became this bi-coastal network. All of us had one goal which was to support up-and-coming and unknown hip-hop artists whether they were signed or unsigned. It became this bond and connection between all of us.
The other reason why the Bay is special for us is because there used to be this trade publication based there called the Gavin Report. In 1992 and 1993, by vote of the staff, radio stations, and industry personnel, we were given the "Best College Radio Station of the Year" award two years in a row. We received the plaques in San Francisco.
What has been the biggest surprise since you created the film?
The film is 98 minutes of "a-ha" moments. We screened it at the Central Park Summer Stage in front of 3,500 people outdoors. I've watched the film 5,000 times during the editing process, and I caught goosebumps seven or eight times that I wasn't expecting to while watching it with an audience that large.
The audiences in Oakland and San Francisco are in for a treat. We've got Nas, Jay, Eminem, we've even got archive audio of Biggie Smalls that's never been heard (unless you were listening that night in 1991). It's a pure portrait of 90's hip-hop in it s most innocent essence. And it's a well put together film, even if you don't like hip-hop you'll hopefully love the film because of the narrative and different entry points for people who are homeless, people in the military and people who love radio as a free-form platform.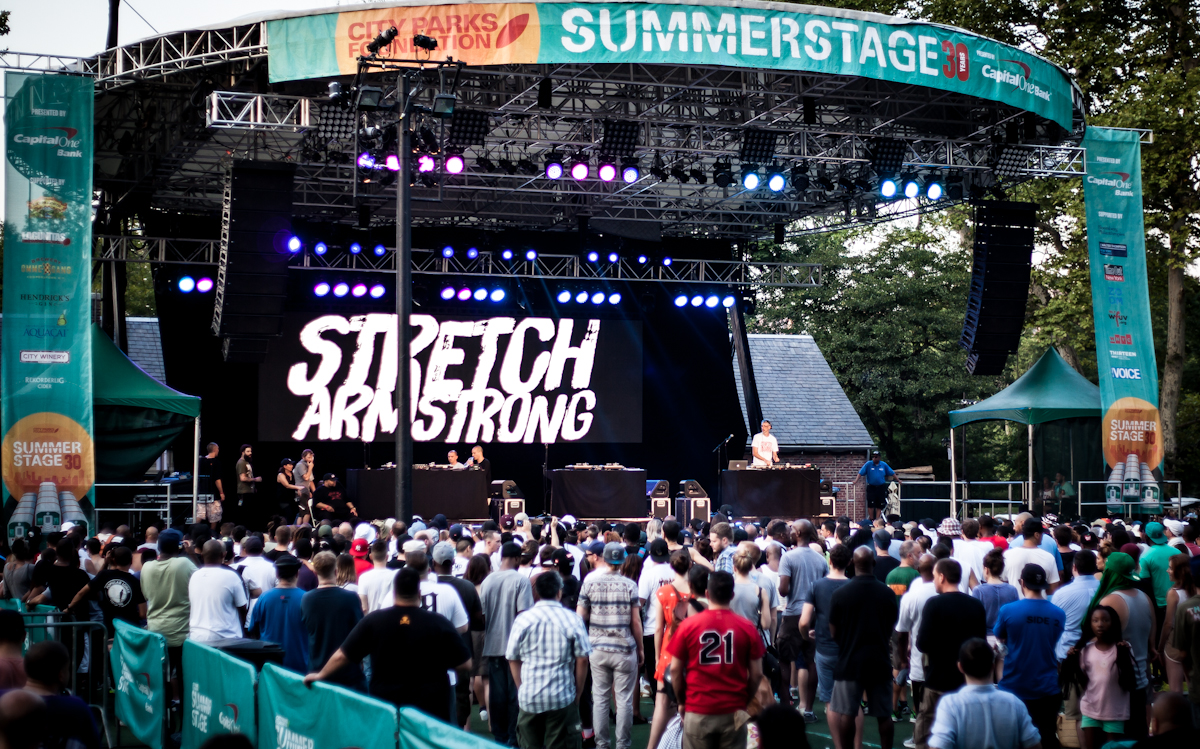 Do you see any rising stars today in the current music world?
Me and Stretch made a commitment to developing the platform for up-and-coming hip-hop artists and that was the 90's for us. These days, I don't even listen to that much rap music. I mostly listen to world, jazz, and soul. I commit a good amount of effort to helping out those artists. I have a 24-hour radio station at KoolBobLove.com available on the TuneIn app. I expose a lot of Afrobeat, Latin and Brazilian acts. Stretch and I did what we did . We've moved on and progressed since. We're fond of what that era represented for us and we're happy to document it and present it as a film. It will be released digitally October 22 and we'll be on the tour around the world and doing screenings and special events and after parties. Check out www.stretchandbobbito.com, and @stretchandbobbito on social media for additional info.