Bay Area Bold Hosts Community Summit & Free Festival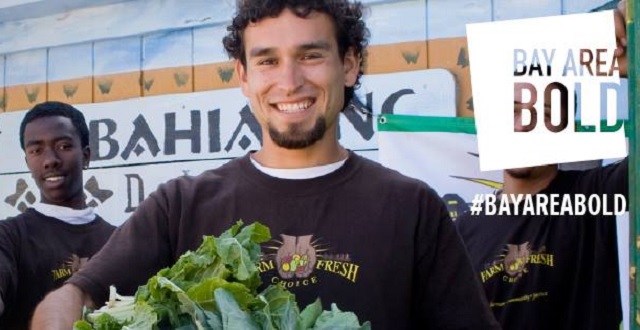 The San Francisco Foundation (TSFF) invites everyone to attend Bay Area Bold, a two-day event consisting of a community summit on Friday, September 25 and a free festival on Saturday, September 26 at Yerba Buena Center for the Arts and Yerba Buena Gardens.
The event will feature live performances, community art-making, TED-style multimedia presentations, engaging discussions and more, bringing together Bay Area leaders, visionaries and innovators for two days of fresh thinking, entertainment, connection, and celebration.
The goal is to elevate civic engagement, highlight social innovation, and foster new connections to advance economic and racial inclusion in our vibrant region. TSFF hopes this collective regional action can tap into the potential, unlock opportunities for all people in the Bay Area, and work together for racial and economic inclusion.
Tickets for Friday's Bay Area Bold Summit are $75 before September 18; $100 between September 18 and September 24; and $125 at the door. Saturday's Bay Area Bold Festival is free and open to the public. For more information, visit BayAreaBold.org. See below for additional event details.
Bay Area Bold Summit and Innovation Awards Presentation
When: Friday, September 25, 9:30am – 6:30pm
What: Features national and regional thought leaders and innovators, include an opening plenary, multi-media talks, moderated conversations, and opportunities to mine and share data with a regional network of thought leaders across sectors. The day culminates with TSFF's 2015 Innovation Award where three award finalists will showcase the ways they are using fresh ideas and new approaches to expand opportunity in the Bay Area. The winner will be determined by a live and online public vote. and will receive a $20,000 award from The San Francisco Foundation and strategic workshops with Full Circle Fund to leverage the expertise of our joint Bay Area network. The winner will also be featured in a series of short profiles on KQED television and radio.
Bay Area Bold Festival
When: Saturday, September 26, 11:00am – 7:00pm
What: Celebration of the community with a free day-long festival of music, dance, film and interactive artistic and cultural activations from Bay Area Bold partners and festival participants. Featured performers include Alliance for California Traditional Arts, AXIS Dance Company, Dance Brigade, Destiny Arts Center, East Bay Center for the Performing Arts, Embodiment Project, Handful Players, Imagine Bus Project, Krista DeNio & CounterPULSE, Latin Jazz Youth Ensemble, Los Cenzontles, Sean Dorsey Dance, Youth Radio, Youth Speaks and more.