Hardly Strictly Bluegrass Reveals Lineup Medleys for 15th Anniversary Festival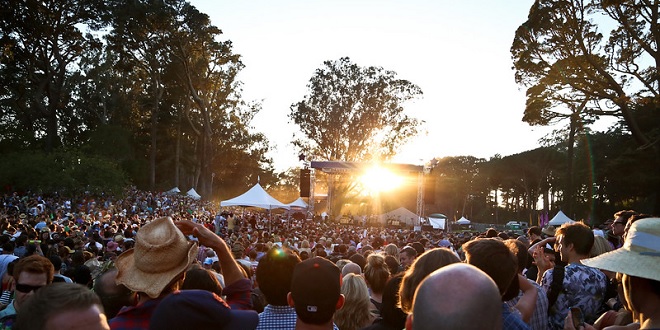 Per annual tradition, organizers of Hardly Strictly Bluegrass started to disclose the lineup for this year's festival through a series of music medleys, headlined so far by legendary classic rock guitarist Boz Scaggs, country folk star Emmylou Harris and singer-songwriter Rodney Crowell.
Other newsworthy acts included on the first two lineup releases include blues rock band The Stone Foxes, soulful R&B artist Charles Bradley and his backup band His Extraordinaires, and indie folk guitarist Angel Olsen.
September 1 Update: The third medley has been posted to the festival's website, and includes Irish punk band Flogging Molly, reggae artist Michael Franti, country acts Asleep at the Wheel and Jamey Johnson, and singer-songwriter Robert Earl Keen.
September 9 Update: The fourth medley includes Saratoga rock band ALO (Animal Liberation Orchestra), eclectic folk rock duo The Oh Hellos, and Brooklyn bluegrass group Spirit Family Reunion.
September 14 Update: The fifth medley features singer-songwriter and guitarist M. Ward, five-piece string band from San Francisco The Brothers Comatose, and folk rock band Saintseneca.
September 16 Update: Festival organizers finally revealed the complete lineup, which is enormous in length and can be found below. Highlights and standout surprises include Mexican-American rock band Los Lobos plus country musicians Lee Ann Womack, Vince Gill, Steve Earle and his backing band The Dukes.
September 25 Update: The daily lineup by stage has been released for the entire festival. To see the set times, including details about the Hardly Strictly Disco with Bluegrass inspired sets by local DJs visit the Hardly Strictly website.
Download the HSB map | Download the HSB schedule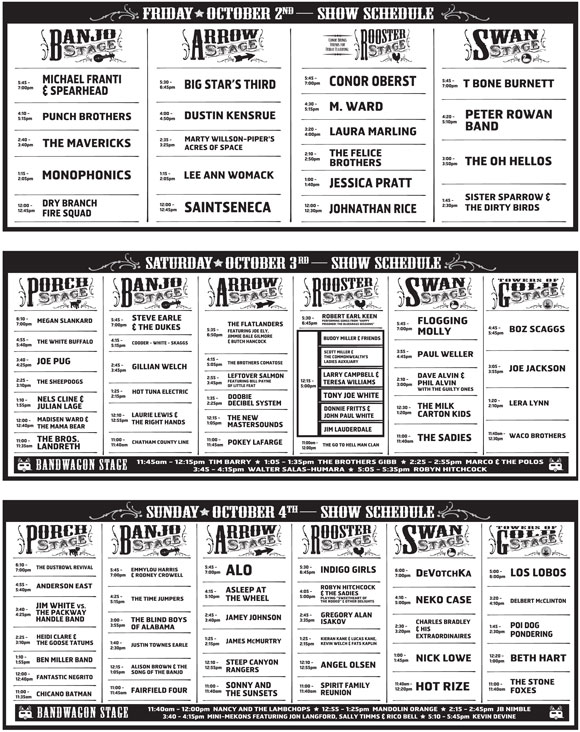 The free music festival in Golden Gate Park takes place October 2-4 and is arguably one of the premier music events in San Francisco, offering a robust lineup of more than 100 diverse performers across seven stages. Most compellingly, attendees can bring their own picnic into the park to enjoy with the tunes.
Photos: Smiles and Sunshine at Hardly Strictly Bluegrass [2014]
Hardly Strictly will keep fans guessing by posting a series of music medleys over the coming weeks, so we'll continue to update this post as we learn more. Check out the full list of confirmed artists below.
https://youtu.be/0zcSJU80dLU
Full Lineup
ALO
Acres Of Space
Alison Brown & The Song Of The Banjo
Anderson East, Angel Olsen
Asleep At The Wheel
Ben Miller Band
Beth Hart
Boz Scaggs
Buddy Miller's Cavalcade Of Stars Featuring: Jim Lauderdale, Donnie Fritts, John Paul White, and Tony Joe White, Larry Campbell & Teresa Williams, Scott Miller & The Commonwealth's Ladies Auxiliary
Buddy Miller & Friends
Charles Bradley & His Extraordinaires
Chatham County Line
Chicano Batman
Circus Quirkus with Poor Man's Whiskey
Conor Brings Friends For Friday Featuring: Johnathan Rice, Jessica Pratt, The Felice Brothers, Laura Marling, M. Ward, Conor Oberst
Cooder – White – Skaggs
Dave Alvin & Phil Alvin with The Guilty Ones
DeVotchKa
Delbert McClinton
Doobie Decibel System
Dry Branch Fire Squad
Dustin Kensrue
Emmylou Harris & Rodney Crowell
Fairfield Four
Fantastic Negrito
Flogging Molly
Gillian Welch
Gregory Alan Isakov
Hardly Strictly Disco
Heidi Clare & The Goose Tatums
Hot Rize with Red Knuckles & The Trailblazers
Hot Tuna Electric
Indigo Girls
JB Nimble
James McMurtry
Jamey Johnson
Jim White vs. The Packway Handle Band
Jimmie Dale Gilmore & Butch Hancock
Joe Jackson
Joe Pug
Kevin Devine
Kieran Kane & Lucas Kane
Kevin Welch & Fats Kaplin
Laurie Lewis & The Right Hands
Lee Ann Womack
Leftover Salmon Featuring Bill Payne of Little Feat
Lera Lynn
Los Lobos
Madisen Ward and The Mama Bear
Mandolin Orange
Marco & The Polos
Megan Slankard
Michael Franti & Spearhead
Mini-Mekons featuring Jon Langford, Sally Timms & Rico Bell
Monophonics
Nancy and The Lambchops
Neko Case
Nels Cline & Julian Lage
Nick Lowe
Paul Weller
Peter Rowan Band
Poi Dog Pondering
Pokey LaFarge
Punch Brothers
Ralph Stanley & The Clinch Mountain Boys
Robert Earl Keen Performing Songs From 'Happy Prisoner: The Bluegrass Sessions'
Robyn Hitchcock
Robyn Hitchcock & The Sadies Playing 'Sweetheart Of The Rodeo' & Other Delights
Saintseneca
Sister Sparrow & The Dirty Birds
Sonny and The Sunsets
Spirit Family Reunion
Steep Canyon Rangers
Steve Earle & The Dukes
T Bone Burnett
The Blind Boys Of Alabama
The Bros. Landreth
The Brothers Comatose
The Brothers Gibb
The Dustbowl Revival
The Flatlanders Featuring Joe Ely
The Go To Hell Man Clan
The Mavericks
The Milk Carton Kids
The New Mastersounds
The Oh Hellos
The Sadies
The Sheepdogs
The Stone Foxes
The Time Jumpers Featuring Kenny Sears, Vince Gill, Paul Franklin, Joe Spivey, Larry Franklin, Andy Reiss, Billy Thomas, Jeff Taylor & Brad Albin
The White Buffalo
Tim Barry
Waco Brothers
Walter Salas-Humara
A Special Performance of Big Star's Third by an All-Star Band including Jody Stephens, Mike Mills, Ken Stringfellow, Chris Stamey, Pat Sansone, Audley Freed, Ralph Carney, Brett Harris and Skylar Gudasz – with a Chamber Orchestra featuring Kronos Quartet – Conducted by Van Dyke Parks – With Special Guests: Steve Earle, Robyn Hitchcock & Chatham County Line
Lineup Medley #1
Paul Weller
Boz Scaggs
The Stone Foxes
Ben Miller Band
Charles Bradley & His Extraordinaires
Monophonics
Leftover Salmon
The Blind Boys of Alabama
Chicano Batman
Pokey LaFarge
Lineup Medley #2
Indigo Girls
Gillian Welch
Lera Lynn
Neko Case
Lee Ann Womack
Sister Sparrow & The Dirty Birds
Angel Olsen
Beth Hart
Heidi Clare & The Goose Tatums
Emmylou Harris & Rodney Crowell
Lineup Medley #3
Asleep At The Wheel
Ralph Stanley & The Clinch Mountain Boys
Flogging Molly
Delbert McClinton
Fantastic Negrito
Gregory Alan Isakov
Steve Earle & The Dukes
Jamey Johnson
Michael Franti & Spearhead
The Milk Carton Kids
Hot Tuna Electric
The Mavericks
Doobie Decibel System
Joe Jackson
Fairfield Four
Lineup Medley #4
Dave Alvin & Phil Alvin with The Guilty Ones
Scott Miller & The Commonwealth's Ladies Auxiliary
Spirit Family Reunion
Nick Lowe
Jim White vs. The Packway Handle Band
ALO
Joe Pug
Tim Barry
Tony Joe White
Buddy Miller
Anderson East
The Oh Hellos
Robyn Hitchcock
Nels Cline & Julian Lage
The New Mastersounds
Lineup Medley #5
The Brothers Comatose
Conor Oberst
The Felice Brothers
Jessica Pratt
Johnathan Rice
Punch Brothers
M. Ward
Saintseneca
Dennis Soares
Robert Earl Keen