Q&A: Desert Hearts Co-Founders Mikey Lion and Marbs Spread House, Techno and Love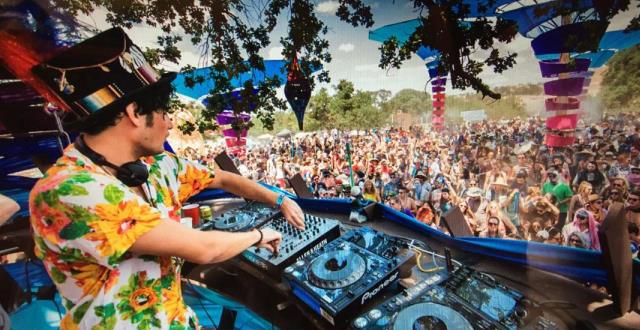 Mikey Lion and his partner in crime Marbs, founders of California collective Desert Hearts, bring their roaming City Hearts party to Public Works on Saturday, August 15th as part of their Summer of Love Tour.
This group of longtime friends spread a simple ethos "house, techno, and love" through a shared passion of dance music. Desert Hearts have transformed their movement into a bi-annual camping festival outside of San Diego in the Mojave desert and now the brand is part festival, part record label, and part party squad. They've officially morphed into a fast-rising brand of electronic music innovation.
The festival has become a staple on the West Coast, spilling over into their house and techno-centered free release Desert Hearts Records imprint. After successful excursions to the East Coast last fall, Desert Hearts continues to take their show on the road with their newly announced City Hearts Summer of Love Tour. The crew has already ventured to Los Angeles and Denver, with additional dates scheduled in SF, Brooklyn, Toronto and more. They're aiming to bring an intimate festival experience to urban spaces worldwide.
We spoke with Mikey and Marbs about the origins of Desert Hearts, their current inspirations and what they enjoy most about playing in San Francisco.
Did you originally start Desert Hearts to create a music festival?
Mikey Lion: No, definitely not. In 2010, me, Marbs, and one of our partners Deep Jesus, we had started throwing this party when we graduated college in North County San Diego. That party was called Jungle. At the time there wasn't really a house and techno scene in San Diego. We didn't know anywhere to listen to house and techno music, so we thought let's just throw our own party. Through that, we made all these friends that were into the music. We caught wind of this party Moonshake that was one of our partners Lee Reynolds' party at the time. We met this kid Kristoff, who is a total Moontribe desert stomper kind of kid. He actually invited all of us to play his party. That was really our first introduction to the desert scene and desert parties. While we were out there, we all just clicked. Some of the music was bad, some of it was good, so we thought, what if we all joined forces to do our own party?
We just wanted to do a desert party because we've been running out of places to go in San Diego and weren't really enjoying the club scene. That weekend was the very first Desert Hearts and the vibe was better than anything we had seen before. There was only 200 people at that party, but by the time we got to our second party four months later, there was 900 people. It completely organically grew and was this incredible vibe. We're the only party doing nonstop music for 24 hours a day for the duration of the weekend. All house and techno.
How big is the Desert Hearts brand now?
Marbs: I definitely believe that it is turning into something bigger. It's creating a community and moved well past people just wanting to go to a good party. It has created a vast network of creative individuals that are now in multiple states and multiple areas that are like-minded and like the same music we do. A big goal for us is not to just spread good vibes and good music, but also a mindset of being able to go to an event that had some meaning. We all felt that when we went to Burning Man. I think Burning Man was a very pivotal moment because it taught us fundamental values and goals to translate back home and bring into a year-round thing instead of being just once a year. When we focus on Desert Hearts, we want it to touch many people and help their lives.
We've had people tell us they've come out to their parents after years and years because they finally have confidence and are proud of themselves enough to tell their parents. We've also heard stories of people who have quit really hard drugs and turned their lives around. Whether it's music or vibe, its carrying on throughout people's regular daily lives rather than just when they want to go party.
How are your latest events different from your first festival in November 2012?
ML: We started doing this City Hearts bands. Acutally, the whole point is we only do two festivals a year, so how could we really capture our community and give them something to look forward to year-round. Also, the entire point of Desert Hearts is to spread love through music and positive energy through music. That's what the entire thing is about and it's our number one goal. Desert Hearts is Southern California based. City Hearts is our way to bring this to other cities around the U.S. and eventually around the world. We truly believe in the message of love and the community growing with Desert Hearts.
So we started this City Hearts Summer of Love tour. We did San Diego, Los Angeles, we just did Denver on August 1 and we're going to San Francisco on the 15th at Public Works. Then Brooklyn and Toronto at the end of the month and then we're going to Burning Man. We've been competently blown away by the different vibe we get from each city. It's the same, but its different. They each have their own spin. It's really amazing. It's all pretty much grassroots and telling people via word of mouth. Friends in San Diego and Los Angeles believe in Desert Hearts so much that we'll tell them we're going to Denver, they'll tell others, and that's been been our number one way we've spread this thing.
How much of your time do you spend creating your own original music compared to helping promote others' content?
Marbs: I'm definitely new to producing. I've been producing for a couple years now and I work in the studio constantly. But I think it's a balance. Even when I have more music out, it's important for us to spread all kinds of music. What got me into this music in the first place is all the different influences you can hear within house and techno and the music that we play. I grew up listening to everything from classic rock to rap and reggae and everything in between… I think as a DJ, it's important to show people all different kinds of music, textures and genres. As long as it's all good. [laughs]
ML: I spend equal time on my own music and on other people's. I run the [Desert Hearts] record label, so a lot of my time is spent managing that. One of the main reasons we started Desert Hearts records in the first place…and this is organic as well…I had a couple tracks that I was really proud of and happy with. I was shopping them around for a while and not really getting anything. They were really summer style tracks. I thought, well, if they're not coming out on any any other label, let's just start our own label. It's the organic progression of where everything was going. We have these events going really well, but how do we get the word out about Desert Hearts and the whole message to Europe and everywhere else. The number one way was starting our own record label.
We ended up putting them out on Beatport and all the different shops and everything. We underestimated how hard it was going to be to get our name out there. Desert Hearts is all about giving back and creating maximum vibes and spreading the love. We really thought about it: What if we made our record label completely free on SoundCloud? It was an unanimous yes between the whole crew. It's amazing. There hasn't been a major house and techno label that's completely free and for the people. It all ends up going to the other shops so we're still getting the same distribution as if we weren't giving it away for free, but it's with everything we're all about: trying to spread as much love as possible through the music. We couldn't think of a better way than doing it for free.
It has been really cool and the response has been tremendous. I have a bunch of releases lined up for this year. A really cool aspect of the label is we get to bring in artists to the festival. They have such an amazing time at the festival and they're like dude, there's nothing more that I would love than to release on Desert Hearts records. It's just kind of snowballing. They're getting behind it. The word is spreading. I couldn't be happier with how it has turned out.
Marbs: They think it's such an amazing thing, it's pretty much all in line with our whole values and ethos. We don't want DJs playing our festival who don't want to be there, just play their set and disappear and make it a one-time thing. We want to build a relationship with everyone in the festival, from the people in the crowd to booking. Getting them involved in the record label and creating that community through them is in line with everything we believe in.
Who currently inspires you the most?
Marbs: I mean, as cliche as it sounds, it's all the people I'm working with. Every day we all work together and anything we've been creating together. It's inspiring. We all live in San Diego and most of us grew up together and there was a time we were thinking of moving to LA or trying in the middle of stuff. We had a cool meeting after our last festival and had this realization there's a reason we're at where we are and there's a reason we're all working together. Whenever we're together, we're inspiring each other and moving toward our goals.
MK: Pretty much nailed it for sure. Me and my girlfriend were thinking of moving to LA for our careers. We've lived in San Diego most of our lives, born and raised, so we thought alright let's go move to LA. We have this friend network down here in San Diego that's indescribable. It's the best network of people that we could ever know. Everyone watches out for each other. We have more fun and have more stuff that we can do than anywhere. It's crazy because in San Diego, there's not even a show to go to every weekend. Like a really good show that you get really excited about. But we have the best people in San Diego and coolest friends that we're never bored. We're traveling a lot more so we're not getting to experience as much time with them, but they're definitely the people we love the most. I can't even imagine moving somewhere else right now.
What is your favorite part about playing in San Francisco?
ML: San Francisco just has the love movement dialed. We play in LA and San Diego, but when we play in San Francisco, it's because the vibe we're bringing is completely designated toward spreading love. When we come to San Francisco, it's this ultimate love bubble. The shows we've had there have been incredible and every time is the best time ever.
Marbs: Every time we go to San Francisco it's an absolute pleasure. The whole city is oozing with art and innovation. It just clicks. All the vibes seem to be perfect every time we go there.
ML: We're so, so stoked! It's our debut at Public Works. I think it's probably going to be our new home in San Francisco. We did our last party at Audio, it was so so good, but we had to move onto a bigger venue just to grow. Public Works was the obvious choice. We're gonna bring it for sure and we know San Francisco is gonna bring it.