Last Night: Jamie xx Brings Exotic Club Scene to Sold Out Bimbo's Show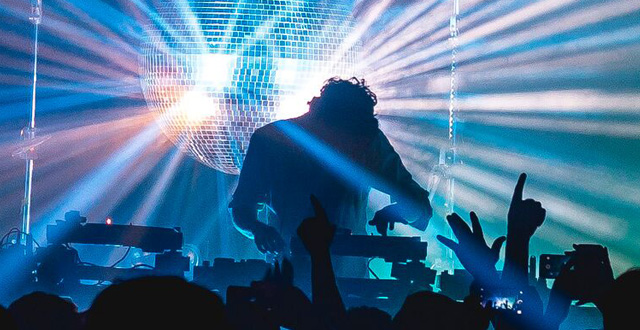 English producer Jamie xx confidently navigated a lengthy and dance-heavy set spanning many genres and generational styles of music at Bimbo's 365 club on Monday night.
Jamie Smith, member of the London-based band The xx, has in recent years pursued a solo career under the moniker Jamie xx by embracing his love of electronic music. Typical acts that play the North Beach venue don't bring their own record crates nor do they have a 5-foot tall disco ball setup behind the stage to scatter laser lights across the room. This felt like a special treat to see Jamie xx convert a traditional rock and pop venue into an exotic club scene.
He unexpectedly walked on the small stage during opener Young Marco, who shared the same hardware setup and two turntables. The natural hand-off rarely seen at live shows emphasized the creative flow of their beats and their mutual willingness to keep the pulsating sounds constant without interruption. Jamie xx began with variations of disco, alternating between future garage, house music, break-beat and trip hop vibes. He frequently dialed up the beats per minute, knowing that rhythmic party music would be well-received by the weeknight crowd looking to burn off some steam. Of course, he also frequently dropped hits from his recent release In Colour such as "Loud Places," "Good Times," and "Gosh."
The bass levels on the sound system occasionally rose so high that the floor began to vibrate, tickling the toes and vibrating the ears of the crowd. Jamie xx barely addressed the crowd with his voice, letting his steady barrage of beats do the talking. Anytime he played steel drums samples, the ringing woke up the swaying crowd with excitement. The most impressive visual came when Jamie xx activated the massive disco ball during the middle of the set, igniting streams of turquoise rays, beaming and gyrating above the crowd.
Attendees could be heard hooting in unison during Jamie xx's intermission when he purposely kept the percussion steady while he gently placed the previous record back into the sleeve and into his plastic crates stacked on a table next to his decks. He looked like a kid in a candy store picking his next vinyl to add to place on the turntable. A pinnacle moment came when he slowed things down and turned on deep red, romantic lights behind the stage for a jazzy rendition of the 1976 classic track, "I'm Always Drunk In San Francisco" by Carmen McRae, a fitting selection.
Fortunately this night was not the end of Jamie xx shows in the Bay Area this year, as he is returning on Friday October 9 to Fox Oakland. Trying to imagine his Bimbo's show scaled up with a larger crowd should make any concert-goer drool.
All photos by Kristina Bakrevski for SF Station, See more photos here.