ModCloth's Pop Up Fit Store is Coming to Union Square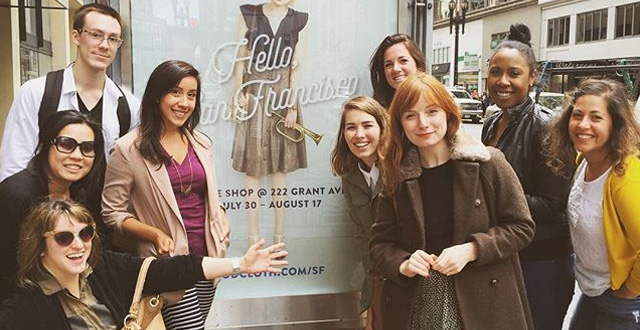 San Francisco base online retailer ModCloth is a favorite with retro loving fashionistas of all ages. For two weeks, between July 30th and August 17th, the flirty dresses and colorful skirts can be tried on and examined up close an personal, thanks to the website's Union Square pop up location.
The idea is slightly different than the average popup customer experience – styles are available to try on site, but purchases are ordered online and arrive later. In other words, expect hoards of smiling girls and women trying stuff on, and a busy, unbuttoned atmosphere in the midst of he very businesslike downtown.
"SF loves our "third-pieces" – such as cardigans, jackets, or scarves. This place is all about layers!", says Susan Koger, Co-Founder and Chief Creative Officer, so expect the longest lines in those departments. And as for the motivation behind such an initiative? "We were blown away by the customer response to our LA IRL event, which lasted a weekend. In less than 24 hours, we had over 5,000 people sign up to attend – and this was over the first weekend of Coachella", she adds. "There's a lot of love for the brand, and our customer is eager to engage in new ways".
True to ModCloth girly aesthetics, the pop up will offer small yet fun perks, such as a free tote with every order, limited edition San Francisco themed t-shirts, stylist services (Koger suggest booking them in advance), an option to reserve a fitting room online, free shipping for $150 and up purchases, and some exclusive accessories and home goods to buy on-site.
"This is a year of experimentation for us as we look at different ways to connect with our community", says Koger of the new concept. "ModCloth is headquartered in SF and I live in Noe Valley, so we're excited to host the fit shop in our own backyard!".
Thursday, July 30th – Monday, August 17th at 222 Grant Ave.