Indie Slash Ends 10-Year Run at Amnesia, Rebrands as "Fine Time"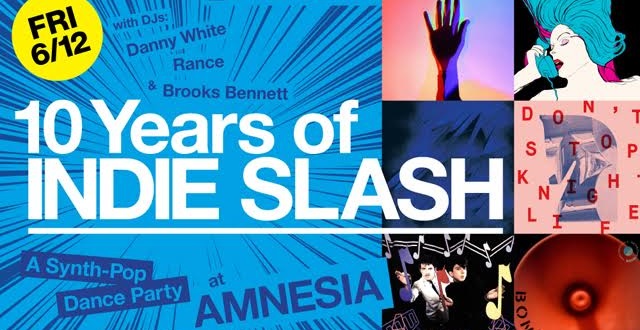 After celebrating their 9-year anniversary last year, monthly synth-pop dance party Indie Slash turns 10 and will be throwing their final bash ('The Last Slash') on Friday, June 12 at Amnesia.
Since 2005, Indie Slash organizers have showcased all the great vocal electronic dance music from the past three decades, connecting the dots between new wave, nu-disco, electro, and house.
The party went steady for five years at now defunct The Attic, but in 2010, a neighbor sued for noise complaints forcing them to move to Amnesia on Valencia Street. Last year, Indie Slash expanded beyond San Francisco by starting an East Coast chapter in Brooklyn, New York. Moving forward, the organizers have decided to launch a new party on both coasts called "Fine Time" starting July 10.
We asked Indie Slash guests DJs Danny White and Rance about the origins of the monthly party, their most memorable performances, and what they have coming up next.
https://soundcloud.com/indieslash
How did you start Indie Slash?
It was started in 2005 at The Attic by DJs Danny White and DJD. There weren't a ton of dance-able indie records at the time so they mixed in a lot of new wave classics to fill out the night (hence the "Slash" part of the name). Rance joined the crew in 2006, right as DJD stepped down. We've had a few other residents over the years join us: Beats In Abundance, The Sweethearts and currently Sir Brooks.
How many artists have participated and who were some of the most memorable performances?
Some guests we've had over the years are: The Beat Broker, Doc Sleep of Jacktone Records, HiFi Brown, and Primo. The Beats in Abundance always put on a super-eclectic, high-energy performance, complete with voice-overs and non-stop DJ booth dancing. The Beat Broker played an incredible set of rare Italo Disco and some of his own productions and remixes.
What makes the party so unique?
We play a seamless mix of all kinds of synth-pop and electronic dance music: new wave, Italo, industrial, nu-disco, electro, and house. Old and new. We don't shy away from tracks with vocals like a deep house party might but we're also much less "pop" than some of the other local indie parties.
Who are some of your biggest electronic music influences?
Todd Terje, Depeche Mode, LCD Soundsystem, New Order, and A/JUS/TED have gotten heavy rotation over the years.
https://youtu.be/GGKNhwPC6nQ
Why are you discontinuing Indie Slash?
After 10 years we decided it was time to re-brand the night. We'll still be DJ-ing at Amnesia on 2nd Fridays but we're changing the name to "Fine Time" (after the new Order song). The name Indie Slash was relevant in the early days but it no longer encompasses the span of genres that we mix in.
What's next on your horizon?
Here in SF we're going to put more of a focus on bringing in guest DJs, both local and traveling ones. Danny and Rok 1 will also be doing a monthly East Coast version of Fine Time at Tandem Bar in Brooklyn. They've had a number of incredible guests like Justin Strauss, Dan Selzer and James Mulry.
Where are your favorite live music venues in SF?
Amnesia, of course! It's got an unpretentious dive bar feel but there's still plenty of room to dance it out. Public Works always has a stellar line-up of visiting bands and DJs and has a great sound system.