Q&A: Finland's Lenno Leaves Remixes Behind, Debut Show in SF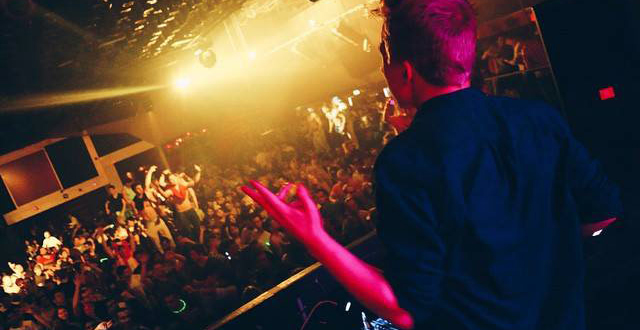 Hailing from Finland, Lenno is a soft-spoken, 20 year old producer who's risen quickly in his teenage years.  With a string of chart topping remixes on Hype Machine and hundreds of thousands of plays on Soundcloud, Lenno finally signed with heavyweight Casablanca Records.  His upbeat, funky, nu-disco shines with bright synths and catchy pop vocals.  From teaching himself production software in his bedroom to now flying across the Atlantic to spin his tracks, his humility and sincerity have not gotten lost along the journey.  Lenno performs Friday, June 5 at Audio.
Have you ever played in SF before?
No. I've only been to California once when I played in LA last year. But this is my first time in SF so it should be a lot of fun.
Is Lenno a nickname or a stage name?
It's my real name. I didn't have to struggle with coming up with an artist name. I have my parents to thank for that. It was natural because I just posted my first songs with my real name and that went on for a while until it stuck.
At what point did you realize music was going to be your career?
It's kind of funny, the difference between a real producer and someone who is just making tunes in his bedroom is really small these days. It can happen overnight, you can blow up really big in just one week if your track gets really big on Soundcloud. For me, it's been more of a progress. I started by making remixes for other artists. I literally made like 20 remixes in 2013, and that was the starting point for me. That gets a bit boring after a while, because all you're doing is taking someone else's work and making it something else, instead of doing your own stuff. I've been focusing a lot on my own sound for the past year and now it's starting to pay off.
You had an EP out last year, are you working on anything more unified now like an EP or an album?
An album is something that I will want to do in the future, but you have to put in a lot of work and I don't want to disappear for a year to do an album all at once. I kind of want to make 100 songs and then pick the best 10 for an album instead of disappearing for a year and then just coming out with 10 songs exclusively for an album.
Do you think an album is still viable anymore or are singles, mostly what people appreciate these days?
Well yea, that's the other side of it. It doesn't make sense to do an album because it's so much information for fans to consume at once. I think dance music albums should be a lot of singles and then a couple of tracks that tie it together. A lot of people do it that way – Calvin Harris had like five or six top ten hits before just putting out an album with those same songs on it. It's funny, people don't want a lot of new information when the album comes out, but that's how it goes because everybody's attention span is so short.
Modern problems!
(laughs) Yea and it's a problem even on a smaller scale. People don't even have attention for EPs or songs anymore. They just want the 15 second preview. Here's a good example: if I would put a 15 second clip of a song on my Facebook, it will get a lot more traction than putting up a full song.
It's the truth. So many people experience a new song by skipping right to the drop, listening for 15 seconds, and then summing up the whole song based on the 15 seconds they heard.
Exactly. It's good in a way because it really keeps you on your toes as a producer that every single second of the song has to be top notch because everybody is going to form their opinion on those 15 seconds or whatever. It's also a shame because I personally like listening to albums, especially when I'm on long trips, it's nice to hear a complete work, and that's the kind of thing you don't get a lot of anymore because people don't do that.
Let's talk about the new track, "The Best" featuring Dragonette. How did that come about?
My management and their management were talking to each other and then I just received a file that was titled "Fucking Best Vocals." Then I opened it and loved the whole thing. I only heard the vocals, but I was already hearing the song I wanted to make in my head as it played. The vocals were originally set to another track but I was just sent the vocals. So it was sort of like a remix, even though it was an original production.
When you're working in your studio and you come to a creative block, what do you do to clear your mind?
Power through it and decide if it's good later. That is one of the most important things I've learned over the years: you should separate the editing and creating phases of the work. You shouldn't be criticizing yourself too much when you are creating something because if you do criticize yourself, you get into this never ending loop of doubting yourself and never get anything done. I think it's really important that you make something first, then listen to after a couple hours to decide if it's good.
A funny story: this remix I of Scavenger Hunt's track "Lost" is something I made a while ago and it ended up going to number one on Hype Machine. But at first it was something I didn't even want to put out under my real name. I thought it was too chill and too mellow for my kind of stuff. Then I just went for it and it was a huge success. You really can't know if something is going to work out if you don't try.
You respond to your fans directly via e-mail and have your personal e-mail up on your Soundcloud. Is it important for you to be accessible to your fans?
Absolutely. I guess it sounds like bullshit, but I don't even view them as fans; I view them as fellow music lovers who happen to be into my music and I love talking with them about music. Of course I want to do it because it's so easy these days with the internet. If I had a way to do that when I was a kid, a way to talk to the people whose music I liked, I would have really appreciated it back then. So I try to extend that same courtesy now.
You live in Finland full time. Do you ever do any secret shows or after parties in the middle of the night in your hometown?
I've done a few of those for sure. I don't want to play here too much because then it would take away from the excitement when I do an actual show. But when I just want to have fun, I'll call some of my friends and set something up. That's a lot of fun to do because it gives me a chance to play some of my new stuff out even when it's not done yet and I don't have the pressure of it being a Lenno show. The scene in Finland is not particularly huge. There's not a lot of pressure to impress the big guys so to speak, because, well, there are no 'big guys.'
What's your dream festival to play at if you could play anywhere in the world?
I've seen so many pictures and videos of Holy Ship. Seeing the vibe, I think it would be my number one festival I want to play in the future, if I ever get the chance.
Destructo, look out!