Innovative slacklining competition known as Red Bull Baylines will take over San Francisco on Saturday, June 13, bringing the world's best "slackers" to compete while hanging 30 feet above Justin Herman Plaza.
The free event is open to the public, with Baylines competitors delivering trickline-style combinations on a 3D highline course. Multiple slacklines will crisscross above the San Francisco streets. Of the 15+ participants, five noteworthy slacklining athletes have been invited to participate, including defending Red Bull Airlines Champion, Carlos Neto from Brazil, and Red Bull Athlete and World Champion Alex "The Machine" Mason from El Cerrito, California.
Scoring will be based on trick difficulty, style and variety, along with creativity. Competitors will have just three minutes to display their skills in front of three judges, including world-renowned adventure athlete, "Sketchy" Andy Lewis, best known for his slackline performance alongside Madonna at Super Bowl XLVI.
Slacklining is a fast-growing sport, originating from rock climbers in the 80's, with athletes balancing on climber's webbing while anchored between two points. Evolution of slacklining has seen the adoption of wider webbing and increased tension, which allows slackers to perform aerial tricks between mountains or buildings high above the ground.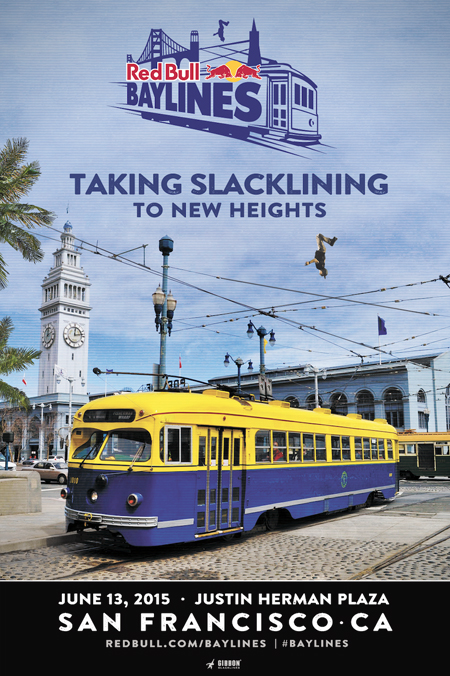 Competition starts at 1pm. For more info visit: www.redbull.com/baylines