First Listen: Thee Oh Sees' New Album, 'Mutilator Defeated At Last'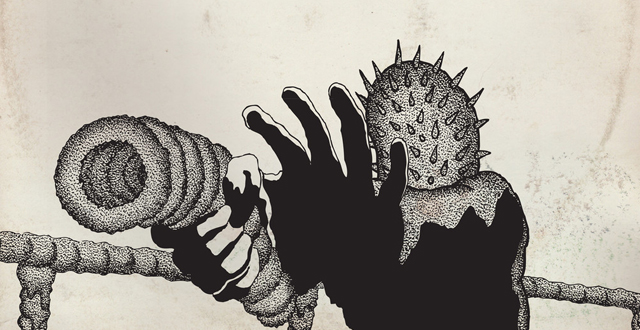 Psychedelic garage rock band Thee Oh Sees are back in the fold, streaming their newest album, Mutilator Defeated At Last, ahead of its official release date on May 18.
With their hometown in San Francisco, Thee Oh Sees originally formed back in 1997, but the band's story since them has been nothing less than confusing. Primary songwriter and core member John Dwyer relocated to Los Angeles last year and released his own synth-heavy solo album using a new moniker, "Damaged Bug." Not surprisingly, Thee Oh Sees' new album has distinctly Southern California vibes laced with ominous undertones and tons of experimental elements.
In general, Thee Oh Sees' musical style spans a wide range of rock and punk genres like 60's garage and psychedelic, 80's post-punk, punk and noise rock, and even some art punk. Their member lineup and name has changed several times. They used to be known as Orinoka Crash Suite, OCS, Orange County Sound, and The Ohsees. Since 2008, they've stuck with their band name and have released tons of LPs and singles at a rapid pace.
The project initially served as an outlet for Dwyer to release experimental home recordings. However, over the course of several releases and genre transitions, Thee Oh Sees morphed into a full-blown band, adding regular collaborator Chris Woodhouse, vocalist and keyboardist Brigid Dawson, bass guitarist Petey Dammit as well as drummers Mike Shoun and Lars Finberg. Thee Oh Sees quickly developed a strong reputation for prolific content creation, high-octane live shows, and fanciful visual aesthetics.
In late 2013, the band strangely announced it was entering a hiatus, but continued doing sporadic live performances. In 2014, the band released their final San Francisco-based studio album, Drop and began to tour as a trio, adding drummer Nick Murray and bassist Timothy Hellman to replace Dawson, Dammit, and Shoun. Mutilator Defeated At Last brings back Woodhouse and core member Brigid Dawson to perform again with Thee Oh Sees, and exhibits plenty of atmospheric explorations, violent guitar riffs, and trippy transitions throughout.
Thee Oh Sees have a few more North American show dates this month before embarking on a string of European shows in June. Fortunately, they return to SF July 14-16 to play three consecutive nights at The Chapel.
You can pre-order 'Mutilator Defeated At Last' on limited edition Cough Syrup in Yogurt vinyl, Black vinyl or standard CD in digipak.