Interview: Hook N Sling from Bedroom to Big Room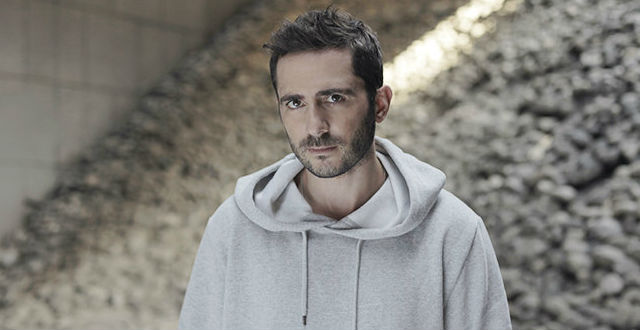 Anthony Maniscalco, the Australian behind Hook N Sling, has seen his singles and remixes go from the bedroom to the main stage over the past few years.  The humble house producer now resides in Los Angeles where he makes his progressive house anthems in between taking his dog to the park in Studio City.  We sat down with the DJ to talk about everything from his beginnings as an artist to his  latest track "Break Yourself" with the Far East Movement.
Hook N Sling spins at Vessel this Friday, May 1.
Tell us a little bit about your background and how you got into music production.
I wasn't very happy with my job. I used to be a graphic designer. I studied it in college and eventually was like, "oh man, this is killing me." I was doing boring stuff at work. At night I was going out and hanging out with my friends and we were all into electronic music. A few of them started DJing and I thought that it would be cool to start writing music as well. Because I was familiar with design I was familiar with macs and the applied arts. I just started producing on my laptop and that's how it all started.
When was the moment where it hit you that this was going to be a real career?
It took a long while because I was always trying to juggle both a job that would pay me a regular income and my hobby on the side. The moment when the hobby became a career was probably one of the first times Swedish House Mafia played one of my songs which was around 2011. You kind of get thrown into this whole world. I was just a kid from Sydney writing music in my bedroom and next thing I know thousands of people are hearing my music. Bigger than any radio station, bigger than any reach I could ever achieve on my own. It's quite overwhelming. I never take any of this for granted; I never get cocky about this kind of stuff. I'm always pretty laid back and practical.
When did you make the move fulltime from Australia to LA?
I had been DJing in Australia for a few years and I did my thing like a few compilations with Ministry of Sound and a few singles. But then I started playing overseas. I think in 2011 I did a record on Fedde Le Grand's label and I started going all over the states. It was in 2012 when I had a few shows booked in Miami. From Sydney to Miami is like 30-something hours of traveling, so I decided to go to LA for 6 months to do a bit of touring and scope things out. It'll be two and a half years this June since I made the full move.
You're quite the remixer with dozens in your discography. If you had to pick maybe one or two of your favorites that you're most proud of, what would they be?
That's a hard one. Most recently I would say my remix for Galantis. I did a remix of their new single called "Gold Dust." That's the first that comes to mind, but going back I'd have to say my remix for Kaskade's track "Atmosphere." I like working with unlikely, indie-star vocals, which is kind of what both of those remixes are.
You've been a pioneer of the big room, progressive house sound for quite a few years now. What are your thoughts on where that sound is headed in the future of dance music?
I think with progressive house it's very hard to contain it to just one sound, but for me progressive house has always been about a good melody. If you look at it like that, then progressive house is melody driven electronic music. Looking forward, it's always going to be a strong element in my music because people love hearing sweet melodies that they recognize. I think melody is an essential part of a good record, so I can't see it disappearing.
Let's talk about your new single, "Break Yourself" with The Far East Movement. How did that come about? Did you reach out to them or vice versa?
My management and their management met and started talking about us getting together. In the beginning I wasn't too sure if they would be into what I'm doing. Then I met with the guys and it was completely different. We both started playing each other music and let's just say I work with a lot of people in the studio, and being with them was one of the best studio experiences I've had. We immediately clicked, had similar interests, and common ground in terms of digging each other's musical tastes. That song came about in the next few days after I met them. I was so excited about working with them that the very next day I was up early, writing this track which ended up being "Break Yourself."
The track sounds very G-house. What prompted the venture into this new style?
I wouldn't exactly label it as G-house. I wanted to give them a four on the floor beat that I would be into. I slowed it down for them because that's something that they can vocally get on. It does seem like G-house but it takes a lot of influences from that breakbeat sound or bassline house records. It's more specializing for the collaboration that prompted a creative melting pot of our sounds to create this track.
You've released a lot of singles – any hints at a possible EP or album in the near future?
I've been thinking about that recently. I'm not too sure if releasing a large body of work at once is a good idea. I feel like singles are the currency of the music industry nowadays. Maybe I can compile selected singles and put them into an album, more like a compilation. It's hard man, because as a DJ I play single after single when I'm playing to the crowd. I rarely play the kind of beat that exists on an album. I do like writing different styles of music. I actually have a hard drive full of music that hasn't been released that is either downtempo or hip-hop, but that's just for my own kicks, I wouldn't really release it.
Have you ever played in San Francisco before?
Yea actually last time I played there was New Years Eve at Vessel, which was really cool. I've also played in SF about three times before that. I've only really been playing there since I moved to the states, so just the last couple years. But it's one of my favorites, which is why I did the New Years Eve show.