Report: SF Apartment Rent Prices Reach (Another) All-Time High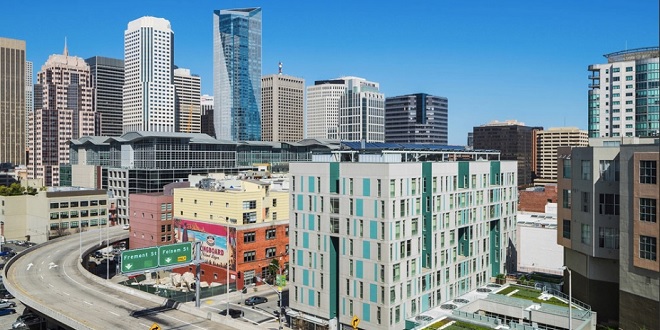 The average one-bedroom apartment in San Francisco now costs a whopping $3,460 per month, which is an all-time high for the area and officially makes it the most expensive rental market in the United States.
According to February 2015 data from real estate rental platform Zumper, SF took the lead for most expensive rent, surpassing both New York and Boston. The image below illustrates median one-bedroom rents by neighborhood across the city and clearly, cheaper locations are becoming very hard to find.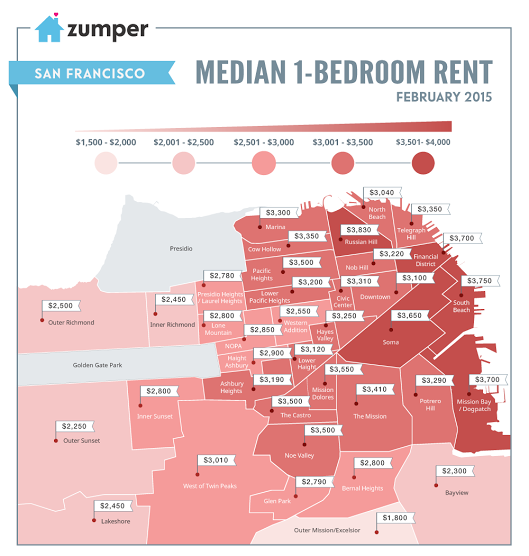 In the past, renters have been able to find more affordable options depending on the district, but depressing data from a heat map shows that even traditionally less expensive areas like the Sunset and Richmond districts are becoming more expensive.
Despite all of the recent development activity taking place across the city, renters have recently struggled to find cheaper options available in any part of town. Apartments rarely stay available for more than a few days and it's unclear when the rental market will hit some type of price ceiling.
Month-over-month median price change (January to February 2015):
Noe Valley: up ~10%
Hayes Valley: up 6.6%
Inner Sunset: up 3.7%
Russian Hill: down 4.3%
Marina: down 2.9%
Meanwhile, the Bay Area's East Bay is experiencing one of the fastest increases in rent prices in the nation due in large part to San Francisco's current rent dilemma. Oakland most recently placed 5th highest with a $1,980 median rent cost for a one-bedroom apartment. Zumper is predicting a steady 1-2 percent price increase for the next three or four months. You can check out all San Francisco apartments available on Zumper's website.
What's the most ridiculous rent price you have found in the Bay Area? Share it our comments section.