Q&A: In the Trap With Djemba Djemba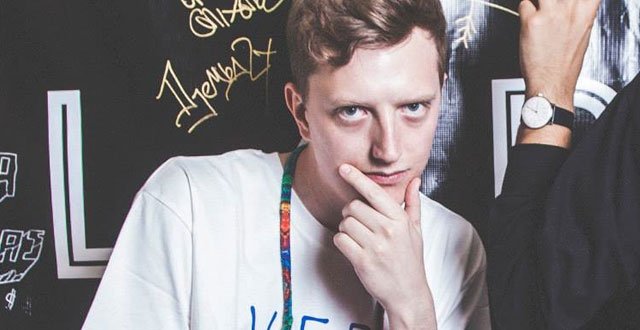 Djemba Djemba has spent the past decade perfecting his craft. Starting out as a film student, he quickly aligned with the right people—including Diplo—and was launched into the world of full-time music production in the booming LA scene.
Now releasing his music alongside peers on Mad Decent and Team Supreme, he's adding a unique twist on trap music, creating a club-ready, head-bobbing, bass-filled sound for an increasingly widening fan base.

Djemba Djemba performs with Mr. Carmack on January 22 and 1015 Folsom.
You currently reside in LA. Did you grow up there?
I actually grew up in Iowa in a small town called Fairfield. It's literally in the middle of cornfields—a small ass town with 10,000 people. I moved to Orange County in 2005 to study film at Chapman University.
That's how the whole story starts for Team Supreme, the creative collaborative I'm a part of. We all met in college. When I graduated in 2009, I moved up to LA and slowly but surely everybody who was in this class we took at Chapman moved to LA.
How did you initially hook up with Diplo and get signed with Mad decent?
It basically started because of Nalepa, the de facto godfather of Team Supreme. He taught this class at Chapman we were all in and would bring in special guests from LA who were in the music industry.
We had these sessions where special guests would talk about the music industry and making beats. One day, Nalepa brought this producer down from LA named Adam Freelander. He was looking for someone to work with him on some new music and I was just graduating so it serendipitously worked out that I was going to LA practically every other day of senior year of college.
I worked with him for a year and became more exposed to LA music. I was making electro in the style of Justice and Ed Banger Records. There were a lot of LA DJs who wanted to make that music but didn't really make music. I wouldn't call it ghost writing, but I definitely helped a lot with their production and got paid per track. The first year out of college I was essentially selling beats to artists.
From there I met Franki Chan who runs IHEARTCOMIX. One day we were working on a song and he got a call from Diplo. I went over to Diplo's studio in Los Feliz in 2011. I didn't hear from him for about a year, until he hit me up and asked if I wanted to work on some tracks.
I had a real job; I was doing sound design for the film industry, but my passion has always been music since I was 11. Once I had the opportunity to quit my day job, I just started working with Diplo full time and that's been the last two or three years of my life. He's been supportive of my music and while working with him I've had the opportunity to put music out on Mad Decent.
You just said you didn't want to be a DJ. What was that reluctance and how did you overcome it?
I've always enjoyed performing music to people but the way I perform music has changed completely. I'm still trying to figure out how I want to present my music. Originally, DJing for me was always strictly for parties or something you did with your friends, not necessarily for a show format.
It's very easy to go up on stage and play other people's music. The whole idea of Team Supreme was that we would go up and play our own music. That's been our mantra. It's more satisfying to play your own tracks and everybody actually enjoys it more.
I feel like DJing is on its way out because people go and they hear the same ten songs playing at a festival by every single DJ. But when people go and say, "Oh this is Djemba Djemba and he's gonna play 90 percent or 100 percent Djemba Djemba music," they are more into it.
I think that's our selling point for fans. It's not necessarily like just going to a rave to get shitfaced. People are going to hear what we're working on, which is pretty cool.
So you're living in Los Angeles now. You're close to a lot of groups like Low End Theory and OWSLA, for example. Do you think that influences your sound at all?
Yeah, in the sense, because everybody in LA is super friendly and just wants to be involved, it's nice and inclusive. You might experience some exclusivity in the UK scene or in New York City.
LA is very open so it's not hard to be friends with Low End Theory or Skrillex because everybody is just into the music. Everybody has their brand that they're selling to people to make a living, but it's not pretentious in the way that music is in other parts of the world. I've found it very enlightening because I get to meet so many different people that either live here or are constantly coming through. There's no lack of creativity going on.
You've been putting out a series of edits, bootlegs, and remixes recently. Any plans for more of a complete work like an EP or an album in the near future?
Yes! Sometimes I get depressed because I don't think people really know the true side of my music yet because I've been working in pop music and I haven't had time to put what I think my work is out into the world.
These last few weeks and the tail end of last year I've been solely focusing on original music, so I definitely have something planned. That's all I can say.
Where do you see the future of trap music headed? Is it going toward future bass or is it going toward something else?
I think what's happening is that every time something new comes out there will be a sub-genre formed around that. Any good artist is aware of what's going on but it's more important to make your music and not worry about what the fans want. The fans don't know what they want. You just have to make music and make people want to hear that music and like it.
Personally, my whole life goal is to make a lot of money so I can put out the weird shit that I really want to put out. The only thing that is constant is the bass. The drums and the bass—as long as that shit is knocking, it's all good.
Give us the scoop on this new Madonna remix coming out. What was it like interacting with her?
I got the opportunity to work with her last year over the summer a couple times. My mix that's coming out was gonna be one of versions of the song, but we ended up going back to one that Diplo made way earlier in the process. That's how it works when you work on music: you end up going back to the first one after you make 6 million versions.
Instead of letting the version that I made sit around and do nothing, Madonna asked if I wanted to put it out. If I were to do a Djemba Djemba remix it would be a lot crazier, but I felt OK putting my name on it because it's good exposure. Since then I've gotten all of this bizarre fan mail from Madonna fans. It's not like any of my fans really care about it, but her fans are really into it, so I'm stoked on that.
In an interview last year, you said that your favorite neighborhood is Berkeley, CA. Why is that?
I went there and the vibes just felt good—OK, that's the cheesiest thing I've ever said.  It must just be the fact that it has a small-town feel to it but it's in a major metropolitan area. The thing I love about where I grew up in Fairfield is that it's a small town where things just go slower. You're not stressing out about driving anywhere like LA.
Berkeley has that vibe but you're still in the Bay Area so you can get Chinese food that's good. That's the one thing—I need an area with good Chinese food or I'll kill myself. Plus, my sister lives there. I might move up.
Any local restaurants you'll hit up while in the Bay?
Bakesale Betty. It's my favorite spot to go in Oakland. And Duc Loi! That's the spot for the bomb banh mi.
Djemba Djemba performs with Mr. Carmack on January 22 and 1015 Folsom. More info.