Interview: Mystery Skulls Returns for Headlining Popscene Show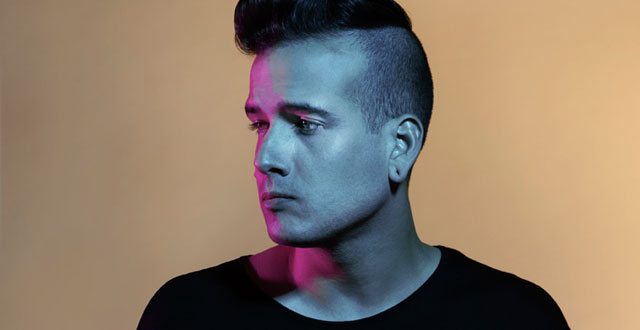 Luis Dubuc, better known as Mystery Skulls, released his debut album Forever about a month ago,  landing in the No. 2 spot on the iTunes electronic albums chart with features from Nile Rodgers and Brandy.
Boasting a Daft Punk-inspired, Motown-infused sound, this Warner Bros. signed artist is about to embark on a tour around the country to share his record with the world. We spoke with Luis in before his show at Rickshaw Stop on December 4 about his roots, his rise and his music.
What was the transition like from your last solo project the Secret Handshake to Mystery Skulls?
Some time had elapsed between those periods. I was working at a school teaching kids how to play music. It was called School of Rock and it was for preschool-age children in Dallas. I don't know how to explain it—I was just hanging out and I had this music online and people just found it. Within a week's time, I had this friend who asked me to open for him at this show. It was super low key, maybe 50 people were there. I played this show having only written a couple songs: "Money," "Beautiful," maybe a couple of others and a Prince cover.
I didn't even have an artist name, but I went and played the show and afterwards people came up to me and asked "What are you called?" On the spot I thought of the name Mystery Skulls and people were like "That's cool!" So it stuck, simple as that. That's when the whole thing just took off on its own.
What are your biggest influences with Mystery Skulls?
As far as the crunchy production, I've always been into Daft Punk and I really loved their production. I kind of found my own type of sound stemming from that. I really love a lot of old records too. I love all the old Temptations records and the David Ruffin solo records. I think they're beautiful. Those are really big vocal influences to me.
What's the first album you ever bought and the first concert you ever went to?
The first record I really ever bought with my own money was Wu-Tang Clan's 36 Chambers. The first concert would be the Black Sabbath Reunion Tour with the Deftones opening and Pantera. It was with Ozzy before he had done the reality show yet so he was still pretty mysterious. It was dope.
You have tracks with Brandy and Nile Rodgers on your new album Forever. How did those collaborations come about?
Nile came first. That was around the time when I was just signing to Warner Brothers. Someone said, "Hey, I know Nile, I'm gonna go hang out with him today and I'm gonna try to play him your music." Pretty much an hour later he called me and said "Hey, this is Nile Rodgers. Let's hang out." So we hung out and I played him some of my music and we ended up playing a show together in the Hamptons, of all places. It was me, Chromeo, Nile and Avicci.
The day after, we went into the studio to workm and that's when we did the track "Magic." After we did "Magic," I had this other track, "Number One," which I just had the music for. I asked Brandy if she wanted to sing on it. She said yes, so we got in the studio, which was really trippy because it was the same room where they made "Blurred Lines."
We finished the record and it sounded amazing and then Brandy says, "Hey, there's this other song they played me that you have with Nile called 'Magic,' can I sing on that one?" I said "Are you kidding me, of course!" I hadn't written the bridge yet so I thought of something really cool that she would sound good singing and we had it within the first or second take. It came out really special, and I'm so proud of the song.
A lot of your songs center around love and relationships. Is there a specific girl that Forever was written about or was it just about past relationships in general?
I will say that I have lived out every song. As sad or as lame as that may seem, I have lived out every single one of those tracks. It's a chronicle of a few years of my life, and I just try to write songs about real life that people can relate to. I really love to write songs about love or lack of love, hopefulness or joy, or interesting topics that can paint an audio picture.
In a Facebook post last January you said "San Francisco is currently my favorite place to play." Does that still hold true?
Well, we are gonna find out! I've done so many good shows in San Francisco. The very first time I ever played in San Francisco was at Monarch, and it was awesome. They have an amazing sound system and they had me back twice.
The third time I played in San Francisco was at Rickshaw Stop with St. Lucia and that was an incredible show. The time after that I came back and played at Mezzanine with Viceroy and that show was so cool—I was so elated to play. That was probably when I posted that. I've had such amazing shows in SF. This is the first time I'm coming back and headlining a show, which why I'm really excited about it.
What can we expect at Rickshaw Stop?
The record just came out so I'm playing a bunch of stuff from the record and I'll also be performing a bunch of new stuff. I think it's going to be a great one.