SF Rappers Pay Tribute to SF Giants With 'Yes Yes Yes'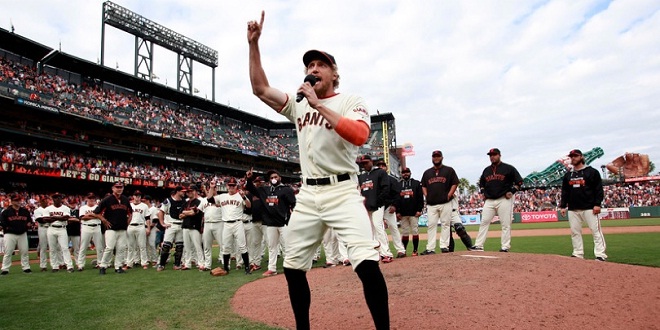 World Series Game 1 standout Hunter Pence has been musically immortalized thanks to a crew of San Francisco rappers calling themselves Hippy Mobb (including rapper and producer Equipto) who dropped the Giants tribute track this week, "Yes Yes Yes."
Inspired by the team's championship run and #OctoberTogether playoff theme, the song begins with Hunter Pence's epic speech to the crowd at Fan Appreciation Day after the last home game of the 2014 season. On that day, Pence orchestrated a 40,000-person chant with the sold-out crowd. The cheer has been the player's celebration after home runs and post-game victories.
On the track, Hippy Mobb members Curt Sak, Ike Plump, Aukwin, Shag Nasty, Baldhead Rick sling rhymes referencing Giants player with shout outs to Giants fan hero Bryan Stowe and the late Giants super-fan Robin Williams.
"Yes Yes Yes" adds to the now bi-annual tradition of Giants theme songs, joining "SF Giants Bluegrass Fight Song, Vol.6" by Hot Buttered Rum.
Share your favorite Giants tribute songs in our comments section.