Review: Beck Delivers a Memorable Show at the Masonic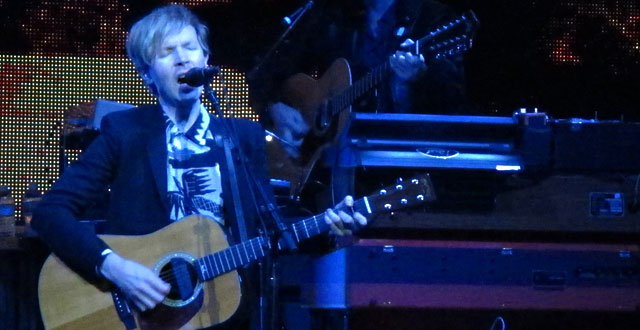 Beck opened the newly renovated Masonic Auditorium on Nob Hill last night with one of his best Bay Area performances in recent memory.
With no one else on the bill for the first show at the refreshed venue, a 3,300-capacity beauty atop Nob Hill, Beck announced "There is no opening act so we're going to open for ourselves."
It didn't start well. Beck somehow managed to cut his thumb strumming an acoustic guitar during his first song, Sea Change heartbreaker "The Golden Age." But despite the early bloodshed, he was in good spirits, applying a Band-Aid and making a few Ozzy Osbourne jokes. "We're going to stretch out a bit" after playing festival gigs all summer, he told the crowd.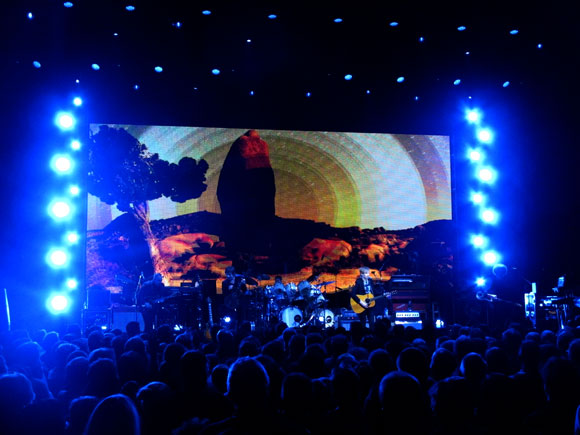 For the first 40 minutes, Beck stuck to an acoustic guitar as his five-piece band worked through half of the songs from his new album Morning Phase and two requests from the audience, including rare track "Asshole" from his 1994 album One Foot in the Grave.
It was a great tactic. With the mellow stuff out of the way, he ignited the venue with a four-song sequence of some of his biggest hits ("Devil's Haircut," "Black Tambourine," "Loser" and "Hell Yes") followed by a version of "Think I'm in Love" that morphed into Donna Summer's 70s disco burner "I Feel Love."
After a few more songs, the set closed with a rowdy singalong for Guero opener "E-Pro" that ended with three members of the band in a dog pile as Beck rolled a strip of crime-scene tape across the front of the stage.
The lights went out and they re-emerged in a purple haze for an extended take on falsetto slow jam "Debra" with Beck riffing on sweet nothings and cracking jokes over the soul beat. The band stretched out one last time with each member taking a solo on 90s classic "Where It's At" before the night was done.
Overall, the venue is a great addition to the San Francisco live music scene. Despite hosting more than 3,000 people for the sold out show, it felt intimate from the back of the first-level general admission area, where permanent seats were removed during the renovation in favor of standing room. The sound and lighting was great and the interior design reflected the historically tony neighborhood with fresh finishes and old black and white photos of Nob Hill.
Each audience member received a Fillmore-style concert poster (promoter Live Nation operates the Fillmore and the Masonic) at the end of the show, something we hope the venue will continue beyond opening night.

Set List:
The Golden Age
Blackbird Chain
Blue Moon 
S
ay Goodbye
Heart Is a Drum
Country Down
Lost Cause
Asshole
Waking Light
Devil's Haircut
Black Tambourine
Loser
Hell Yes
Think I'm in Love
Soul of a Man
Girl
Timebomb
E-Pro 
Debra
Where It's At