Homegrown: The Soft White Sixties Bring 'Get Right' to the Fillmore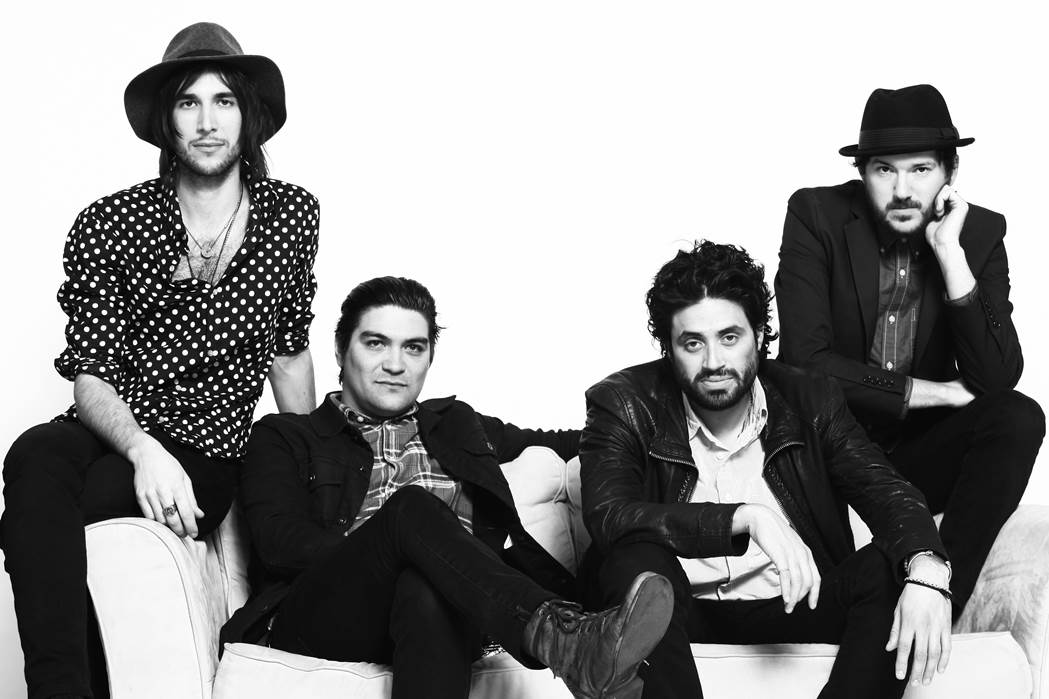 The Soft White Sixties formed in the Bay Area in 2009, and quickly gained a following that led to sold-out shows at the Independent and the Chapel and high-profile appearances at Outside Lands and the Noise Pop festival.
Equipped with their first full-length album, Get Right, the band returns to the stage with a hometown show at the Fillmore on September 25. The album is full of catchy choruses and intricate song structures that aren't contrived or forced. Recorded with producer Jim Greer (Foster the People) in Berkeley, has an explosive excitement indicative of their raucous live shows and musical progression.
We caught up with Octavio Genera and Aaron Eisenberg to talk about eating breakfast with Phoenix, Gene Simmons, and San Francisco Burritos.
You're playing at the Fillmore again. How does it feel to be performing there twice in a year?
Aaron: We're on tour with a band called The Rival Sons. We played at the Fillmore in December with the Hives, but that was kind of like a free show—a semi-private thing—so this is the first time with actual tickets.
You guys have had good success in the city, but I feel like, for whatever reason, it's hard for bands to break through here.
A: I know for a lot of bands it's hard for them to get into the city, especially people in the South Bay and East Bay. Getting started can be tough. We've just always tried to play as much as we can and never really focus too much on one place. We want to be growing everywhere, not just the city.
Octavio: There's no metropolitan city that's easy to make it in, whether it's New York, Los Angeles or San Francisco. It's not easy for any band.
A: A lot of bands leave, too. It's more economically challenging.
So how do you guys survive here?
O: We all have jobs. I substitute teach in Oakland when I'm home. Everything kind of shifted these past three months and we're trying to figure out what to do.
A: Octavio and I are lucky enough that we have a line of work when we come home. We've been on the road since March, and since April full-time work is not really in the picture anymore. It wasn't a money thing; it was just a schedule thing. We just don't have any other option but being full-time musicians.
Did you go to Outside Lands this past year?
A: We were on tour but I would have loved to see Tom Petty and Spoon. We were really hoping to catch it this year but we were down South.
You played Outside Lands in 2013, any standout memories?
A: It was great. Playing Golden Gate Park was amazing, especially since the festival is turning into one of the best festivals in the country. Just to play with all those bands was awesome. Talking to older relatives and families that have lived in the Bay Area and have gone to concerts kind of put things into perspectives, too. We were really stoked to be a part of it.
O: I got to talk to Gary Clark Jr. That was really cool. It was the first time I heard him live.
A: We had breakfast with some of the Phoenix dudes.
Did you pick the breakfast spot?
O: No, it was at the festival. We all kind of just sat down at the same table.
That would have been a trip to walk into a breakfast joint in the Sunset and see you guys and Phoenix casually eating breakfast…
A: What would you have ordered?
I'm an Egg's Benny guy, I just feel obligated to it.
A: Yeah, me too.
San Francisco is known as one of the most openly liberal cities where crazy shit happens daily. What's one of your craziest memories here?
A: I don't really know…
One time in North Beach in broad daylight I saw a bum straight drop trow and shit into a bucket. That was pretty memorable, unfortunately.
A: I think you just set the bar pretty high.
O: You go down to certain areas and you're bound to run into something along those lines, people yelling and screaming is pretty common. It's kind of sad as well. Some people are in bad shape.
Ok, enough of the shit talk. So you quoted this new album, Get Right, as the "real beginning of the band." What does that mean to you?  
O: Having a full-length album is getting us some recognition and we can actually build a following. That's how I feel like in that regard; it kind of started the whole process for us.
I'm surprised it's your first full length. Are you already working on new material?
O: Yeah, we actually started demoing a lot of new material. When we were in the South we had a big window of time so we went and stayed at our friend's house in Nashville and set our shit up in his living room and wrote for a week.
Do you think being in Nashville affected the songs you wrote?
A: Being in a different environment affects how you play. I don't know how or what it does but it definitely does something. There's stuff we wrote in Nashville that I don't think we would have written at home. Even climate-wise, instead of the cool and foggy weather, it's hot and humid and sticky and kind of makes you branch out. I think we were listening to different music, too.
Would you ever record there?
A: I'd love to record in LA, New York and Nashville. Bands do that because there is something different that comes out in those areas.
O: We'd definitely like to go somewhere for the next record. With our last record, we worked all day and night and came home and slept in our beds, but we're also interested in going somewhere where we can be immersed in the record and environment.
Gene Simmons recently declared that "rock 'n' roll is finally dead." What do you think of that statement?
O: It's like one of those quotes from people who say the Apocalypse is coming. People have been saying that since the 60s and people say guitar rock is dead. It's a contextual reference. It could mean like 10 different things, and obviously it's not dead. There are bands that are playing arenas and selling them out. I guess he's talking along the lines of having your own jet. I don't know, it's a good article and he made some good points.
A: I do feel like there's a pendulum in rock 'n' roll. It might be swinging back that way where someone like Gene Simmons can say that, but something will come along and balance it out.
O: I don't care what he says, I still see bands that I love that are touring and that's their only job—to me that's making it. I don't know what else you want. Not everyone wants a fucking action figure or your own TV show. To say it's dead is ridiculous.
Did you hear La Taqueria won best burrito in the country?
A: I believe it, that fucking place is great. You will not find a better burrito anywhere in the county but in the bay area. It's just not the same. San Francisco in general has the best taqueria food.
One place created a fried chicken and mac n' cheese burrito.
O: That's like jumping the shark on the burrito. I already get upset they put lettuce in it. Some of my favorites are usually just random taco trucks.
I overheard a girl talking about how she got a burrito as big as her forearm from a taco truck.
O: That's how they do it in Oakland, I get like three of them a week.
A: We've been trying to get a taco truck at some of our shows but there's certain restrictions.
Just turn your tour bus into a taco truck! 
The Soft White Sixties open for Rival Suns on September 25 at the Fillmore. More info.