La Taqueria Named America's Best Burrito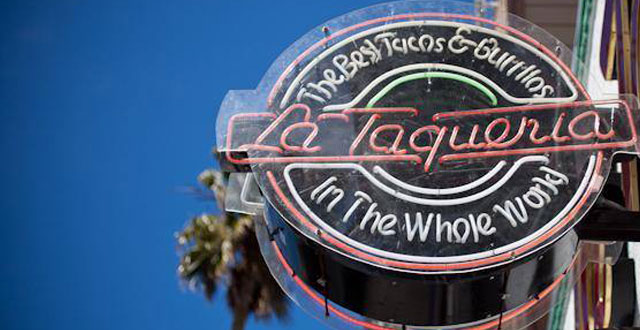 La Taqueria, a San Francisco favorite was named America's Best Burrito by ESPN's FiveThirtyEight, a blog that uses statistical analysis to tell interesting stories about science, economics, politics and in this case, the best damn burrito out there.
The carnita's burrito won the final round out of 64 burritos across the nation. The beast of a burrito at La Taqueria is filled with sour cream, fresh guac, saucy pico di gallo, pinto beans all wrapped in a perfectly crisped tortilla.
After trying the award winning burrito editor-in-chief Nate Silver said, "I don't want to bias you, but this is really, really good."
La Taqueria opened its doors in 41 years ago serving fresh food in large portions.
FiveThirtyEight burrito correspondent, Anna Maria Barry-Jester created the criteria for how the burritos across the nation would be graded along with food historian Jeffrey Pilcher, author and journalist Gustavo Arellano, Chef David Chang and Eater food critic Bill Addison. The committee was formed in early March to go out and find 64 of the best burritos across the nation and finally nail it down to one burrito that excels in all four categories.
At first they started with 67,391 establishments across the U.S. that sold burritos and narrowed it down to 64 through reviewer data on Yelp and expert burrito knowledge from the committee.
There are four categories each worth 20 points.
1. Tortilla: Is it fresh? Thick? Crispy?
2. Main Protein: Is the meat juicy and tender? How is it cooked? How is the flavor?
3. Other Ingredients: Flavor, quality, texture? Includes anything that is not the tortilla or main protein.
4. Overall Flavor Profile: What is the balance between spicy, sweet, salty? What flavors are missing from the burrito?  How do all of the flavors come together?
In the final round, four burrito shops were up for judging from Anna Maria Berry-Jester and editor-in-chief Nate Silver. Over the course of four days, the two traveled across the country to name the final winner. The final four included Delicious Mexican Eatery in El Paso Texas, Al & Bea's Mexican Food in Los Angeles, Taqueria Tlaxcalli in the Bronx, N.Y. and lastly, La Taqueria in San Francisco.
La Taqueria won with a total of 98 points. 18 points for the tortilla, 20 points for the carnitas, 20 points for other ingredients and 20 points for presentation.
According to Inside Scoop SF, Anna Maria Berry-Jester tried 15 burritos from La Taqueria over the course of two months confirming that the carnita's burrito was served delicious every time.