DJ Shadow, Cut Chemist Add Second Bay Area Show for Renegades of Rhythm Tour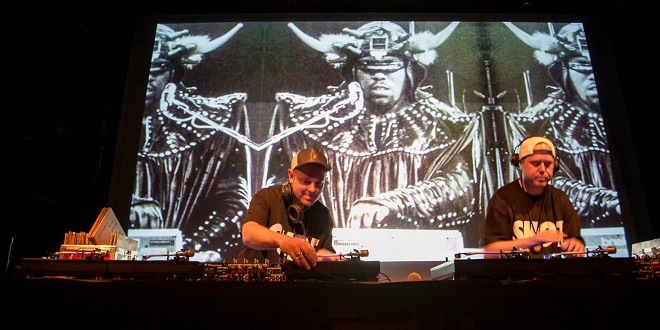 Due to popular demand, Northern California producer DJ Shadow and Jurassic 5 turntablist Cut Chemist have announced they will return to the Bay Area for the final performance of their Renegades of Rhythm tour.
The co-headlining, vinyl-only performance, will stop in Oakland at Fox Theater on November 25. The two vinyl savants already have an upcoming sold-out show October 4 at Mezzanine.
MORE: Cut Chemist Discusses Jurassic Five Reunion, New DJ Tricks
On the tour, the duo uses a combination of six turntables and a variety of real-time effects, while playing only selections from Bambaataa's massive 40,000 record collection. Their goal has been to present Bambaataa's musical and cultural legacy as one of the founding fathers of hip hop and turntablism.
Shadow and Cut Chemist have been on a recent Bay Area binge after their July concert at Berkeley's Greek Theatre. They were joined by fellow hip hop artists Blackalicious, Lyrics Born, and Dilated People's as part of the Jurassic 5 extended reunion tour.
http://youtu.be/yYzakWz3JxU