Method Man, Redman and B-Real Join Smoker's Club Tour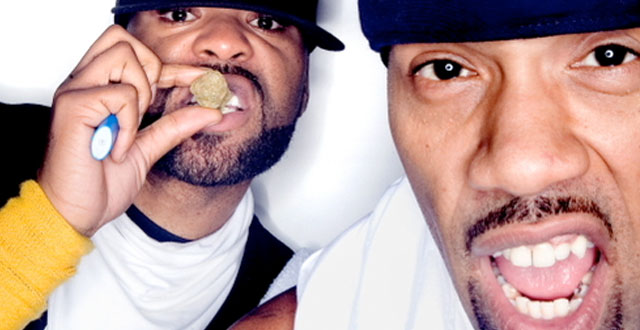 The Smoker's Club tour will return to San Francisco for its fifth year with a full lineup of ganja-friendly rappers, including blunt brothers Method Man and Redman and B-Real of Cypress Hill.
The national tour stops in San Francisco on Nov. 8 at the Regency Ballroom with San Francisco's own Berner and Chicago upstart Mick Jenkins also on the bill.
"Method Man and Redman have been staples in my playlists since I can remember," said Smoker's Club founder Jonny Shipes in a statement announcing the tour. "I have probably smoked five pounds of weed listening to their music and watching 'How High; on repeat during my life."
Cannabis enthusiasts should also be familiar with B-Real. With Cypress Hill and solo projects, he has been rapping about weed for more than 20 years with marijuana classics "Hits From the Bong," "I Wanna Get High" and many more.
Berner, now a member of Wiz Khalifa's Taylor Gang, started locally in 2007 rapping inside coffee shops and open mic nights in San Francisco. Before linking with Khalifia, he independently produced 10 albums. He also runs two clothing lines, FreshKo and Cookies, along with his hemp water line H2O.
Chicago-based rapper Mick Jenkins hit the mark last year when with his mixtape Trees & Truths, followed by a strong second mixtape, The Waters, released earlier this month.
The Smoker's Club Tour Schedule:
Tue. Oct. 14 Providence, RI Lupo's
Wed. Oct. 15 Boston, MA Paradise
Thu. Oct. 16 Albany, NY Upstate Concert Hall
Fri. Oct. 17 Lancaster, PA Chameleon Club
Sat. Oct. 18 Stroudsburg, PA Sherman Theater
Sun. Oct. 19 Cleveland , OH House of Blues
Tue. Oct. 21 Cincinnati, OH Bogart's
Wed. Oct. 22 Pittsburgh, PA Stage AE
Thu. Oct. 23 Chicago, IL Concord
Fri. Oct. 24 Columbus, OH Newport Music Hall
Sat. Oct. 25 Milwaukee, WI The Rave
Sun. Oct. 26 Minneapolis First Avenue
Tue. Oct. 28 Lawrence, KS Granada Theater
Wed. Oct. 29 Des Moines, IA Wooly's
Fri. Oct. 31 Denver, CO Gothic Theater
Sat. Nov. 01 Salt Lake City The Depot
Sun. Nov. 02 Boise, ID Knitting Factory
Mon. Nov. 03 Seattle, WA The Showbox
Tue. Nov. 04 Bend, OR Midtown BALLROOM
Wed. Nov. 05 Arcata, CA Arcata Community Center
Fri. Nov. 07 Santa Cruz, CA The Catalyst *(Without Berner)
Sat. Nov. 08 San Francisco Regency Ballroom
Sun. Nov. 09 Los Angeles, CA House of Blues
Mon. Nov. 10 Las Vegas, NV Brooklyn Bowl
Tue. Nov. 11 Santa Ana, CA Observatory
Wed. Nov. 12 Phoenix, AZ The Marquee
Sat. Nov. 15 Austin, TX Emo's East
Sun. Nov. 16 Dallas, TX House of Blues
Mon. Nov. 17 Houston, TX House of Blues
Tue. Nov. 18 New Orleans, LA House of Blues
Wed. Nov. 19 Birmingham, AL Icon City
Fri. Nov. 21 Raleigh, NC Lincoln Theater
Sat. Nov. 22 Asheville, NC Orange Peel
Sun. Nov. 23 Silver Springs, MD The Fillmore
Tue. Nov. 25 Philadelphia, PA TLA
Wed. Nov. 26 New York, NY Best Buy