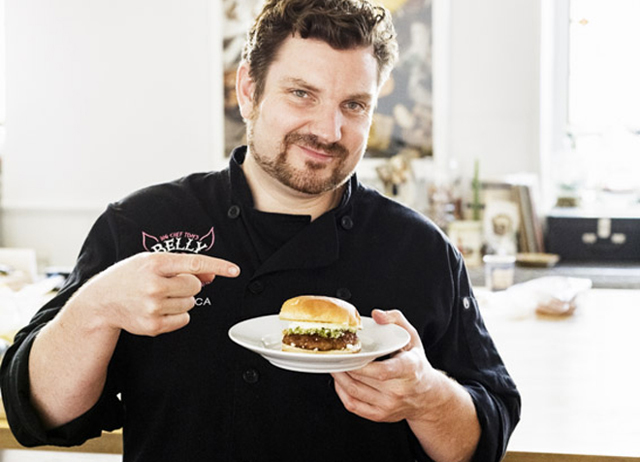 Former Food Network personality and local purveyor of pork belly burgers, Tom Pizzica (perhaps better known by his moniker Big Chef Tom), sets his pint on the table with a weary smile before settling in to tell the story of Big Chef Tom's Belly Burgers.
It's mid-week, mid-afternoon and he's taking a break from prepping his first brick and mortar restaurant at 1550 Howard Street in SoMA, set to open on June 23, to talk about his career, getting creative with pork and, most importantly, the secret to a good burger.
Like many professional chefs, Pizzica grew up fascinated by food and cooking. But whereas others have to fight their families in order to pursue their passion, his mother encouraged him to enter the restaurant industry. Teenaged Pizzica, however, had other ideas.
"No, I'm going to go to college, I'm gonna get a real job," he recalls. "I didn't think that you could make a living [by cooking], but then when I got to college, I was like, 'Holy shit there's nothing here I really want to do!'"
He left George Washington University with a degree in speech pathology, but it was his stint working at an Outback Steakhouse during his junior year at the university that proved to be a more formative experience.
Following graduation he took a variety of both front and back of house jobs including managing an oyster house, cooking at a tiny French restaurant and waiting tables (an experience he claims bears strong resemblance to the 2005 Ryan Reynolds film Waiting).
Still, with all this experience Pizzica felt that he was lacking in mentorship, so he set out west to study at the California Culinary Academy before a job opportunity—this time as the executive chef at a historic hotel—drew him back east.
"I had no idea what I was doing but, you know, you fake it until you make it," he says.
But by the end: "I hated everything there was to hate about the restaurant business."
Finding himself, once again, in search of something new, Pizzica returned to the Bay Area and proposed to his then-girlfriend who, in turn, encouraged him to audition for The Next Food Network Star, a reality competition show in which cooks from a variety of backgrounds vie for the chance to get their own on-air program. Despite a rough start, Pizzica came on strong enough to finish in the top three, surviving a shoot that sounds nothing less than grueling.
"It's literally 18 hour days," he says. "You have no idea what's gonna happen to you that day—what the challenge is gonna be, who you're gonna meet. There are constant butterflies in your stomach. You don't want to suck in front of some of the most famous chefs in the country."
Competition aside, the forced isolation of the contenders was difficult to cope with, especially when all the producers wanted was some good old drama to capture on camera.
"If you wanted to talk to someone, like your girlfriend or your parents, they'd put you on camera," he says. "The only time you weren't on camera was when you went to sleep. You're with these people 24 hours a day and it was so funny because [the producers] wanted you to hate these people and be in competition, but it's like—no this is my only source of support!"
Pizzica felt that the producers ultimately did him justice in the editing room, but thinks differently about Outrageous Food, the short-lived program he did for the Food Network afterward.
"It's kinda weird because as a chef you'll always get criticism about your food, but I feel like that's something I have control over," he says. "When you're on TV, you're edited. You have no idea how they're gonna perceive you. So the way I was perceived, I feel like it wasn't me."
Some viewers likened him to a Guy Fieri wannabe, among other things. But if the show got one thing right, it's that it encompassed the food philosophy that earned Pizzica his nickname, which is to say cooking in a way that's playful, irreverent, bold and forever trying something new.
Knowing that he'd be going up against some of the culinary world's biggest players, this mentality inspired him to create the pork belly burger after being invited to the National Pork Board's summit in Napa, where he wanted to make a splash. ("A lot of times when you're a celebrity chef, people don't think you have any chops. Nobody takes you seriously.")
From that first test patty he cooked up at home using his KitchenAid meat grinder, Pizzica knew he was onto something. And because the pork base lent a different quality than the standard beef burger, he also knew that he couldn't just slather on ketchup and mustard; instead drawing inspiration from the ethnic flavors of the Bay Area.
The Classic, for example, takes fried pepper aioli, cotija cheese and tomatilla pickles, while the Banh Baby, Banh features caramelized jalapeno, hardboiled egg and cilantro. All are served on white buns that are toasted and buttered, a very conscious decision made by the chef.
"The bun I use now is a classic American burger bun that is toasted and buttered like a grilled cheese—it's nostalgic, and a lot of food is nostalgia," he says.
Unsure of how to market the product, he reached out to friends and began doing pop-ups in early 2012, taking over the kitchens of Doctor's Lounge and Clooney's one night each week.
Business was slow until he joined Off the Grid's mobile food rally at Fort Mason Center as BCT's Belly Burgers. Putting the pop-ups on hiatus, he found a niche catering to San Francisco's myriad tech companies. And just to be clear: there is no pork belly burger truck roaming the streets.
There was a time when food trucks were the solution for budding food entrepreneurs, and even though investors were ready to pour money into one for Pizzica's burgers, according to the chef, the golden age is over.
"The market was getting really flooded, there was no real commissary," he says. "Everything became a fee, a permit. It wasn't the good old days, like the Wild Wild West, when people started trucks and they could just pull up and park anywhere. Nowadays it's like, 'Oh you want to park here? Well I'm gonna need a sketch of where you want to park.' It was so tedious. And the competition was so crazy!"
But with the imminent opening of his first brick and mortar, Pizzica is past concerning himself with those issues. He describes the location, which sits at the corner of Howard and Lafayette Streets, as "old-school butcher shop meets industrial SF"—think exposed pipes, reclaimed wood, swing-out stools and big windows.
As far as the menu goes, he anticipates about seven burger styles, including the aforementioned favorites, with a build-your-own option. And never fear, non-pork eaters, Pizzica also offers a 100 percent ground chicken thigh patty and a tried-and-true veggie patty made of roasted eggplant, chickpeas, fried onions and shredded carrots ("I feel like a soy patty is cheating," he says).
Sides will include crinkle cut fries, crispy onion strings, roasted kale and classic slaw. Expect to see beer and wine on the drinks list, but don't expect any price inflation.
"I feel like a lot of San Francisco has become, 'Well, they're gonna pay for it, let's raise prices.' That's not my philosophy," he says.