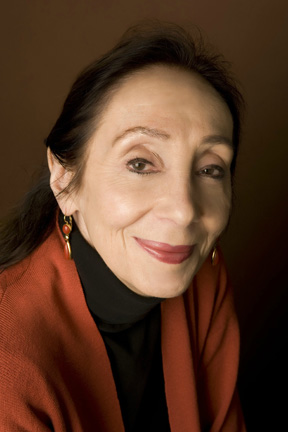 To say Joyce Goldstein is a repository of culinary knowledge, both local and foreign, is no exaggeration. Over the course of a decades-long career, she has been a teacher, chef, cookbook author, consultant and more, but no matter what she's doing, it is always with the same zeal that inspires others to follow her lead.
"Going into the restaurant industry was a complete surprise to me," says Goldstein. "But I loved it and realized that I should have been doing it all along."
Goldstein taught cooking classes in the 1960s and 70s, before a stint at Alice Water's Chez Panisse that ultimately led to her opening her own acclaimed Mediterranean restaurant, Square One, which presented an eclectic blend of Italian, Spanish, French, Greek, Middle Eastern and North African cuisine. As fulfilling as Square One was, Goldstein doesn't hesitate to say that being a chef is a young person's game.
"I opened it when I was 49 years old, so by the time 12, 13 years rolled around my feet were killing me," she says. "I couldn't be on my feet 16 hours a day anymore so I decided to close it."
Yet, while the Bay Area lost a quality eatery with Square One shuttering, it gained a valuable scholar as Goldstein refocused her efforts on writing and consulting. With numerous award-winning cookbooks under her belt, perhaps her biggest accomplishment to date is "Inside the California Food Revolution," an in-depth look at the development of California cuisine from the 1970s to 2000 published last year.
As per her research, Goldstein is an expert on local food trends—a sort of restaurant ethnographer who will showcase some of that knowledge this Saturday, May 17, at Canela Bistro & Wine Bar, where she and Chef Matt Schuster will trace the history and popularity of Spanish food in the Bay Area.
"It was very slow to get on our radar," says Goldstein.
"We didn't have a lot of Spanish chefs emigrating from Spain to come to the states," she says. "[By contrast] the reason we have a lot of Italian restaurants is that a lot of Italians left and came here."
In 1984, Iberia opened in Portola Valley, becoming the first all-Spanish restaurant in the area. It has since relocated to Menlo Park, but other eateries began popping up in the 1990s, perhaps riding the coattails of another rising trend in dining: small plates.
"When small plates became fashionable, then the whole notion of tapas became popular," Goldstein says. "No matter what the small plate was, people called them tapas—it could have been Chinese, Mexican, Italian … [I guess] they just like to say it."
Goldstein notes that within Spanish culture, tapas fill an integral role.
"They don't have much breakfast, they have a pretty good sized lunch," she says. "And then they have tapas and a very late, light dinner. And they sleep very late. We don't do that."
Yet, although our schedule differs greatly from the Spaniards, there are other compelling reasons why we should pay attention to their eating habits.
"The food is direct, full of flavor, unpretentious," Goldstein says. "It's a really good diet to follow—there's a lot of fruits and vegetables and grains, small portions of meat, fish and poultry. It's really an ideal diet for all of us today."
Having published multiple tomes on Mediterranean and Spanish dishes, the author is hard-pressed to pick a favorite.
"When asparagus season comes, the first thing I do is make romesco sauce because asparagus with romesco is my idea of heaven," she says
At this time of year, though, she's most looking forward to gazpacho using fresh tomatoes.