Lake Street Dive take over Great American Music Hall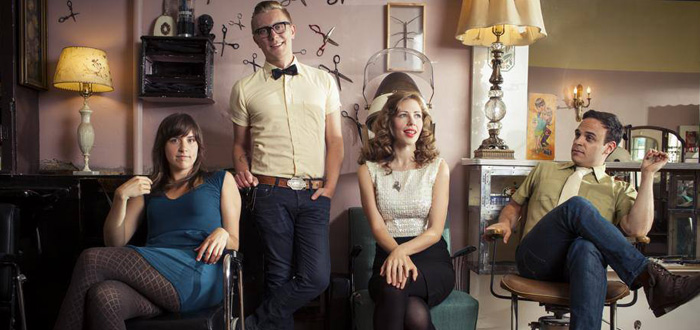 Lake Street Dive is named after a cluster of dive bars in Minneapolis, but with a sound that cuts to the roots of soul, R&B and gospel the quartet could easily claim Memphis or New Orleans as a namesake.
But, in fact, the band started in Boston as students of jazz at the New England Conservatory of Music. After years of honing their craft, Lake Street Dive is finally breaking with a viral video, ink in Rolling Stone and recent performances on the Colbert Report and David Letterman Show. The band's show at Great American Music Hall on March 14 is one of numerous sold-out concerts on their current national tour.
We caught up with bassist Bridget Kearney to talk about the band, dive bars and meeting Colbert.
Lake Street Dive play the Great American Music Hall March 14th.
You're coming to San Francisco for a sold out show at the Great American Music Hall. Are there any dive bars you're looking forward to seeing while you're here?
We love going to San Francisco, unfortunately we won't get to hang out too much. But last time we had a day off there we went to the Bridge School Benefit and saw Tom Waits. It was incredible. My friend wants to start a Tom Waits children's choir.
Best dive bar on the tour so far?
Vassar College, it's not actually a dive bar; it's a college. We played in a basement venue they had and all the students were so sweaty and excited, it was really fun.
What's your drink of choice?
Probably some kind of IPA.
You all attended the New England Conservatory of Music in Boston and brought together by trumpet/guitar player Mike Olson?
We all went to the conservatory and knew each other through friends and acquaintances. It was Mike Olson who thought it was a good idea that the four of us play music. He took us into a classroom and was like, 'Yeah, we're a band.' It wasn't uncommon to do that. A lot of students were forming bands. I was in a new band like everyday, but this one was different. I was excited about the combination of people and sounds, and so in that group of bands I was a part of during college, this was the one that stood out for me that could be a real band.
One of the listings we did as a band was when the school awarded an honors ensemble and that band would get certain gigs through the school and get a stipend. Our band entered to be awarded that ensemble and we didn't get it. We decided to stay together anyway.
Most success comes with fighting through adversity.
Michael Jordan did get cut from his high school basketball team…
And later you won a songwriting contest to win the John Lennon Music Award to help fund your first album, In This Episode.
That happened in 2006. We had been playing shows for a few years around Boston. I was away abroad, and they entered one of my songs. I remember sitting at a cyber café in Morocco and I was like, 'Oh, I won a writing contest.' That was another milestone for us, getting that kind of encouragement in our early years, and it funded our first album.
We don't look at it like a masterpiece, but you keep writing songs and doing the best you can. Our last album we learned so much and hopefully our next album will be better.
Success has sort of snuck up on you. Was there a moment that realization hit you?
We've been a band for a long time, so it's been a slow and steady journey. We've been taking the tourist approach to success. It's all been a gradual process. The first year—about ten years ago—we played about two or three gigs, the next year we played six to ten, the next year 25 and now we're playing 150.
There's been some bigger moments, one being when our video of the Jackson 5 song hit as a viral YouTube video about a year and a half ago. Playing the T-Bone concert was another big milestone and making our first-late night appearance on the Colbert show, that was momentous for us. That was a "wow" moment.
How was Mr. Colbert in person?
He was awesome. He's incredibly nice. When we first pulled up to the studio he hung his head out of his office on the fourth floor and gave us a big welcome. He came and heckled our soundcheck a bit and was humming our songs during rehearsal. It's an honor to be on his show; first of all because we're big fans, but also for us, we were so under the radar coming into that, he didn't owe us any favors. He just had us on because he genuinely likes our music.
One of the great things about Lake Street Dive is that you're gaining attention by the quality of your music, and you have never deviated from that mantra to be in the spotlight. What kind of obstacles have you faced with staying honest?
I feel great that we've never had to change what we were doing to fit any mold. It definitely took us longer to get where we are and to get people to start paying attention, but it just makes it all the more special that now we're here and don't sound like a million other bands and sound like ourselves, the band we've been striving for over the past ten years.
You all contributed songs to Bad Self Portraits. How do you typically construct a song?
The songwriting thing has always been central to our band. We're lucky to have people in the band that all write songs. We mostly write separate from one another and we learn a lot by each other's writing and are inspired. It's great because having four or five members could sound disjointed and nonsensical but because we're all admirers of each other's works, we're able to be inspired and move our collective sound in the same direction together. We each have our message as songwriters, but the band has a big say in the arrangements of the song.
You're playing a few festivals in 2014. Are there any you're particularly excited about?
We're playing at Bonnaroo for the first time, and that's super exciting for me. I've always wanted to go there. There's an incredible lineup—Elton John, Vampire Weekend and Flaming Lips. I've heard it's crazy there, but hopefully we can avoid the madness and get into the music.