It's no secret that we're fans of the durable, stylish and functional products coming out from Chrome. Their brand new 100% waterproof roll top bags are no exception. There's plenty of room for your gear, a laptop and any other goodies you might need to take with you to work, play or just ride.
So where would you take it? SF Station and Chrome want to know. Just follow the steps below to enter your photo into the exclusive Instagram contest where one lucky person will take home the brand new Saddle Bag Rolltop 20 Liter Pannier Bag!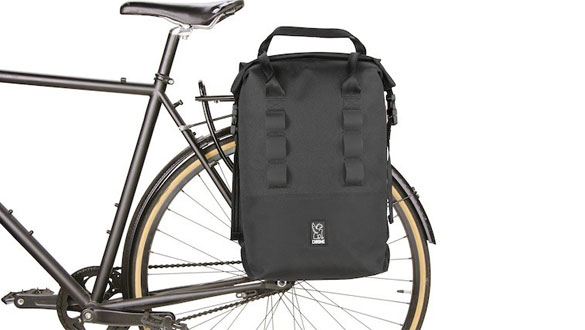 Contest Details:
All you have to do is follow the steps below then tell your friends to vote! The photo with the most votes wins. Contest ends Friday, March 14th at NOON.
(1) Follow @SFStation on Instagram
(2) Snap a photo of your ride and upload it to Instagram
(3) Tag it #knurledwelded
(4) Tell us where you would take your new bag (as an Instagram comment)
(5) Tell your friends to VOTE for your photo on this page!
*All contest entries appear below, be sure your account is public.
*One vote per person per day.
*Winner must be able to come to our office in downtown San Francisco to pick up.
*Your photo may take up to 20 minutes to show in feed below
The contest is now over, thank you to all who entered, winner will be announced soon!
Contest Rules: Any entries deemed inappropriate will be disqualified at sole discretion of SF Station. SF Station, the sponsor, has the right to change or modify the rules of the contest at any time. The photograph must be the submitting entrant's original, previously unpublished work and not contain any third-party copyrighted material (including without limitation, copyrighted images or footage); (ii) the submitting entrant should be able to provide on
request all appropriate clearances, permissions and releases for the Submission, including releases from all persons appearing in the photograph, location releases for all recognizable locations, and releases from anyone who assisted in the creation of the photograph (in the event a submitting entrant cannot provide all required releases, Sponsor reserves the right, in Sponsor's sole discretion, to disqualify the applicable Submission, or seek to secure the releases and clearances for Sponsor's benefit, or allow the applicable Submission to remain in the Contest); (iii) the photograph may not feature nudity or obscene language or material that is libelous or defamatory. Sponsor reserves the right, in its sole and absolute discretion, to disqualify any Submission that violates the above criteria. Submissions must be received before the end of the Submission Period, and the Sponsor's database clock will be the official timekeeper for this Contest. OWNERSHIP. By entering your Submission in the Contest, you acknowledge and agree that: (a) Sponsor will own all Submissions entered by you in the Contest or otherwise uploaded to the Website. Each entrant into the Contest hereby irrevocably grants, transfers, sells, assigns and conveys to the Sponsor, its successors and assigns, all present and future right, title and interest of every kind and nature whatsoever in and to the Submission(s) for exploitation throughout the universe, in perpetuity, by means of any and all media and devices whether now known or hereafter devised (the "Rights"). Sponsor shall have the right, in its sole discretion, to edit, composite, morph, scan, duplicate, or alter, the Submission(s) for any purpose which Sponsor deems necessary or desirable, and each entrant irrevocably waives any and all so-called moral rights they may have in the Submission(s) submitted by him or her. Each entrant hereby acknowledges that such entrant does not reserve any rights in and to the Submissions. Sponsor shall have no obligation (express or implied) to use any Submission, or to otherwise exploit any Submission or, if commenced, to continue the distribution or exploitation thereof, and Sponsor may at any time abandon the use of the any Submission for any reason or no reason at all, and no contestant shall be entitled to any damages or other relief by reason thereof. This Contest is in no way sponsored, endorsed or administered by, or otherwise associated with, Olympics, Facebook, Inc., Instagram, Inc. You understand that you are providing your information to Sponsor and not to Facebook or Instagram.