Interview: Afrolicious Revue Arrives at Great American Music Hall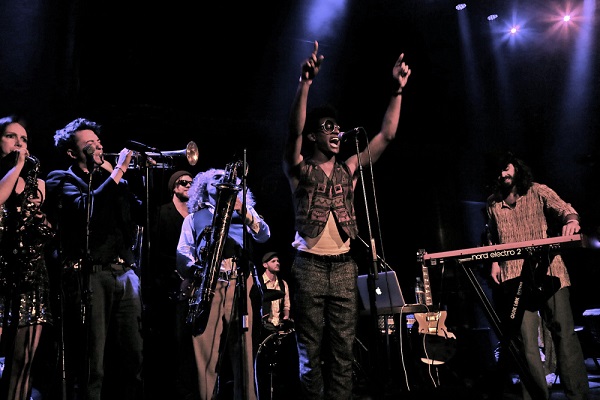 Dance-fusion collective Afrolicious and three bands that have participated actively in the Afrolicious project bring an eclectic mix to Great American Music Hall on December 28 for the first ever Afrolicious Revue at that venue.
At its core, San Francisco's Afrolicious consists of  co-founding brothers Joe "Pleasuremaker" McGuire and Oz "Señor Oz" McGuire, who throw a weekly party at the Elbo Room and also lead a band with the same name.
Although the band does not often perform at the weekly party, events at the Elbo Room feature a variety of musicians, percussionists and MCs contributing to the modern Afro-Latin funk diaspora.
We spoke with Oz about the roots of Afrolicious, his New Year's resolution and working with Thievery Corporation's Rob Garza. As a bonus for the December 28 show, anyone who buys a presale ticket, also receives a free copy of their new album.
Why did you originally relocate from Missouri to San Francisco?
We both had bands and DJ'd in a couple different towns. I was in Kansas City and my bother was in Lawrence, Kansas, and we just kind of maxed out our attention there. We wanted to work in a more multicultural place that was more open to different sounds. We always thought NY or LA, but SF didn't feel like it was more open. We always liked coming out here, going back to the Beat generation and mutlicutlurism, and I got into grad school here. That opened up a door.
What inspired you to create music to link the different genres of the African diaspora?
We come from Kansas City where there's a big jazz and blues scene. We like soul, R&B and funk. My brother is a musician, we're both DJs and I'm a producer. We like to explore what's not top 40 and not on the radio.
Part of our job was always researching, turning people on to new and different sounds. We like to connect the dots between different music and find how it relates to other cultures. There's a saying: The musical tree is Africa and all the branches are different genres. Somehow it all goes back to Africa.
Our genre is more on the funky side, groovy side—like a global funk diaspora as far as what we're playing. It has a lot more swing in the sound with minimal techno and sometimes some house-influenced stuff, but its more of a soulful, poly-rhythmic side of it. When we heard War or Santana on the radio, that maybe piqued our interest more than just traditional blues.
Is it challenging or more entertaining to perform with such a large, amorphous band?
It's kind of both. It has morphed into a solid band, but it's a challenge. Now that we have it down and everyone knows there roles, it's very fun. Coming from a DJ perspective, it's something that you have to give a lot and share a lot more, both musically and financially.
It also makes it a unique experience; you don't often get a chance to see that. There's always a surprise. That's part of the joy of it, and we like that. Parliament Funkadelic was a huge influence on us with their stage shows, and the same with Fela Kuti—massive with lots of performers. We decided to give into that a little bit. It's an experience more than just a show.
What was Rob Garza's biggest asset when he helped produce your two EPs?
One of them was, we had a lot of material to choose from. My brother is a prolific songwriter. Rob helped us narrow it down in terms of songs, helped put a little magic touch on it. He has 20 year's of experience and is a veteran producer. It was really nice to get his touch on the songs. Our songs were a little raw. It's nice to be able to present them in a polished way sometimes.
He's always raised the flag for Afrolicious. when he signed us to their label, we joined a prolific group. We were able to do big shows at the Greek Theatre in Berkeley and Red Rocks in Colorado. Rob would help us push through.
Does Afrolicious still have a weekly residency at the Elbo Room?
We don't have the whole band out every week, but it's now the Afrolicious party, which consists of DJs, live percussion and special guests. It goes on every Thursday. We try to let people know that it's not the Afrolicious live band. We use these events to build networks, scout talents, see others we want to work with and give others a chance.
Who would you invite to perform with your band if you could invite any guest vocalist or musician?
There's so many people. I know Pleasuremaker, my brother, would want Seun Kuti Kuti, Fela's youngest son. He's kind of carrying on the tradition and we've became friends with him. We recently did a remix with Thievery Corporation and we're talking to those guys about doing a collaboration. Also, Vieux Farka Touré, a blues guitarist.  We have a track with them for the new record.
Do you have a personal New Year's resolution yet?
I quit smoking this year. I'm just going to try and keep that going. Also, trying to keep getting the band out in front of as many people as possible. It's fun on stage. Everything else is hectic, but it's worth it.
What plans does Afrolicious have in store for 2014?
We started our own record label this year and put out a few releases. In 2014, we're just going to try and turn into a machine and get a lot of releases out. Pleasuremaker has a solo record we're going to put out. We're working with another musician from Africa named Yacuba. We co-produced a record with him. For 2014, we're putting out a lot of music and playing a lot of shows and getting people to listen and dance.