10 Winter Beers to Warm Up the Holidays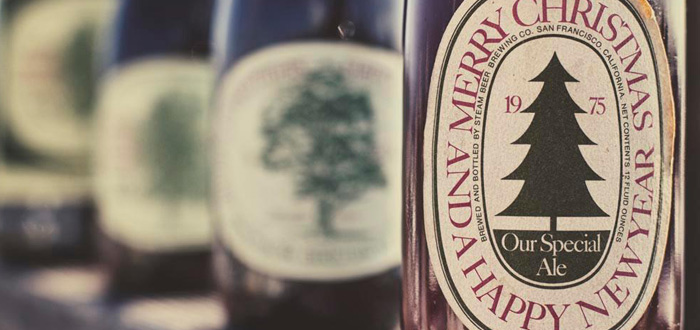 It's not yet officially winter, but coinciding with the holidays and cold weather is the arrival of winter beers at Bay Area bars and retailers. We stopped at SoMA brew hub City Beer Store and Oakland beer house and bottle shop Beer Revolution to see what beers they recommend for the season.
Five beers from City Beer Store Owners Beth and Craig Wathen:
Goose Island Beer Company, Lolita
A Belgian Style Wild Ale that rests on raspberries while aging in wine barrels, Lolita is a beautiful addition to the winter wonderland list of beers.  Dry, a burst of tartness, jammy fresh aroma of raspberries, hint of mild citrus, undertones of a Rose wine, and a delicate lacing;  beer lovers and wine lovers alike will rejoice in this deep pink hued ale.
Midnight Sun Brewing Company, CoHoHo Imperial IPA
In Alaska they nestle in deep for the winter; packing in rich ales to withstand the frigid season of snow and ice. Midnight Sun Brewing in Anchorage is known for its creative and delicious brew recipes, and CoHoHO is no exception. A dark reddish amber Imperial IPA with burnt caramel notes from the addition of brown sugar, a dash of honey and the handfuls of juniper berries give it a light herbal lining, finely rounded out by a hearty dose of hops. This is a festive bottle to celebrate the winter season.
Port Brewing Company, Santa's Little Helper-Barrel Aged
Port Brewing took its Santa's Little Helper Imperial Stout and aged it in bourbon barrels to create a velvety, vanilla specked, creamy chocolate Imperial Stout rounded out with a oaky bourbon finish. We poured this black as night winter warmer alongside a sampling of gingerbread cookies, and the richness of the ale balanced perfectly with the ginger spice of the cookies.
De Ranke Brouwerij, Pere Noel
The winter Belgian beers arrive in a flurry during the winter months, and we absolutely love the complex and spicy flavors these beers impart. Pere Noel strays away from some of the more traditional strong ales and offers a yeasty fresh baked cinnamon bread flavor with a touch of candied orange. A dash of hoppiness complements the malty, slight spice of this creamy cooper colored ale. We pour it to pair with a wide assortment of cheeses and salty almonds.
Anchor Brewing Company, 2013 Anchor Christmas Ale
Our list would not be complete without one of our local favorites. The recipe and the tree on the label change each year, but the radiant joy this special ale brings into City Beer Store never changes. Spicy, toasted gingerbread, a deep mahogany color, this beer has a little holiday magic in it. Guests love to receive the beautifully labeled beer in the 1.5 liter size all wrapped up with a bow.
At Beer Revolution, Richard Angeles and Chris Perry suggested five offerings for this season:
Port Brewing Santa's Little Helper (Barrel #1 and Non-barrel #2)
"When weather gets cold, most people are looking for a big and hearty beer during the holidays," Chris says. "The barrel age and non-barrel are both fantastic and have a high amount of great flavors coming through. The barrel aged just brings more complexity and a little more of the flavors come out."
Black Xartus Nectar Ales
"It's just a well made stout made once per year," Richard says. "Not much age is needed but if you let it sit, more flavors do come through on this one." Nectar ales are something fun to pair with the seasonal foods served with holiday meals, Richard says.
Dupont Winter Avec Des Bons Voeux de la Brasserie
"There's not a lot of dark beers I like," Richard says. "This is one of them because it's much more cold and wet not heavy and hot. It's still light and pleasant and clean. Dupont is a company that brings fresh tasting beers. I love Dupont and the winter beer ups the ante. It's totally different because it's not like dark Belgian ales with spices. It still has a lot of alcohol and boldness."
Sierra Nevada Celebration
Chris this is his "favorite hop beer in the world. The reason is the high quality control and the fact they are careful with every step. You are always going to get the same, completely delicious, best aged beer each year." Richard summed it up: "It's just a great fresh hop IPA."
What is your favorite winter beer? Share your top picks in our comments section.
Michael Davidson contributed to this report.