Suicide Girls Return with Blackheart Burlesque at the Fillmore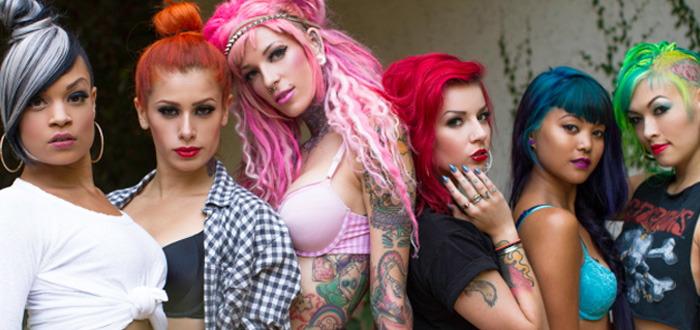 It's been a big year for tattooed, pierced and sexy modeling brand Suicide Girls. The company, which grew from a small Portland web enterprise to a internationally recognized company, released its debut coffee table book this, executed a major website overhaul and revived its burlesque tour, which returns to the stage in San Francisco at the Fillmore on Oct. 25.
After a six-year hiatus SuicideGirls: Blackheart Burlesque is back with new choreography, complete with steamy references to Game of Thrones, the Big Lebowski, Star Wars and other pop culture icons. We caught up with Suicide Girls co-founder Missy Suicide for a quick interview about the show.
It's been six years since the last tour. What you led to bring it back now?
We did a book called Hard Girls, Soft Light and we did a book signing tour. There were 500 to 700 people showing up to these small comic book shops just to see the girls sign the books. We new we could do something better for all of these fans that wanted to meet us. So we thought now was the time to do the burlesque tour again.
But we also new we had to step up our Game. When we first started doing burlesque, we were the only people doing it on a large scale who were doing non-old-fashion burlesque. Six years later, now there are tons of burlesque shows that are more modern. We found an amazing choreographer and have some super talent dancers to put on a show that we think is like no other.
It's burlesque and it's real hardcore dancing. The girls are incredible and we infused a lot of pop culture references and real cool music.
You have Stars Wars, the Big Lebowski and Game of Thrones—how did you come up with those themes?
The girls themselves are pretty big pop-culture nerds. Comic Con is our biggest events of the years and all of the girls want to go. Game of Thrones? Who doesn't think that Daenerys Targaryen isn't the sexiest thing ever?
Your medium is online with photos and video, and now books. Is it a challenge to switch over to the live setting?
It's definitely pushing it. It's a lot of work to put on a live show that is entertaining, interesting, sexy and fun, that will keep a crowd enthralled for 90 minutes, or so.
How did you find the girls for the show? Were they on the site or new recruits?
There are some that were already on the site and there are some new recruits. It's kind of a mix. We held auditions in LA with some incredible dancers.
What did you learn from your first tour that you are applying now?
There's so much. Touring is a whole different business and there is more than I can distill in a neat, little sentence. It's a balancing act that I've never dealt with before. Find a good tour manager—that's the No. 1 thing—to deal with logistics.
SuicideGirls: Blackheart Burlesque is at the F-llmore on Oct. 25. More info.