Movie Review: Young Love and Alcohol Don't Mix in 'The Spectacular Now'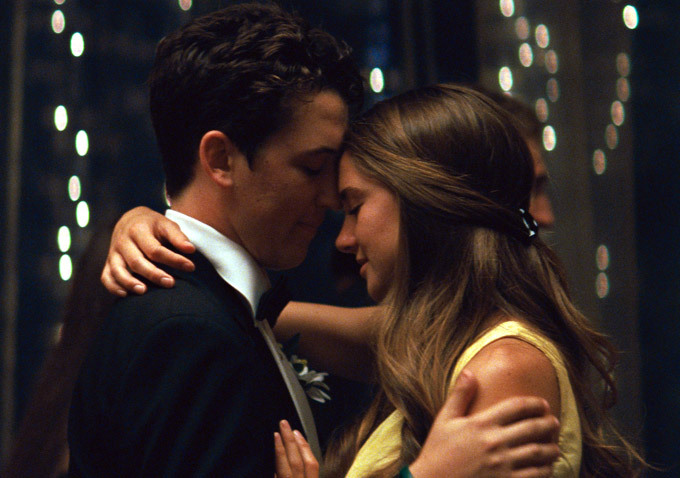 Director James Ponsoldt seems to have a running theme throughout all three of his feature films — alcohol. His first, Off the Black, featured an alcoholic high school baseball ump, his second, Smashed, was about the unraveling of a marriage when one decides to get sober and The Spectacular Now also features some pretty heavy drinking. Whereas alcoholism was the central theme of Smashed, the constant imbibing in The Spectacular Now is more nuanced and represents a deeper trouble rather than being the problem itself.
Featuring a script by Scott Neustadter and Michael H. Weber, the team behind (500) Days of Summer, based off of the book by Tim Tharp, the film is both a typical coming-of-age story and brutally realistic. Sutter Keely (Miles Teller) is the life of the party, along with his girlfriend Cassidy (Brie Larson). He's the kid that everyone wants to be despite having no future set up for himself. He's barely passing school and his only plans are to continue working at a suit and tie shop run by the nice but meek Dan (Bob Odenkirk). Already barely sober, his alcohol intake really takes off after he's dumped and wakes up one morning on a random lawn with no memory of where he left his car. He's found by Aimee Finicky (Shailene Woodley), a nice but not popular girl at his school, who's doing her morning paper route. He offers to help and despite being seemingly opposites, he begins to fall for her.
The basic story isn't unlike any myriad of high school films about falling in love — it's just soaked in alcohol. The true heart of the story is how Sutter lives only for the now, hence the film's title. He relishes in living every moment to the fullest without any thought for the future. But with graduation approaching Cassidy, like most 18-year-olds, is getting ready to move on. A combination of inexperience and naivete in Aimee allows her to ignore Sutter's clear arrested development even as he discusses with his best friend that he knows it can't end well. Even as he introduces her to his daily dose of alcohol, neither can tear away from the blossoming relationship.
What the film does well is to illustrate the complexities of being 18. All Sutter wants to do is live his life the way he's currently living it. There's a part of him that recognizes his resistance to growing up, but he drowns that part of himself in liquor. Similarly, Aimee has never been in a relationship and it is a new part of herself that she is exploring, which is why she can willfully ignore Sutter's darker side. But Teller and Woodley have great chemistry that legitimizes their relationship and they manifest a real love for each other.
Displaying a definite darker side of growing up, the film isn't all doom and gloom. Their relationship is clearly based on true affection, something which seems to just drive Sutter deeper into himself. He's finally faced with something real, something that's not just fun and games and that scares him. Ponsoldt is able to to create a film that remains optimistic while still exploring the realities of growing pains and young love.
Rating: 4 out of 5