In most cases, people who love to eat tend to go in one direction or another—some prefer savory dishes while others have a sweet tooth. With the new dessert tasting menu at the Fifth Floor, guests can have a bit of both worlds.
It would seem to fit as Executive Pastry Chef Francis Ang has a history in both sides of the kitchen. The four-course dessert menu is awe-inspiring, combining a high level of sophistication, beautiful presentation (almost too beautiful to eat) and a set of unique ingredients, textures and flavors.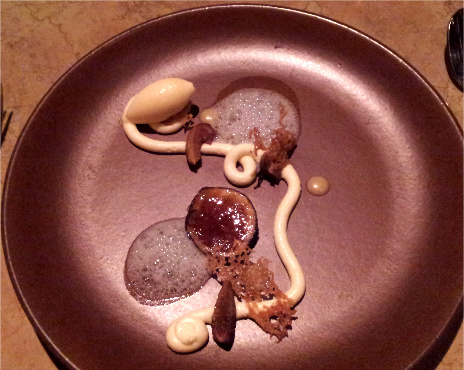 Ang's desserts really play on the all the senses. They are visually appealing, aromatic and truly burst with a multitude of flavors. Cutting into the firmer texture of his first course, the Strawberry Eucalyptus Mochi, you're met with a tasty strawberry filling that oozes out of the mochi. The next course, Figs and Sourdough, is like artwork on a plate with a mix of goat cheese, honey air, argan emulsion, along with the beautiful presentation of the sourdough and slightly charred fig.
The Black Cardamom Beignet, propped in the middle of the next dish, is well-prepared with gelatinous coffee and caramel off to each side providing a perfect complement to the beignet. Finally, the Blueberry Souffle, which looks a bit like a science project, tops off the entire experience, with a mix of sweet and salt.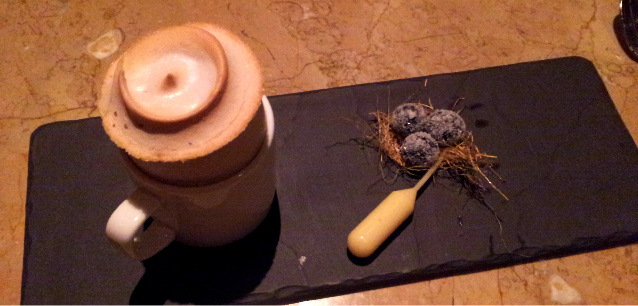 As a fan of savory more than sweet, perhaps the best compliment I can say about the tasting menu is that it really would work for fans of both; nothing is overly sweet and the creativity is, perhaps, what one would expect from a restaurant's normal tasting menu. While the delivery and technique is precise, Ang also highlights the ingredients in each dish. It's a fun experience seeing how dessert can take on a different feel.
The four-course tasting menu is available through the end of summer for $35 ($60 with wine pairings). The menu is available in both the dining room and lounge, Tuesday-Saturday. The Fifth Floor is located inside the Hotel Palomar at 12 4th Street in San Francisco.