New Exhibition Highlights Allen Ginsberg's Legacy in San Francisco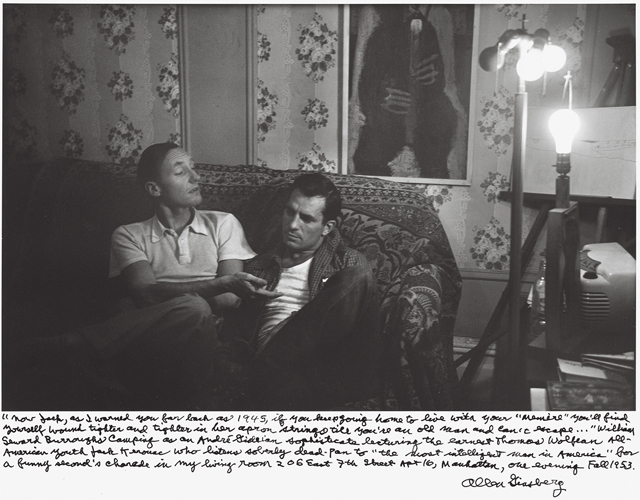 Legendary poet Allen Ginsberg has long been associated with San Francisco, from the time he moved here and shaped the beat movement and first publicly read his poem "Howl' in 1955 to the subsequent publication of the piece by City Lights and the resulting obscenity trial, through the "Human Be-In" and hippie movement of the 1960s.
That rich cultural history and legacy of social activism is celebrated this summer with an ongoing exhibit at the Contemporary Jewish Museum, "Beat Memories: The Photographs of Allen Ginsberg."
"Ginsberg dipped his foot into the stream of the 20th century and somehow it flowed past him, I can't think of anything artistically urgent in the latter part of the century that didn't kind of connect back to him," says Gravity Goldberg, who helped organize the Allen Ginsberg Festival earlier this summer.
Several events are planned looking at the life and work of the poet, whose friendship and camaraderie with his fellow beat writers such as Jack Kerouac and William S. Burroughs is captured in many of his personal photos that are on display at the exhibit—but that isn't the only facet of Ginsberg that will be explored.
"The beat generation came from here, and the term 'beatnik' was coined by Herb Caen, but we're not just looking at his participation in the beat generation," Goldberg says. "He was here in the 60s and 70s and involved with the hippie movement, the Be-In and so many other things."
Ginsberg continues to inspire people from all walks of life and the conversations surrounding his work are still relevant today.
"The Howl trial is still so incredibly relevant, especially with what we're looking at with the Internet," Goldberg says. "We're always having to think about these issues of censorship and the government, and a lot of the things Ginsberg was talking about.
"He's been dead for many years, but there are questions still posed in his work that we're trying to answer."
"Beat Memories: The Photographs of Allen Ginsberg" is open through September 8 at the Contemporary Jewish Museum. More info.