DJ Meikee Magnetic Celebrates Glitterazzi at Bootie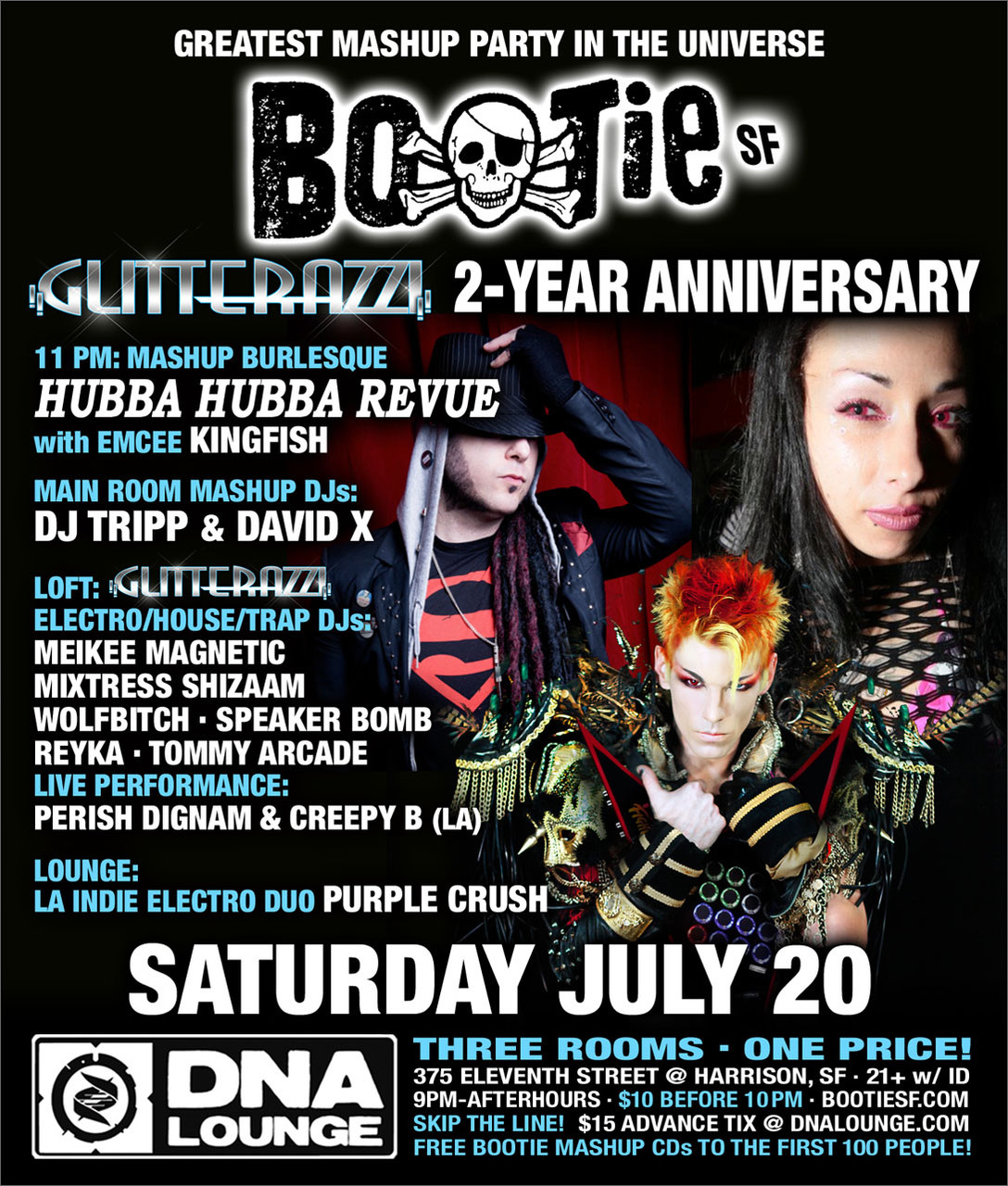 Voted "Best Dance Club" for eight years in a row, Bootie SF calls itself the greatest mashup party. Held every weekend during the summer at DNA Lounge, the party hosts Gliterazzi every third Saturday of the month.
We spoke with Glitterazzi producer and DJ Meikee Magnetic about what he likes most about living and working in San Francisco and what we can look forward to at Gliterazzi's second anniversary at Bootie on July 20.
How long have you been djing/producing shows? 
I've been producing shows for 18 years and DJ'ing for 14 years. I started producing live shows in the mid to late 90s while I was the keyboardist in a live hip hop band headlining clubs like Slim's and Bottom Of The Hill. This led me to book my own events and hand picking all the bands myself.
I believe club owners and managers saw that I had a knack for it, and it eventually led me to book a night at the Fillmore with guitarist BucketHead as one of the featured acts. As far as EDM events, that started when I moved to Tokyo in 1999. My first real gig was in front of 800 Japanese trance heads at club Pylon in 2000. I'll never forget it, after that I was hooked.
What do you love about the nightlife in SF?
San Francisco's nightlife has really grown into something special and there's something for everyone here. SF is a small city and I love that I know everyone here. I can walk into any club and have friends there. The scene, the music, the vibe, the DJ's and the beautiful people of the Bay Area—there's nothing like it. I have nothing but love for this city.
Where are some favorite venues to go to for a good night out?
Of course, Bootie at DNALounge, and Club Slide is a nice spot. I do a new Thursday monthly there called Twerk with Dolce & Ayman. I really love Club Sixxteen at the Cat Club. I host Indulgence every month at Infusion Lounge. If you feel like getting a little dressed up, it's a good place for it.
One of my favorites is the Starlight Room atop the Sir Francis Drake Hotel. You have a beautiful view of the city; it's a romantic spot. I like to get dressed up and go to a nice venue. I think I got spoiled by the Tokyo club scene. Out there, all the cool kids were partying in high-end upscale clubs with supersonic sound.
Why do people love Bootie?
It's the only party that I know of that has events all over the world and U.S., sometimes simultaneously. People come there to dance—no ego's, no hangups and the crowd let's loose. There's nothing like a Bootie crowd.
Tell us about Gliterazzi?
Glitterazzi is all about connecting with the crowd. … You can expect us to play hard yet with lot's of emotion pulling on all your senses.
What can we expect at your party Saturday?
Mixtress Shizaam is my main resident DJ partner that plays with me every month on 3rd Saturdays for Glitterazzi at Bootie. Her skill is flawless, she goes hard with some of the best electro I've heard, and now she lays down trap as well. She's super sexy, gorgeous and people love her, I couldn't have a better partner.
Giorgio Blosi (SpeakerBomb), I met at Pyramind Studio's while working on my Bishope Magnetic EP. He played me some of his original music while I was taking a break from mixing, I loved it and his thick Italian accent sealed the deal.
Reyka is a good friend of mine. he's the singer of Death Valley High who have a new mindblowing video "How2Kill". We DJ together all the time at the Beauty Bar. I'm drawn to musician DJ's since I'm one myself. He has an Indie Electro vibe.
Wolfbitch, I ran into at Trap City where she was djing, I've known her since 2006. She's built a great name for herself in the trap world and her vibe fits in perfect with me.
Tommy Arcade, I met on Treasure Island when I was djing Womp. He plays some hard bangers and has a killer presence in the booth.
*Glitterazzi is every month at Bootie SF 3rd Saturdays
www.facebook.com/GlitterazziSF
Shaina covers events, personalities, and the technology industry in San Francisco. Follow her @shainatsan