SF Chefs, one of San Francisco's biggest culinary events each year, is back with a host of new and unique events, themed tastings in the tent in Union Square and once again, as food-focused as ever.
Two of the main organizers of the event, Rob Black with the Golden Gate Restaurant Association and Andrew Freeman with Andrew Freeman and Co., have traveled to food festivals across the country. They both said SF Chefs is unique because of the participation of the chef community in San Francisco. "It's really a collaborative effort. We'll get input from chefs to see what worked and didn't work each year. We'll make adjustments based on their suggestions," Black said. "A lot of the other festivals focus on the celebrity chefs. We just don't think the idea of celebrity chefs would work in San Francisco. This festival is by the chefs and for the chefs."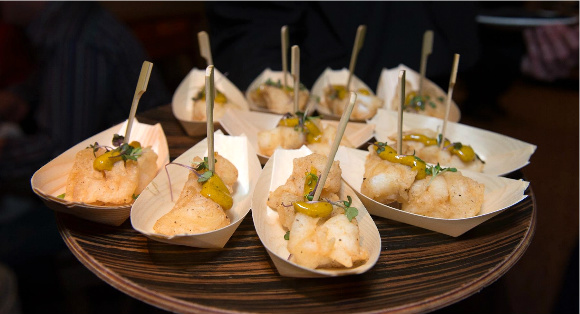 Freeman and Black said that many of those suggestions were taken to heart this year. This year's four Grand Tasting events are themed with trends and ideas that are evolving in San Francisco – from Saturday night's 'The Menu is in the Music" tasting, which will focus on the special bond chefs share with music in the kitchen to Sunday's "Brunch by the Bay," reflecting on the growing brunch culture in San Francisco (plus a Bloody Mary bar to boot). "When people pay good money to come to festivals like SF Chefs, I think they want to have a relationship with those who make their food and be able to connect with them," Freeman said. "We have some 200 chefs participating and the actual chefs are serving in the tent or participating in demos and seminars. One of the underlying themes each year is providing guests the opportunity to learn. Whether it's the preview demos at the Ferry Building, the seminars and cooking demos, or actually talking to the chefs in the tents, it give them a chance that they probably wouldn't have if they went out to that chef's restaurant on a given night."
While the tasting tents tend to be the main attractions at SF Chefs, there are numerous other opportunities for food enthusiasts to get their fix. This year's special Masters of Their Craft Dinner focuses on the many talented woman in the industry. Hosted by Nancy Oakes at Prospect, the special night will feature dishes from some of the best chefs in the area, paired expertly with wines selected by female sommeliers, led by Shelley Lindgren of A16. And don't forget about desserts prepared by some of the best female pastry chefs in the city. "This isn't only about chefs and sommeliers. This is about some of the women who have become highly successful restaurateurs, who have made this their livelihood," said Freeman. "The dinner is a great opportunity to showcase the abundance of female culinary talent in the area."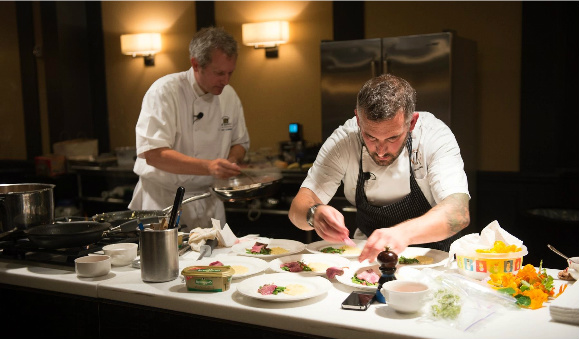 Wine seminars, cocktail events and demos by chefs like Gary Danko, Joanne Weir, Michael Tusk and special visiting chef, Sean Brock of Husk and McCrady's are all on tap. "We wanted to bring in a chef that was doing incredibly innovative things in the kitchen and when asking our chef's panel, Sean's name came up," said Black. "I think the chefs are excited by the fact that we're bringing in someone that they can learn from and share information with, someone who is so well respected in the culinary world." Along with being part of a demo on Saturday with Tusk, Brock will also be taking part in a demo with Daniel Patterson on Friday's Industry Day, a series of classes and demos aimed specifically at people in the industry.
And what's the best way to navigate the week? Freeman and Black agree that trying to go to each and every tasting and demo is a bit overwhelming so they suggest choosing a few of each and especially for those coming from out of town, spending time at some of the restaurants that are participating in the event, to get a better feel for San Francisco's culinary scene. As always, the best part of SF Chefs – it is helping to raise funds for several Bay Area food-related charities.
Although there are some fun chef preview events at the Ferry Building coming up, the official kickoff is the Masters of Their Craft dinner on Sunday July 28. Click here for the rest of the schedule.
Photo Credit: Gamma Nine Photography