Troya Brings Mediterranean Flair to Fillmore Street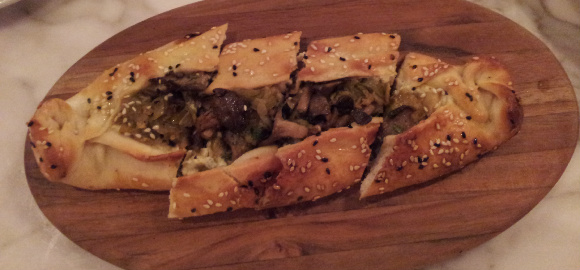 Lined with boutique shops and popular eateries, Fillmore Street in Pacific Heights can be a daunting place to open a business. But finding and creating its own identity over the last year is Troya, the second location for the popular San Francisco Mediterranean restaurant.
Chef Philip Busacco said that the Fillmore location is a change from the Inner Richmond spot on Clement Street. "We wanted this to be a modern neighborhood restaurant that was ethnic, featuring mainly small plates and simple dishes, a meze," he said. "That's how they eat in Turkey, little tasting items served throughout the course of a meal."
After a feeling out period, Busacco decided to add dishes to the menu, offering a few larger plates and introducing flat breads and kebabs as well, standard items in Mediterranean cuisine. "I felt that guests wanted a few more composed items. So we changed the menu, but haven't changed the focus of the restaurant. We're still providing an ethnic culinary experience at a very reasonable price point."
Along with those traits, Busacco and his staff are focused on sustainability, using local and organic products whenever possible. Particularly important is the sustainability of fish, as the fish of the day changes on a daily basis. Other daily specials offer Busacco a chance to be a bit more creative with dishes, although he said he stresses execution in the kitchen more than anything else. "I think a lot of it has been a learning process, getting to know our customer base, their likes and dislikes. We've adjusted things as needed, whether its portion sizes or adjusting to allergy issues. We've never shortened the menu. I really think it's the perfect length where our kitchen is never overwhelmed by too many dishes, yet offering guests a wide variety of choices."
Busacco said he enjoys eating out, taking inspiration from other ethnic restaurants like Burma Superstar and La Ciccia.  He said he's been fortunate to grab typical Mediterranean spices and ingredients from his distributors and at local markets, although he would love to have the option of more cheeses.  Overall, Busacco is looking forward to seeing Troya continue to evolve and grow.  Here's a recipe for one of the more popular mezes: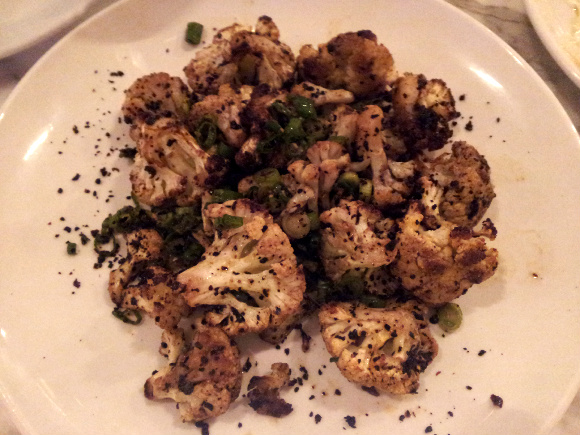 Roasted cauliflower with urfa chili
Ingredients
11 oz or one head cauliflower, cut into bite size pieces
1/2 tsp coriander, ground
1/2 tsp allspice,ground
1 tsp urfa chili
1/2 tsp salt
1/2 tsp pepper,ground
3+ 1 tbls olive oil, more if needed
3 spring onions, washed and sliced, use the whole onion.
Directions
-toss raw cauliflower with 3 tbls olive oil, salt, pepper, allspice and coriander, reserve urfa.
-roast cauliflower in a 400 degree oven for about 10 minutes or until tender, test with a kitchen knife.
-when cauliflower is tender, toss with urfa chili, green onions and reserved olive oil.
-check seasoning
-serve cold, warm or hot.
Troya is located at 2125 Fillmore Street in San Francisco.