Poggio Executive Chef Benjamin Balesteri Transitions Into New Role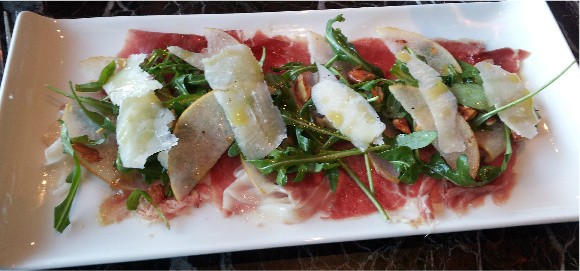 Transitioning into the lead role in a kitchen can sometimes be tough, but new Executive Chef Benjamin Balesteri at Poggio in Sausalito said it has been fairly seamless after taking over for the departing Peter McNee last month.
"We've been stretched a bit thin because we're still looking to fill a sous chef position. But having worked so closely with Peter before he left, I felt comfortable with where we were at," Balesteri said. "The cooking aspect is not much of a change for me, it's more the day-to-day operations. But when you're head of the kitchen, all the weight falls on your shoulder."
The 32-year-old Balesteri was born in Monterey and raised in the Salinas Valley, growing up in an area where farming plays such an important role in the makeup of the community. He has taken those beliefs with him to all of his restaurant stops, including time at Stars in San Francisco, Poggio and the upscale Lincoln Ristorante in New York City. But before any of that came an opportunity to travel to Italy, cooking and traveling his way across the country.
"My trip to Italy was pretty amazing. The people are so passionate – passionate about their town, about their produce, their food. Every region I went to, there were people growing products who thought what they were growing was better than their neighbor and vice versa," said Balesteri. "Restaurants are very proud of what they are cooking. And there is also a tremendous focus on local ingredients."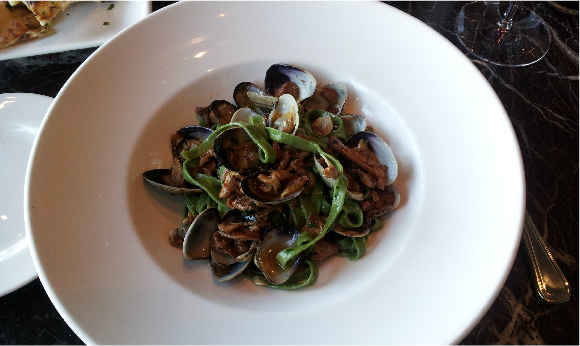 Back at Poggio, Balesteri is looking to continue the tradition his predecessors have laid the groundwork for, focusing on local ingredients, all while maintaining the feel of a classic Italian trattoria. The menu can change almost daily, depending on what ingredients he brings in. He said he is a regular at the Ferry Building Farmers' Market and the San Rafael Farmers' Market, visiting them both on a weekly basis. "Some of the favorites are still on our menu, items Peter brought in. But most of the menu is items I've been working on over the last year. I'm still trying to work on the pizzas, I think that's my next project. But I'm pretty happy with the menu," Balesteri said. "Our menu evolves daily and I think every chef has his or her own flavor profile. I didn't want to just come in and wipe the slate clean; I thought it was important to make gradual changes since we have such a loyal customer base."
As he continues in his role as Executive Chef, Balesteri said he wants to keep growing and continue to elevate the standards at Poggio. Here is one of his recipes:
Seared Day Boat Scallops
with sunchoke puree, toasted almonds, pancetta, miners lettuce and sherry vinaigrette
Serves 4
Ingredients
12 each Diver or day boat scallops
2 cups Sunchokes
1 cup Milk
1 cup Cream
½ cup Pancetta
2 cups Miners lettuce
¼ cup Sherry vinegar
¾ cup Olive oil
1 TBSP Diced shallots
Directions
Peel sunchokes with a potato peeler. Place cream, milk and sunchokes in a sauce pot. Cook on medium heat until tender. Remove from liquid, place in a food processor and puree until smooth. Season with salt. Set aside.
Dice pancetta into ¼ inch pieces then place in a saucepot on medium heat. Cook until crispy for about 5 minutes. Drain fat and set aside.
Toast almonds in 350 degree oven for about 5 minutes until golden brown. Let them cool then rough chop and set aside.
Dice shallots and place them in a bowl with sherry vinegar. Drizzle olive oil while slowly whisking in the bowl to emulsify. Season with salt and pepper.
Season scallops with salt. Heat saute pan to medium to high heat then place shallots in the pan and caramelize to golden brown about 1-2 minutes on one side then flip and cook 1 more minute on the second side.
To assemble, spread sunchoke puree on plate, place scallops on top of sunchoke puree. Garnish with crispy pancetta. Miners lettuce and toasted almonds. Drizzle sherry vinaigrette over the top.
Poggio is located at 777 Bridgeway in Sausalito.