California Cuisine With Chambers Eat + Drink's Trevor Ogden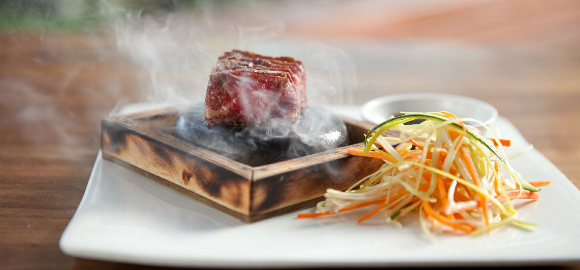 "I really want to take the idea of California cuisine a little further."
Which is exactly what Trevor Ogden has done in his time as executive chef at Chambers Eat + Drink. It's a love and passion for cooking that pushes Ogden to take his menu further and further each day.
"I really want to make people think about their food," Ogden said. "I'm not trying to be revolutionary in what I'm doing. It's more about pushing the envelope with fun and creative dishes. This is not your simple California cuisine."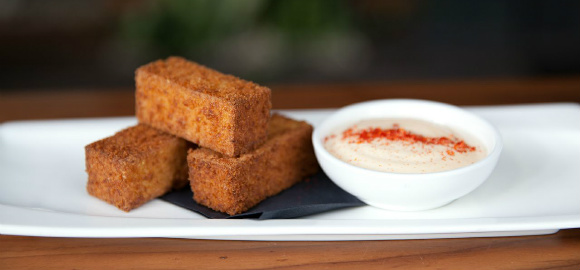 Ogden frequently changes things up on his menu, much of it based on the seasons and what's available at the markets. He believes in fine-tuning items before they ever make it to the menu, testing and tweaking each dish until he feels he and his team have perfected it. Items are left on the menu for at least a month and Ogden prefers not to replicate ingredients or past dishes. "It's probably the creative side of being a chef, but I have so many ideas about different dishes. Now, with my smartphone, I'm always jotting things down whenever an idea pops into my head."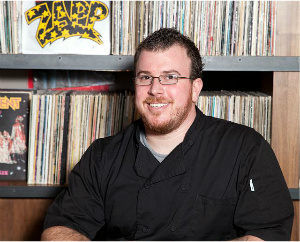 With seasonality in mind, Ogden can always be spotted at the local farmers markets, picking out fresh produce. But he makes sure not to use those ingredients the first day they hit the market, instead waiting for them to fully come into season. He has also taken up the task of creating the pastry portion of the menu, even though that was never in his background. "It's been pretty amazing to learn that side of the kitchen and it really has grown on me. Technically, it's been difficult, but fun as well. I don't change the pastry menu as often just because it takes a bit more time to master each of the items on the menu. But I like to have fun with it."
Sitting down with Ogden, his passion for cooking is easily evident. Even outside of Chambers, he loves to cook for his family on his days off, trying out dishes. Some of those even make it to the restaurant's menu, in some form or another.
Here's the recipe for one of the staple items on the Chambers Eat + Drink menu:
Balsamic Lamb Shank
Ingredients:
6 each Lamb Shanks, Braised
1 Quart Balsamic lamb Glace
12 cloves Roasted Garlic
1 Lbs Baby Kale
4 cups Garlic Parmesan Polenta
1 recipe Fava Bean Gremolata
3Tbs Aged Balsamic, 12 year
3Tbs Olive Oil, Extra Virgin
Method:
1. Preheat oven to 425 oven,
2. Place lamb shanks and the balsamic glace in a roasting pan uncovered.
3. Baste the shanks with the glace every 5 minutes for 35 minutes or until the center of the shanks are hot and the glace has thickened.
4. In the meantime warm the polenta with a little milk if it has thicken or cooled too much.
5. Sautee the kale with a little olive oil and the roasted garlic and season with salt and pepper.
6. Per plate start with a well of the polenta, place the kale with garlic inside the well, place the lamb shank on top of the kale, and top with the Gremolata.
7. Finally drizzle with aged balsamic and extra virgin olive oil.
~~~~~~~~~~~~~~~~~~~~~~~~~~~~~~~~~~~~~~~~~~~~~~~~~~~~~~~~~~~~~~~~~~~~~~~~~~~~~~~~~~~~~~~~~~~~~~~~~~
Balsamic Lamb Jus
Ingredients:
4 Qt Braising liquid
1 each Onion
1 each Carrot
3 stalk Celery
½ bunch Thyme
1Tbs Black Peppercorn
1 Cup Balsamic Vinegar
Method:
1. Take the reserved braising liquid from the lamb shanks and place in a 12 qt sauce pot.
2. Add the fresh mirepoix, aromatics and balsamic vinegar to the braising liquid.
3. Turn on medium heat and bring to a medium simmer.
4. During the reducing process, make sure to skim the fat off of the stock to ensure a rich, not fatty, sauce.
5. Reduce the braising liquid down to 1 quart of liquid.
6. Strain through a chinois and discard the vegetables while reserving the glace.
~~~~~~~~~~~~~~~~~~~~~~~~~~~~~~~~~~~~~~~~~~~~~~~~~~~~~~~~~~~~~~~~~~~~~~~~~~~~~~~~~~~~~~~~~~~~~~~~~~
Fava Bean Gremolata
Ingredients:
1 Cup Fava Bean, grilled in pod & peeled
½ bunch Parsley
1 bunch Chervil
4 bunch Chive
1 bunch Basil
1 Tbs Capers
2 clove Garlic
2 each Lemon Juice
2each Lemon Zest
¼ Cup Olive Oil, Extra Virgin
To taste Salt, Kosher
Method:
1. Place fava beans in the pod over a grill until the outsides are slightly charred,
2. Remove from grill and place in a container with a lid on it in order to steam them.
3. Once the fava beans are cooled enough to touch, shuck the bean out of the pod and then out of the skin.
4. Rough chop the fava beans and place in a large bowl.
5. Chop all of the herbs, capers and garlic and add these to the fava beans.
6. Zest and juice the lemon and add to the fava bean mixture.
7. Drizzle in the olive oil and season with salt.
~~~~~~~~~~~~~~~~~~~~~~~~~~~~~~~~~~~~~~~~~~~~~~~~~~~~~~~~~~~~~~~~~~~~~~~~~~~~~~~~~~~~~~~~~~~~~~~~~~
Garlic Parmesan Polenta
Ingredients:
4 Cup Milk, 2%
2 Clove Garlic , Crushed
4oz Parmesan Rind, *sub 2oz. Grated parmesan
3/4 Cup Polenta, White
Method:
1. In a sauce pot place the milk, crushed garlic and parmesan rind.
2. Place on low heat and simmer for 45 minutes or until the milk has reduced by 1/4, leaving you with 3 cups of liquid.
3. Strain the flavored milk through a chinois into a new sauce pot, discard the garlic and the parmesan rind.
4. Place the milk back on the stove top but turn the heat up to medium.
5. Once the milk comes to a low simmer slowly stir in the polenta to prevent clumps.
6. Season the mixture with salt and continue to Wisk the mixture until it begins to thicken to a porridge consistency.
7. Check for seasoning.
Chambers Eat + Drink is located at 601 Eddy Street (at the Phoenix Hotel)
Photo Credit: Molly DeCoudreaux