Sausalito's Copita A Dream Come True For Chef Joanne Weir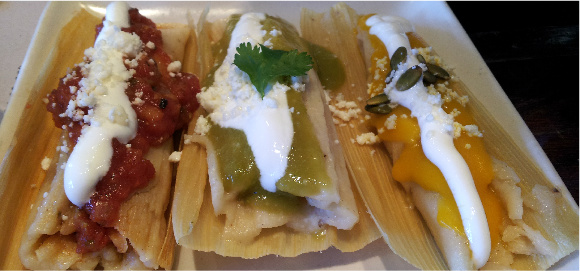 She's done it all in the culinary world – cookbooks, TV shows, cooking teacher. But in 2012, Joanne Weir finally crossed restaurateur off the list with the opening of Copita Tequileria Y Comida in downtown Sausalito.
"It's always been on my list of things to do. But I knew I would never do it without the right partner," said Weir. "Larry Mindel approached me about opening a restaurant and I decided to jump in the waters. Now, I realize it's my baby and truly feels like me."
Copita opened last May and the Mexican theme was in part an expansion of the ideas from her book, "TEQUILA: A Guide to Types, Flights, Cocktails and Bites."
"I've always been known more for Mediterranean cuisine. But Larry and I had sort of a makeshift margarita contest, which I won. I take my margaritas very seriously," she said. "And that was the start of what has now become Copita."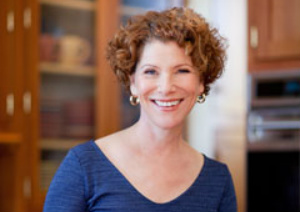 A tireless bundle of energy, Weir is almost always at the restaurant, coming up with new dishes, working together with sous chef and gardener Dilsa Lugo (along with new executive chef Gonzalo Rivera Jr.) and the rest of her team on fine-tuning the menu and even getting to try out new tequila or mezcal-based cocktails (she and general manager Brian Basmajian were doing that the afternoon of our visit). "When we opened, it really was the busy season, late Spring just heading into Summer. We were slammed, the more and more word got out, the more visitors stopped by. So it's taken us awhile to get our feet under us and I still think we're not quite there yet. But we're getting where we want to be," Weir said.
Self-described as a modern, chef-driven Mexican restaurant, Weir is always conscious of using California ingredients, including from the restaurant's own garden. "It's really about traditional food with integrity. I wanted to have a menu full of plenty of different options, but also wanted it to be lighter Mexican food. It's all about making the food approachable."
The menu is seasonal, with an assortment of small plates, tacos, larger items and ceviche. "The carnitas will always be on the menu as it has proven to be one of our best sellers and  I think we'll always have Dilsa's trio of tamales, just switching out ingredients depending on the season. A lot of the items are made in-house, from the amazing guacamole to the tortillas. We're working on our own hot sauce as well," she said. "I'm really blessed to have such an amazing team in the kitchen."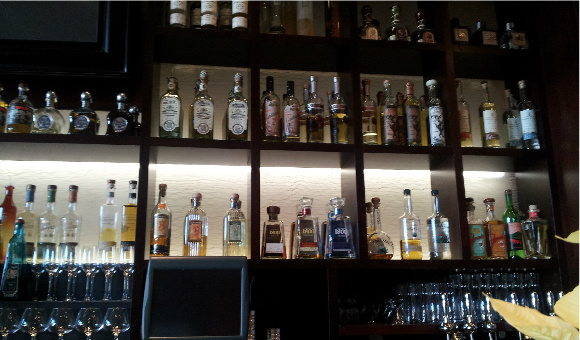 Living in San Francisco, Weir said she was a bit hesitant about the location in Sausalito at first, but calls the city "a hidden gem." She loves the fact that the water is so close, especially during the warm Spring and Summer months – not to mention that the ferry station is right across the street. Despite writing articles, working on another book, a TV show, her own wine label and traveling the world teaching cooking classes, like the Energizer Bunny, she still loves coming into the kitchen at Copita each and every day.
Here is the recipe for one of the staple dishes at Copita: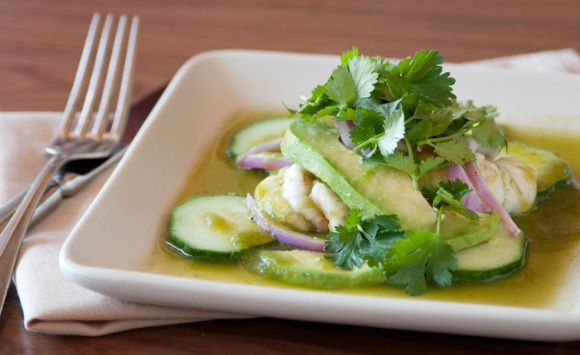 Aguachiles
Ingredients
2 pounds extra large shrimp, peeled and deveined
2 cups lime juice
2 serranos (or more depending upon the heat)
1 bunch cilantro, leaves and stems
2 cucumbers with seeds, peeled
Kosher salt
Garnish
Cucumber slices
Sea salt
½ red onion, thinly sliced
Avocado slices
Cilantro sprigs
Directions
Bring a saucepan of salted water to a boil. Place a large handful of shrimp in a sieve and dip the sieve into boiling water until the shrimp just begin to curl, start to turn pink but are still slightly grey, 5 to 6 seconds. Immediately place the shrimp in an ice water bath. Drain.
Place the lime juice, serranos, cilantro and cucumbers in the blender and process until very smooth, 1 minutes. Season with salt. Taste and if needed, add more serranos.
Place a few cucumber slices on the plate. Toss the shrimp with ¼ cup of the chile water and place on the cucumbers. Top with the red onions and avocado slices seasoned with sea salt. Top with the red onions and cilantro.
Serves 10
Copita Tequileria Y Comida is located at 739 Bridgeway in Sausalito.